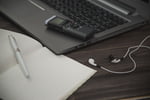 I love typing, but I have zero creative writing ability. ZERO. I've blogged before, but it usually means sitting for hours at my computer with a few clumsy sentences written and no ideas for how to proceed.
When I got pregnant with my first child, I wanted to take something I knew I was really good at — typing, grammar and punctuation — and turn it into an income-generating side gig I could do at home.
I found a course, Transcribe Anywhere, and quickly knew I had found something that was going to work for me and help me find transcription jobs that bring in extra income. (Here's The Write Life's review of the Transcribe Anywhere course if you want details.)
Typing exactly what I hear from audio requires no creativity, unless you count the creative punctuation required to break up someone's looooong run-on sentence into smaller chunks.
What it does require is all of the things I already knew I was good at, and the course taught me how to use those skills to build a business.
Now two years later, I have three kids (yep… a two-year-old, a one-year-old, and a newborn. No, we don't get much sleep). I'm still doing transcription jobs from home, and even though my family is growing and keeping me busier than ever, I'm also making more money from transcription than ever before as I get better at my work and find great clients.
I work part-time working as a remote transcriptionist, about 20 hours a week, and I'm consistently able to bring in around $2,000 per month for my family.
Where to look for transcription jobs
If you're looking to get into the world of transcription, I've put together a list of companies where you should consider looking for work, including several options for legal transcription jobs.
They're loosely ordered according to how much experience you need to work there and how much you can expect to earn through those jobs. So if you're aiming for online transcription jobs for beginners, the first few items on this list are the best place to start.
Keep in mind that most of these companies pay on a per audio minute rate, which does not translate to how long it takes to transcribe it.
The general standard in the transcription industry is a 4:1 ratio, meaning it usually takes around four minutes to transcribe one minute of audio.
Here's where to look for online transcription jobs.
1. Rev
One of the biggest and most well-known transcription companies, Rev always seems to be hiring new applicants. It has tests that you have to complete before you're hired — the Rev transcription test and grammar quiz — but it seems to always have work available.
Typically, you can choose your own schedule and do as much or as little work as you want.
Rev has a reputation for low pay, about 30 cents to $1.10 per audio or video minute. But if you want to get started and have a completely flexible schedule while you're learning and building your skills, this might be a good fit. It's also a way to try out online transcription jobs and earn some money to see if you enjoy it before you invest in training.
No experience is required, although you do have to pass a test. Rev also has options for video captioning work, which pays at 54 cents to $1.10 per audio or video minute, and if you know a foreign language, subtitle work for $1.50 to $3 per audio or video minute.
My friend and colleague Kristie Cooley started out working for Rev and says: "I enjoyed being able to log on at any time of the day to pick work. Its system is also super user friendly!" On the flip side, however, she also reported that the people who grade your completed transcripts can be inconsistent and give different instructions or feedback.
2. TranscribeMe
TranscribeMe is another good option if you're looking for online transcription jobs for beginners.
The company only pays 25 cents per audio minute, but they break all of their work up into smaller chunks of two to four minutes. That makes this company a nice choice if you have only a limited amount of time to spend on transcription or if you want to gain experience with a large variety of audio materials.
3. SyncScript
SyncScript's pay rate still isn't impressive, but it's higher than the first two options on this list, starting at 57 cents or 63 cents per audio minute based on the assignment type. This is another company to consider if you're looking to get your feet wet in the transcription industry.
SyncScript is almost always running ads to hire new transcriptionists. The company requires a typing speed of 70+ words per minute and 98 percent accuracy. It also requires new candidates to transcribe a seven-minute test audio and pass a grammar test. Once you're on the team, they ask you to be available to transcribe a minimum of three audio hours per week.
Cooley says about working for SyncScript: "Their communication is awesome! Every single one of the files that I've gotten are super clear audio."
Focus Forward is another transcription company that lets you work as much or as little as you choose. It does all kinds of transcription, from focus groups, meetings, and TV logging. The company pays 40 cents per audio minute, paid biweekly via PayPal, with opportunities to participate in higher-paying assignments the longer you're with the company. It, too, requires applicants to pass a transcription test to quality.
Daily Transcription frequently advertises for new transcriptionists to join their team, and it pays a higher rate than some of the companies described above, about 75 cents to 85 cents per audio minute.
It provides training so you can learn as you go, and it pays weekly via check. Its work tends to focus on video and television transcription, but you'll also find some legal and academic work.
Daily Transcription requires a skills assessment test and a transcription test to get started, and you need to have typing skills of at least 50 words per minute.
6. Ubiqus
I spent some time working for Ubiqus when I first got started, so I can confirm this is a good company to work for. The company offers general, legal, and medical transcription jobs.
Ubiqus' pay structure is a little different than most other companies; it pays per word instead of per audio minute. The rate of pay varies depending on the content of the audio.
It's hard to compare a per-word rate with a per-minute rate, and there are a lot of variables such as how quickly or slowly someone talks, but it roughly averages out to around $1 per audio minute, give or take. I personally prefer a per-minute rate, because then you know exactly how much a job will pay you before you start it. With a per-word rate, you really have no idea how much you'll make on a job until you've already completed it.
7. Allegis
Allegis specializes in all sorts of industries, including insurance and legal transcription (so this company would be a good fit if you decide to take the legal version of the Transcribe Anywhere course, where I did my training).
The company sometimes posts openings for novices with no transcription experience. You just have to keep an eye on their job postings.
Rates are proportional to the client contract, so Allegis doesn't provide pay rates on its website. Plus, the amount you earn for transcription jobs depends on how fast (and accurately) you can complete the assignment.
However, Glassdoor reports that hourly pay ranges from $2 to $36 for transcribing jobs, while one Reddit user says you can expect to make $15 to $20 per hour if you type 100 or more words per minute.
It's challenging to compare a per-hour or per-page rate with a per-audio-minute rate, but generally you have more earning power as a legal transcriptionist than a general transcriptionist because it is a specialized field. Legal transcription jobs are typically formatted very precisely, with specific margins, a set number of lines per page, and a specific number of characters per line, so each page is the same amount of typing.
I haven't worked with Allegis personally, but transcriptionist friends of mine say it requires a weekly quota from transcriptionists, so you don't have quite the same degree of flexibility. It also has periods of time with less work available, so it's not always consistent.
This is another option for finding legal transcription jobs. Deposition Services, Inc. provides a two-week online training program for its legal transcription work. It specializes in transcribing depositions, hearings, conferences, and seminars.
It pays a per-page rate, but it doesn't specify publicly what that rate is, only that it equals out to about $15 to $20 per hour.
The Audio Transcription Center has a higher pay rate than many of the previously listed companies for its freelance transcription jobs: $1 per audio minute.
Its transcription test is challenging, and you'll likely need a decent amount of experience — especially with focus groups involving multiple speakers — to pass it.
Much of its work focuses on oral history interviews and focus groups. It has an online application and requires a resume and cover letter as well. It also requires a screenshot of a typing test showing a performance of 75 words per minute or more with at least 98% accuracy.
Another company that reports its always hiring remote transcriptionists is TranscriptionServices.com.
It requires that you pass a 10-minute test in order to join the team, and it mentions that it includes pretty challenging audio. Based on the difficulty of its test, this company sounds best suited to those who already have some experience with online transcription jobs under their belts.
Transcriptionists who work with this company have complete flexibility to set their own schedule with no production commitments. Though the current pay rate is unclear, the website says it pays competitively for transcription work. However, it used to start at $25 per audio hour for very clear audio up to $50 per audio hour for the most challenging audio.
One noteworthy fact about this company is what it calls its social mission: "For every order, we provide a month's worth of hearing aid batteries to a recipient in a developing country."
11. GMR Transcripts
GMR Transcription works with universities, government and medical institutions, non-profit organizations and more, so you can expect legal, academic and medical online transcription jobs if you work with this company.
Although it doesn't list pay rates on its website, the company says, "Our transcriptionists/translators typically earn between $1,000 to $3,000 per month, depending on their skills and the kind of work they take."
If you're willing to take on more difficult assignments or complete assignments with quick turnaround times, you're likely to earn much more. Plus, although no experience is required for this transcription job, the more you have, the better.
To apply, submit a resume and take a short transcription test. Like many others on our list, GMR Transcripts lets you work when you want and as often as you want. And all you need to start is a computer with high-speed internet, Microsoft Office, a foot pedal and over-the-ear headphones.
12. Scribie
Scribie offers general transcription jobs you can do from home, providing freelancers short audio clips of 10-minutes or less that you get to choose yourself — that means you're not obligated to work on any assignment you're not interested in.
Before you apply and take its certification test, you can practice with tons of its practice tests to ensure your skills are up to par. Because beyond a good typist, the company always wants transcribers who can correct manual and automated transcripts.
Once hired, transcription jobs with this company pay $5 to $25 per audio hour. Rather than receive a weekly or monthly payout, your earnings accrue daily in your Scribie account, and you can transfer them to your connected PayPal account at anytime.
A bonus: Here's how to get the best transcription jobs
I've shared lots of companies that are solid options when you're just getting started as a transcriptionist. But I've had the most success — and definitely made the best money — finding my own clients to work for.
This can include so many different people and professions: pastors, public speakers, podcasters, lawyers, doctors, writers, journalists, research companies.
Marketing yourself and looking for clients is a time-consuming process, but once you find the right ones, your earning potential is much higher working for yourself rather than as a subcontractor for someone else.
For example, Rev charges their clients $1 per minute for transcription, and they pay their subcontractors about half of those earnings. If you have your own clients and charge them the same rate, you'd keep that entire $1/minute to yourself.
When I calculate my hourly rate for transcription jobs, I typically make between $30 to 45 per hour. It's a broad range because some audios take much longer to do than others, depending on the content and the quality. I've increased my hourly rate by having high standards about the type of audio material I accept and using tricks to increase my speed, such as having a multitude of autocorrects.
Just keep in mind that when you work for yourself, you're responsible for all of the go-between with your clients and all of the business management aspects of the job, whereas as a subcontractor, all you really have to focus on is the actual transcription work.
A few places to look for your own clients include LinkedIn, Facebook groups, and even Craigslist — I found my very best client there, as well as many smaller one-off jobs. You might want to share information about your services on your own website as well, like I do for my company, Q Transcription.
If this sounds totally overwhelming, the Transcribe Anywhere course where I did my training includes a module on marketing and building your business.
Pro tip: Start with its free transcription mini-course to see if this industry is a good fit for you.
A final note of encouragement
As you start out, remember it's OK to start small.
I began as a subcontractor for a couple of big transcription companies, and initially, I was thrilled to make around $200 a month. As I got faster and more skillful doing transcription jobs from home, I was able to earn more.
After a few months, I knew my abilities were worth more, and I started looking for clients of my own so I could charge a higher rate.
I currently have four clients who keep me extremely busy, and I no longer work for any of the companies I started out with. I'm able to make a good income each month while staying home with my children, which is exactly why I got into transcription in the first place.
An original version of this story previously appeared on this page. We updated the post so it's more useful and accurate for our readers.
The post 12 Places to Find Online Transcription Jobs, Plus How Much Each Company Pays appeared first on The Write Life.
Read more: thewritelife.com