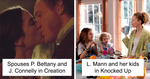 When we watch movies or TV shows, we really don't think about what the relations between the actors are, because we're so involved in the fictional worlds that they create. But sometimes it's interesting to know if the lovers in the movie get along in real life, or what it's like to portray a family for a bunch of strangers.
It's even more interesting to learn that some on-screen family members are actually related in real life. Did you ever have a feeling that the chemistry between a father and a son is so good that they could actually be related? And they even look similar? Well, maybe they are not entirely acting and just showing a glimpse of what their real relationship looks like.
Here are some of the families that were played by actual relatives. Which ones did you know about before? And don't forget to upvote the ones that surprised you the most!
#1 Wanda Ventham And Timothy Carlton, Benedict Cumberbatch's Parents, Played Sherlock's Mom And Dad On Sherlock (2010)
Benedict Cumberbatch's real-life parents are professional actors and they appeared on the TV series as Sherlock's parents. Cumberbatch revealed that they were all quite nervous at first, but eventually they managed the stress and overall he is proud of their performance and said that it was wonderful working with his parents.
Image credits: BBC
#2 Eugene Levy And Dan Levy Played Father And Son On Schitt's Creek (2015-2020)
Eugene and Dan not only played father and son, but also co-wrote the series. Dan came to his father with an idea for a show and asked if he would like to work on it together. Eugene agreed happily because it was the first time his son had asked for help. He was impressed by his son's writing and later with his work ethic. And Dan was able to see his dad act, which let him understand why he has had the career longevity that he's had.
Image credits: Not a Real Company Productions
#3 Sylvester Stallone Played In Rocky V (1990) With His Son Sage
Sylvester Stallone and Sage didn't have a perfect father-and-son relationship. Sage admitted that the yelling in the movie wasn't all acting. When he was shouting "You never spent time with me! You never spent time with my mother!" it was what he really felt. But getting these feelings out helped after all. Sage said to People that they even shed some tears a couple of times and after the film, they were ready to do anything for one another. When Sage passed away at the age of 36, Sylvester Stallone was inconsolable and stated that there is no greater pain than losing a child.
Image credits: United Artists
#4 Spouses Emily Blunt And John Krasinski Played Husband And Wife In A Quiet Place (2018)
Emily Blunt and John Krasinski hadn't worked together before that year. And at first, Emily was hesitant about being in the film. She didn't want the movie's main focus to be that they are actually married in real life, especially knowing that this project meant so much for John. But after reading the script, she changed her mind and thought that on the contrary, because they are married, they could portray the relationship and make it feel real to the people watching.
Image credits: Paramount Pictures
#5 Leslie Mann And Her Daughters, Iris And Maude Apatow, Played Debbie And Her Children In Knocked Up (2007)
Not only did Iris and Maud Apatow play Debbie's daughters, their father, Leslie Mann's husband, Judd Apatow, directed the movie. He also put his family in his later movie This Is 40 (2012) in which his wife and children played a mother with her daughters again. When talking about his daughters' acting, Judd Apatow sounds proud: "They're not scared that cameras are around. They get sucked into what their real problems are with each other. Like, they're so annoyed with each other that they're not distracted by the fact that they're shooting a movie and it needs to go well, they're more concerned about whatever argument I'm trying to make them have on camera."
Image credits: Universal Pictures
#6 Angelina Jolie And Her Father, Jon Voight, Played Lara And Richard Croft In Lara Croft: Tomb Raider (2001)
Angelina Jolie and her father John Voight's relationship is a rocky one. Angelina grew up without her father, who reportedly refused to pay child support and the family had financial issues. Now they seem to have rediscovered their relationship and bonded through Angelina's children. The first time Angelina played Voight's daughter in a movie was when she was seven years old in Lookin' To Get Out (1982). It was a small role, but it was her debut role, and also it was Voight's screenwriting debut. The two of them portrayed father and daughter again in Lara Croft: Tomb Raider (2001).
Image credits: Paramount Pictures
#7 Jake Gyllenhaal And His Sister, Maggie, Played Siblings Donnie And Elizabeth Darko In Donnie Darko (2001)
This movie helped greatly to move Jake Gyllenhaal's acting career and for Maggie, it was only her second significant role. When the director, Richard Kelly, offered Maggie the role of Elizabeth, she didn't agree at first, because Maggie was convinced that she was considered only because she was Jake's sister.
Image credits: Pandora Cinema
#8 The Wilson Brothers Played The Wright Brothers In Around The World In 80 Days (2004)
Luke Wilson and Owen Wilson portrayed Orville Wright and Wilbur Wright respectively. The brothers also played together in Bottle Rocket (1996), The Royal Tanenbaums (2001) and Wendell Baker Story (2005), though they weren't brothers in all movies. In the first one, they were friends, and in the second, they were neighbors and best friends. In Wendell Baker Story, they are coworkers.
Image credits: Walt Disney Pictures
#9 Tom Hanks And Colin Hanks Played Father And Son In The Great Buck Howard (2008)
The first time Colin Hanks and his father played in the same movie was in 1996 in That Thing You Do! which was Tom Hanks' directorial debut and Colin's first role in a movie. The Great Buck Howard also had Tom Hanks' touch as he was the producer and this time Colin had a leading role. Another project on which the Hanks men worked on was Parkland (2013). Tom was one of the producers of the drama and Colin was portraying a surgeon. Colin said in the podcast Armchair Expert that being the son of a famous actor can help to move your career forward, but that also means that people can have really high expectations that are not always easy to meet.
Image credits: Magnolia Pictures
#10 Mamie Gummer And Meryl Streep Played Mother And Daughter In Ricki And The Flash (2015)
Although in the movie, the relationship between the mother and the daughter is not great, with the daughter feeling resentment towards her mother for leaving the family to pursue her music career, in real life, the mother-and-daughter bond is strong. Mamie Gummer even said that even though Meryl Streep seems intimidating to others, she is not struck that way at all. In fact, their real-life relationship is so far from the one portrayed in the movie that it was difficult for her to say those mean things to her mother. On the other hand, it was easy to communicate, so the filming process was smooth.
Image credits: Sony Pictures Entertainment
#11 Spouses Jennifer Connelly And Paul Bettany Played Wife And Husband In Creation (2009)
The two actors first met on the set of the movie A Beautiful Mind (2001). They were in different relationships at that time, but they later got married in 2003. Paul Bettany said that it was amazing working with his wife and that they'd wanted to for quite a while. They didn't experience it with A Beautiful Mind, as their characters didn't meet. The couple thought that they would portray the characters Emma Darwin and Charles Darwin well and wouldn't influence their story because their real relationship was so far from the one in the script.
Image credits: Recorded Picture Company
#12 Bruce Willis And His Daughter Rumer Played Jeff And Amanda Talley In Hostage (2005)
Bruce Willis' daughter actually asked if she could play in the movie Hostage herself. All of the actor's kids had already appeared on screen previously, so it wasn't surprising for Rumer to show interest. But Bruce Willis wanted her to audition like a regular actor and work for the role. She did and she won the part. Bruce Willis admitted that the movie got much more emotional and he thinks that having his real daughter play his character's child helped him to feel everything on a deeper level.
Image credits: Miramax Films
#13 Will Smith And His Son Jaden Played Christopher Gardner Jr. And Chris Gardner In The Pursuit Of Happyness (2006)
This was Jaden's first big role and it was a success. When talking about what it was like working with his 8-year-old son on set, Will Smith admitted that he was the one that was learning from his kid. Will Smith was struggling with a scene and retaking it over and over again and then Jaden just said to him that he wasn't supposed to do the same thing for every shot. Will Smith realized that he was doing the same moves and poses he had prepared, so that it would look good on camera, but what he should have been doing was making the character real. Jaden and Will Smith also appeared in After Earth (2013) together. Before The Pursuit Of Happyness, Jaden had a brief appearance with his brother Tray in Men In Black II (2002). Will Smith worked with his daughter Willow Smith as well in the movie I Am Legend (2007).
Image credits: Sony Pictures Releasing
#14 Ben Stiller And His Dad, Jerry, Played Father And Son, Eddie And Doc Cantrow, In The Heartbreak Kid (2007)
The comedic father-and-son duo appeared in several other films together: Zoolander (2001), Heavyweights (1995) and Hot Pursuit (1987). Sadly, in May of last year, Jerry Stiller passed away, but Ben Stiller had only good words to say about him. He remembers that his father never yelled at him even once and he felt that Jerry was very protective and loving.
Image credits: Paramount Pictures
#15 Ryan O'Neal Played In The Movie Paper Moon (1973) With His Daughter Tatum
Ryan O'Neal thought that working on a movie together would make him and his daughter closer as she was estranged by her mother Joanna Moore. The movie was a success and Tatum won an Oscar for best supporting actress at the age of 10. However, it doesn't seem that Tatum felt the love that was also the point of being in the movie. In her memoirs, Tatum wrote that she could see resentment in her father's eyes because she won an Academy award and he didn't. She felt more sad than happy after the ceremony, because she didn't feel the support she hoped she would get from the people that really mattered to her.
Image credits: Paramount Pictures
#16 Siblings John And Joan Cusack Played Brother And Sister In Martian Child (2007)
John and Joan Cusack shared the screen for the first time with relatively minor roles in Class (1983). After that, they worked together numerous times. The movie with one of the best ratings was High Fidelity (2000), though in this movie, the actors didn't play relatives. Joan Cusack was portraying a mutual friend of Rob (John Cusack) and and his ex.
Image credits: MERADIN Zweite Productions
#17 Matthew Perry And John Bennett Perry Played Father And Son In Fools Rush In (1997)
John Bennett Perry played Matthew Perry's dad in the movie Fools Rush In and in the episode My Unicorn (2004) of the sitcom Scrubs. Matthew's father aslo appeared in Friends, but this time John Bennett Perry played the father of Rachel Green's boyfriend Joshua in the episode The One with Rachel's New Dress (1998).
Image credits: Columbia Pictures
#18 The Douglas Family Plays The Gromberg Family In It Runs In The Family (2003)
Mitchell Gromberg who is played by Kirk Douglas, is the father of Alex Gromberg, played by Michael Douglas, and he is the father of Asher Gromberg, who is played by Cameron Douglas. The three men have the same family relations in real life. Kirk and Michael had wanted to do a film together for a long time and they finally did it. They also invited Cameron and this was his first role. Furthermore, Mitchell's wife is played by Michael's actual mother, Diana Douglas, whom Kirk divorced in 1951 but has remained good friends with.
Image credits: Further Films
#19 Miley Cyrus' Dad Billy Ray Played Her Character's Father In Hannah Montana TV Show And In The Movie
The Hannah Montana character made Miley Cyrus rise to fame, catching up to her father. And while in the TV show, it is seen that the father and daughter have a sweet relationship, always working through their conflicts, Billy Ray Cyrus admitted that the show almost destroyed their family. Miley was getting in a lot of scandals and Billy was blaming himself for it and wished that he could have been a better dad.
Image credits: Walt Disney Pictures
#20 Henry Fonda And His Daughter Jane Shared The Screen In On Golden Pond (1981)
Jane Fonda didn't have a close relationship with her father, similarly how her character in On Golden Pond, Chelsea, was estranged from her father Norman. Jane Fonda remembers the scene when she tells her father that she wants to be his friend and then touches his arm. This movement wasn't in the script and Henry Fonda didn't know about it, so you can see him getting emotional. Jane wanted to talk to him about that moment, but her father declined. She wished that he would have said something, that he was moved or didn't expect that.
Image credits: Universal Pictures
#21 Michael And Autumn Chiklis Play Father And Daughter In The Shield (2002-2008)
Autumn Chiklis said that she felt very lucky to have been able to work with her dad, and that she learned set etiquette from him: how it is important to be there on time and to be kind to everyone who is working together. She also said that even though her dad looks tough to everyone else, he is really loving and compassionate. Their relationship is great and Autumn Chiklis considers her dad to be her best friend.
Image credits: Sony Pictures Television
#22 Martin Sheen And Charlie Sheen Played Father And Son In Wall Street (1987)
Charlie plays Bud Fox, who gets involved in some illegal business and his father is not approving of the path his son has taken. Martin Sheen played Charlie's father a couple of other times too: in No Code of Conduct (1998), two episodes of Spin City (2002), and Anger Management (2012-2014). He has another son, Emilio Estevez, and they also appeared as father and son in The War at Home (1996), In the Custody of Strangers (1982) and The Way (2010).
Image credits: American Entertainment Partners
Read more: boredpanda.com