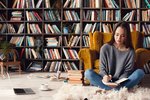 Have you ever Googled "writing contests"? Many require "reading fees" or prizes — like seeing your work in print — that you can only receive if you pay for it.
Some legitimate contests do charge small entry fees, but often a fee can be a red flag for a scam, so those might be the ones you want to stay away from.
Besides, there are plenty of free writing contests that encourage and inspire boundless creativity with real cash prizes and career-advancing opportunities! Since it can be hard for a writer to know where to find them, we did the legwork for you.
We found 40 reputable, well-reviewed, free writing contests for poets, fiction writers, essayists and more. With thousands of dollars in cash prizes and numerous opportunities to secure a publishing contract, you're sure to find the right free writing contest for your work.
(And if you're still hungry for more opportunities, we also have posts on writers grants and writing fellowships.)
Fiction and nonfiction writing contests 2021
Ready to share your novel or personal essay with the world? Whether you're a newbie or more established writer, you're likely eligible for a few of these contests.
Here are some fiction and nonfiction writing contests worth considering.
1. L. Ron Hubbard Writers of the Future Contest
Whatever your feelings about L. Ron Hubbard's work and philosophy, the prizes for this regular contest are nothing to sneeze at. Every three months, winners earn $1,000, $750 and $500, plus an additional annual grand prize of $5,000.
Submissions must be short stories or novelettes (up to 17,000 words) in the genre of science fiction or fantasy, and new and amateur writers are welcome to apply.
Deadlines: Quarterly on March 31, June 30 and September 30.
2. Inkitt
This boutique publishing firm offers cash prizes and promotional packages to winning authors. Submit a novel of 10,000 words or more in any fiction genre (no fanfic or poetry).
Inkitt's writing contest runs monthly and gives authors the chance to win cash prizes up to $300, exclusive book badges and promotional packages while showcasing their books to Inkitt's audience of more than 3 million users. Winners are determined by Inkitt's unique algorithm based on overall reader engagement.
Deadline: See individual contest pages.
Disclosure: Inkitt is an advertising partner of The Write Life. We hold our advertisers to high standards and vetted this contest just like others on this list.
3. Drue Heinz Literature Prize
You can win $15,000 and publication by the University of Pittsburgh Press with this prize, awarded for a collection of short fiction.
You may submit an unpublished manuscript of short stories, two or more novellas or a combination of novellas and short stories. Your total word count should be between 150 and 300 typed pages. You must also have already published a novel or book-length work of fiction "with a reputable publisher," or no fewer than three short stories or novellas in nationally-recognized journals.
Deadline: Annual submissions must be postmarked between May 1 through June 30.
4. St. Francis College Literary Prize
Since 2009, this biennial literary award has honored mid-career writers who have recently published their third, fourth or fifth work of fiction. The winner receives $50,000 and may be invited to the St. Francis College campus in Brooklyn, New York, to deliver a talk about their work or teach a mini fiction workshop to St. Francis students.
Deadline: Biennially; the contest is not offered in 2021 due to the pandemic and limited campus access
This $10,000 award recognizes "young authors," which the rules define as any author aged 35 or younger. Submit any novel or collection of short stories published or scheduled to be published in the calendar year. Works must be written for adults; children's or YA pieces are ineligible.
Deadline: Submissions for 2021 are open as of May 2021; deadline is TBA
6. Graywolf Press Nonfiction Prizes
One of the best-loved small presses in the creative writing world, Graywolf Press hosts a variety of contests for both established and up-and-coming writers. Graywolf also offers smaller fiction and nonfiction prizes, with genres rotating by year; 2020 was a nonfiction year, so fiction is up in 2021. These awards include a sizable advance — $12,000 in previous years — as well as publication with Graywolf.
Deadline: Contest is held annually with rotating genres; the 2021 deadline is TBA.
7. The Jeff Sharlet Memorial Award for Veterans
Hosted by the prestigious Iowa Review, the Jeff Sharlet Memorial Award is offered to U.S. military veterans and active-duty members writing in any genre about any subject. Manuscripts of up to 20 pages will be accepted, and the first-prize winner will receive $1,000 and publication in the Review. A second place prize of $750 is also available, as well as three runner-up prizes of $500 each.
Deadline: Biennially. The next contest will be held in 2022.
Presented by Lee & Low Books, an award-winning children's book publisher, this award is given for a previously unpublished children's picture book manuscript of no more than 1,500 words written by a writer of color or Indigenous/Native writers who's a resident of the U.S.
The winner receives $2,000 cash and a standard publication contract, and an additional Honor Award winner will receive a cash prize of $1,000. You may submit up to two manuscripts.
Deadline: Submissions for 2021 will be accepted May 1 to July 31.
9. Ernest J. Gaines Award for Literary Excellence
For 15 years, this contest has provided visibility for emerging African American fiction writers and enables them to focus on their writing by awarding a $15,000 cash prize. Eligible authors should submit a work of fiction, such as a novel or short story collection, published in the calendar year. (Galleys for publication within the year are also accepted.)
Deadline: Annually; the deadline for 2021 is August 15, 2021.
10. PEN/Faulkner Award for Fiction
Honoring the best work of fiction published by an American author in a single calendar year, this award has been given to the likes of John Updike, Philip Roth and Ann Patchett. Novels, novellas and collections of short stories are all eligible.
The winner receives a hefty cash prize — up to $15,000 in the past — and an invitation to read at the award ceremony in Washington, D.C. Plus, there are no submission fees or application forms to deal with; just send a PDF of each book (as many as you'd like) to awards@penfaulkner.org.
Deadline: The 2021 submissions are closed. In 2022, submissions will be accepted from July 1 to October 31.
11. PEN/Robert J. Dau Short Story Prize for Emerging Writers
This contest requires you to have already published a short story in a literary magazine or journal or cultural website. But if you've made your debut (but gone no further), you may be eligible for the generous cash prize of $2,000, which is annually awarded to 12 emerging writers, whose works are then published together in an anthology.
Short stories of up to 12,000 words are eligible and must be published in the calendar year preceding the year in which the award is given. Additionally, keep this in mind: Submissions are only eligible if submitted by an editor. Authors may not submit their own work.
Deadline: Contest is open annually between June and November.
12. Anisfield-Wolf Book Awards
Fiction and nonfiction writers who have recently published a book that "contribute[s] to our understanding of racism and our appreciation of cultural diversity" are eligible for this award, which offers $10,000 cash as well as media and publicity opportunities. Plus, winners receive their prize at a ceremony in Cleveland.
Submissions must be published in the prior year (so books published in 2020 are eligible for the 2021 award).
Deadline: Annual submission window is September 1 through December 31.
13. Marfield Prize (aka National Award for Arts Writing)
Presented by the Arts Club of Washington, this award seeks to honor nonfiction books that deal with the "visual, literary, media, or performing arts." The prize is $10,000 and may be awarded to works of criticism, art history, memoirs and biographies, and essays.
Deadline: Annually in the last quarter of the year; the 2021 deadline is November 16 to December 31.
14. W.Y. Boyd Literary Award for Excellence in Military Fiction
If you're a war buff, this competition is for you. It awards $5,000 — and a 24-karat-gold-framed citation of achievement — to the best piece of fiction set during a period when the U.S. was at war (war may either be the main plot of the piece or simply provide the setting). Submissions may be adult or YA novels.
Deadline: Annually on December 1.
15. Friends of American Writers Chicago Awards
FAW presents two annual awards: an Adult Literature Award for literary fiction or nonfiction, and a Young People's Literature Award for a children's/YA book.
Authors must reside in the state of Illinois, Indiana, Iowa, Kansas, Michigan, Minnesota, Missouri, North Dakota, Nebraska, Ohio, South Dakota or Wisconsin — or they must set their book in one of those locations. Prize amounts vary from year to year, but you don't have to bother with an application and all winners are celebrated at the organization's May luncheon.
Deadline: Annually in December; the 2022 deadline is TBA.
16. Hektoen Grand Prix Essay Contest
Hektoen International, an online journal dedicated to medical humanities, offers two prizes annually for essays of no more than 1,500 words: $5,000 is awarded to the winner and $2,500 to the first runner-up. Eligible topics are broad so long as they have a relation to medicine, and many include art, history, literature, education and more.
Deadline: Annually; September 15, 2021 is the most current deadline.
17. Biopage Storytelling Writing Contest
There's no denying it: social media is a huge part of our 21st-century lives. It's easy to get used to limiting our communications to 280-character and emoji-strewn snippets, which is why this marketing firm is hosting an essay writing contest to "remind people of the benefits of writing."
Essays of up to 5,000 characters (roughly 1,000 words) will be accepted, and right now they're looking for stories of COVID-19 quarantine life.. The grand prize winner will receive $300, and five runners-up will be awarded $100 each.
The contest is free to enter, but you'll need to register for a Biopage account to be eligible.
Deadline: July 31, 2021
18. St. Martin's Minotaur / Mystery Writers of America First Crime Novel Competition
Writers 18 and older who have never had a novel published (in any genre) are eligible for this prize, awarded to an original book-length manuscript where "murder or another serious crime or crimes is at the heart of the story." The winner receives a publication contract with Minotaur Books and an advance of $10,000 against future royalties.
Deadline: Annually in the first quarter of the year; the deadline for 2022 is TBA.
19. ServiceScape Short Story Award
ServiceScape, a platform matching freelance writers, editors and graphic designers with clients (i.e. a great place to look for paid writing work!) offers a yearly Short Story Award of $1,000 to a winning fiction or nonfiction work of 5,000 words or fewer. The winner will also have their story featured on the ServiceScape blog, which sees thousands of readers each month.
Deadline: November 30, 2021
20. Stowe Prize
This biennial prize of $10,000 honors an American author whose adult fiction or nonfiction work has had an impact on a critical social justice issue (as did Harriet Beecher Stowe's novel Uncle Tom's Cabin).
Deadline: Biennially; the 2022 deadline is TBA.
21. The Diana Woods Memorial Award in Creative Nonfiction
Creative nonfiction essays of no more than 5,000 words on any subject are eligible for consideration for this award, whose winner receives $250 and publication in Lunch Ticket, the literary and art journal produced by the MFA community of Antioch University Los Angeles.
Works must not have been published elsewhere. Award winners are required to submit a 100-word biography, recent photo and a short note thanking the Woods family for their generosity and support.
Deadlines: Biannual reading periods are in February for the Summer/Fall issue and in August for the Winter/Spring issue.
22. The Justice Centre for Constitutional Freedoms Essay Contest
Each year, this Canadian organization offers three prizes, ranging from $500 to $1,500, to the essay with the most thoughtful, well-reasoned arguments around a specific human-rights theme. (For example, 2019's prompt was, "Should universities police student behavior at private events?"
The contest is open to Canadian college and university students, and essays should be 2,500 words or less in length.
Deadline: 2021 contest guidelines and deadline TBD
23. Write the World
For young writers ages 13-18, these cool contests also serve as mini workshops. Recognizing that "a first draft is never perfect," submissions actually receive peer review by authors, writing teachers and other experts and writers are given the chance to revise their pieces based on this feedback before submitting them for final prize consideration.
Contests vary each month, but there's a $100 prize for the winner and $50 for the runner-up (plus $50 for the best peer-reviewer). All three are featured on Write the World's blog alongside comments from a guest judge. And since each month's prompt is from a different genre, developing writers get a chance to test out different styles.
Deadline: Monthly.
24. Prose.
Stuck with writer's block and looking for a way to jumpstart your escape? Prose offers weekly challenges meant to spark your creativity; many are just for fun, but look for the weekly numbered challenges posted by Prose (rather than community members or sponsors) for a chance to win money.
Prizes are typically between $100 to $200 and word counts are low — some as low as under 150, some as high as 500. So even if all you get from the prompt is a chance to flex your brain, it's not a bad deal.
Deadline: Weekly and monthly.
25. The Restless Books Prize For New Immigrant Writing
First-generation immigrants have a chance to win $10,000 and publication by Restless Books for telling their stories (real or imagined). The contest alternates annually between fiction (novel or short story collection) and nonfiction (memoir, essay collection, narrative nonfiction). In 2021, it will go to a work of nonfiction of at least 25,000 words; 2022 will be fiction.
Deadline: Annually; the deadline for 2021 has passed. The 2022 submission deadline is TBA.
26. AFSA National High School Essay Contest
The U.S. Institute of Peace and the American Foreign Service Association sponsor this annual high school essay contest, where the winner receives a $2,500 cash prize, an all-expense paid trip to Washington, D.C., and a full-tuition paid voyage with Semester at Sea upon the student's enrollment at an accredited university. Essays should be between 1,000 and 1,250 words and have to answer all aspects of the prompt as well as demonstrate an understanding of the Foreign Service.
Runners-up get a pretty sweet deal, too — a $1,250 cash prize and a full scholarship to participate in the International Diplomacy Program of the National Student Leadership Conference.
Deadline: The 2021 deadline has passed; the 2022 deadline is TBA.
Born in 2018, the Society of Spanish Researchers invites talented and original writers to write a 100-word blurb for a hypothetical novel. This might sound really easy, but your blurb has to quickly hook readers and make them want to read more. Open to anyone over 18 anywhere in the world, your real or fictional short story for this competition must be either in English or Spanish and "conceived from the objective of scientific dissemination to primary school" to qualify for the cash prizes: £150, £100 and £50.
Deadline: The 2021 deadline has passed. The contest is generally open mid-February to mid-March.
28. VCU Cabell First Novelist Award
Virginia Commonwealth University sponsors this award that honors an outstanding debut novel published in the preceding calendar year. While you may have published previous books in a different form, the submission must be your first published book marketed as a novel.
The award is a $5,000 cash prize, and the winning author must agree to attend the award event, usually scheduled for November.
Deadline: Annually; the 2022 contest runs July 1 through December 20, 2021.
The Daisy Utemorrah Award is for an unpublished manuscript of junior or YA fiction written by Aboriginal and Torres Strait Islander peoples currently living in Australia. Generously supported by the Copyright Agency's Cultural Fund and the State Government of Western Australia, the winner of the award receives $15,000 and a publishing contract with Magabala Books.
Deadline: The 2021 deadline has passed; 2022 deadline TBD.
30. Ultimate Meal Plans Nutrition Scholarship
College students studying nutrition, kinesiology or exercise-science fields: you're going to be all over this one. Twice per year, the Ultimate Paleo Guide (aka the best paleo resource on the internet) awards $500 scholarships to two deserving students who meet all eligibility requirements — as well as write an 800-word essay about why you chose your field, an impact you'd like to make in your career, a challenge you've faced and more.
Deadlines: January 30 (awards in March) and July 31 (awards in September).
31. Insecure Writer's Support Group Annual Anthology Contest
The theme? First love. The genre? Sweet romance. As long as you stick to these guidelines, The Insecure Writer's Support Group's annual contest welcomes your 5,000- to 6,000-word (previously unpublished) creative story. But before you send it off, make sure your story is polished and formatted! Plus, the prizes aren't too shabby — winning stories will be edited and published, authors will receive royalties, and the top story will even get to give the anthology its title.
Deadlines: September 1, 2021.
If you're an undergrad at a college in the U.S. or Canada, this writing competition is for you. (Traditionally, this contest has encouraged applicants with an Asian background, but anyone is invited to apply.) Submissions should be no more than 7,500 words.
One winner will get a $1,000 prize as well as a scholarship to the 2022 Southampton Writers Conference.
Deadline: June 1, 2021
33. Bacopa Literary Review Contest
The Bacopa Literary Review is an international journal published by the Writers Alliance of Gainesville. Each year, it opens submissions for pieces in four genres: fiction, creative nonfiction, poetry and prose poetry. Find detailed guidelines for each genre on its website. First place gets $300, and the second prize in each of the four genres gets $100.
Deadline: May 31, 2021
Poetry contests 2021
Curious about opportunities for poets? Your stanzas — rhyming or not — could be worth a fair amount of money in these poetry competitions.
Check out these poetry writing contests.
34. Black Voices in Children's Literature Writing Contest
This contest is open to Black writers who are over the age of 18 andresidents of Illinois, Indiana, Iowa, Michigan, Minnesota, Missouri, Nebraska, North Dakota, Ohio, South Dakota or Wisconsin. It's hosted by Strive Publishing and Free Spirit Publishing and seeks to fill the need for Black representation in children's and young adult books. Original board and picture books for children aged 0-4 and picture books for ages 4-8 are eligible, provided they feature contemporary, realistic Black characters and culture and focus on character development, self esteem, community and other aspects of positive childhood development.
Three prizes, ranging from $250 to $1,000, will be awarded, and the first place winner will be "seriously considered" for publication, though it's not guaranteed.
Deadline: September 20, 2021.
If you're already a published poet, this is the award for you; it's given for a second book of poetry due to come out in the forthcoming year. The winner receives $5,000 and an all-expenses-paid week-long residency at The Betsy Hotel in Miami Beach, Florida. In addition, copies of the winning book are distributed to 1,000 members of the Academy of American Poets.
Deadline: Annual submission window is January 1 through May 15.
36. African Poetry Book Fund Prizes
The APBF awards three prizes annually for African Poetry. The Luschei Prize for African Poetry gives $1,000 for a book of original African poetry published in the prior year.
The Sillerman First Book Prize for African Poets gives $1,000 and a publication contract for a book-length collection of poetry by an as-yet-unpublished African author.
The Brunel International African Poetry Prize is a new prize that grants £3,000 to a poet who was born in Africa, or has African parents, who has not yet had a full-length book of poetry published. (U.S. citizens qualify.) To submit, you'll need 10 poems.
Deadlines: See individual prize pages.
Claremont Graduate University presents two awards each year to poets they deem to be "outstanding." The Kate Tufts Poetry Award grants $10,000 for a published first book of poetry that shows promise.
The Kingsley Tufts Poetry Award grants a mammoth $100,000 for a published book of poetry by an established or mid-career poet.
Deadline: 2021 deadlines not yet announced.
38. Graywolf Press Walt Whitman Award
The Walt Whitman Award is a $5,000 prize awarded, along with publication, to an American poet with a winning first book manuscript. He or she also receives an all-expenses-paid six-week residency at the Civitella Ranieri Center in Umbria, Italy.
Graywolf Press is also one of the publishers of the Cave Canem Poetry Prize, "a first book award dedicated to the discovery of exceptional manuscripts by Black poets." Winners receive $1,000 and Graywolf publishes every third winner of the prize.
Deadline: Submissions for 2021 have passed; 2022 submission deadline TBD.
39. Wergle Flomp Humor Poetry Contest
Now in its 21st year, this humor contest wants your best published or unpublished work for a grand prize of $2,000; runners-up are awarded $500 and 10 honorable mentions will receive $100 each. Writers of all ages from eligible countries can submit an original, humorous poem with 250 lines or less, and it must be an English.
Deadline: April 1, 2022.
40. The Alpine Fellowship Writing Prize
This writing competition is looking for the best piece of unpublished themed writing. In 2021, the theme was "Untamed: On Wilderness and Civilization." Submissions may be prose, poetry or non-academic essays. Maximum word count is 2,500, and this is open to all nationalities and to anyone 18 or older. The winner gets a £10,000 cash prize, second place gets £3,000 and third place gets £2,000.
Deadline: Applications for 2021 have closed. Follow the Alpine Fellowship on Instagram for updates.
Where to find more legitimate, free writing contests
Looking for more opportunities to submit your work? Here are a few great sites to keep an eye on for writing contests.
A number of the contests found on our list came highly recommended by this site, which compiles some of the best free literary contests out there. Along with a wide range of recommended contests for writers of all stripes, Winning Writers also lists some contests and services to avoid — which is just as useful!
They also offer a handful of contests themselves, including the North Street Book Prize .
Another fantastic source for legitimate writing contests we consulted when compiling this list, Poets & Writers vets competitions, contests, awards and grants to make sure they're following legitimate practices and policies. It's worth checking out regularly as it features both annual and one-time contests.
Since 2014, Reedsy has built a network of world-class publishing professionals and helped produce more than 10,000 books. An ecosystem for authors and publishing professionals, Reedsy prides itself on providing help at every stage of your publishing journey — it even curates writing contests.
Right now, for instance, The Narrative Prize will award $4,000 to a writer with the best short story, novel excerpt, poem, one-act play, graphic story or work of literary nonfiction published by a new or emerging writer in Narrative. (Deadline for that is June 15.)
Don't forget to set your filter accordingly to find all the contests with fee-free entries!
(This listing contains affiliate links. That means if you purchase through our links, you're supporting The Write Life — and we thank you for that!)
The original version of this story was written by Kelly Gurnett. We updated the post so it's more useful for our readers.
Photo via Viktoriia Hnatiuk / Shutterstock
The post 40 Free Writing Contests: Legitimate Competitions With Cash Prizes appeared first on The Write Life.
Read more: thewritelife.com