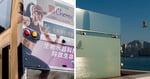 "There's no such thing as a coincidence," they say, yet many little moments we encounter every day just seem more like happy (or unhappy) accidents rather than anything else. Especially if you have an eye for these things like Edas Wong.
Nothing escapes the lens of this photographer when he goes out on the streets. In the images below, you can see the many brilliant accidents he's captured recently, where the lines between cityscape and people are blurred.
This is our third post about Edas' work, don't forget to check the other two: part 1, part 2.
More info: Instagram
#1
Image credits: Edas Wong
Bored Panda asked the photographer whether he has any tricks for being able to spot such "happy accidents" and capture them. However, Edas says there really aren't special tricks or secrets: "The most important is to focus on the present moment, i.e. high concentration in observation. All interesting moments are happening around us but we just overlook them."
Wong approaches the process of street photography as a somewhat meditative experience, always trying to clean his mind as much as possible and concentrating on whatever he's capturing.
#2
Image credits: Edas Wong
#3
Image credits: Edas Wong
The artist denies having any rituals or special routine on the day of shooting: "I often go to a crowd, no matter indoor or outdoor, and then shoot. However, I can also shoot in an empty area, i.e. garden without people." According to Edas, the most important thing is being "in the now" and observing everything around you.
#4
Image credits: Edas Wong
#5
Image credits: Edas Wong
We wondered if Edas would be interested in trying out different styles of photography, like working with models or brands, for example. He replied that currently other fields of photography don't interest him. However, the photographer is considering trying his hand at writing. "It could be another good media for creativity," says Edas.
#6
Image credits: Edas Wong
#7
Image credits: Edas Wong
When asked about future goals and aspirations, the photographer says he'd love to shoot in London and New York. Also, to show his work: "I want to have a solo exhibition. My photos have been shown in several joint exhibitions, however, I haven't had a solo exhibition yet."
#8
Image credits: Edas Wong
#9
Image credits: Edas Wong
#10
Image credits: Edas Wong
#11
Image credits: Edas Wong
#12
Image credits: Edas Wong
#13
Image credits: Edas Wong
#14
Image credits: Edas Wong
#15
Image credits: Edas Wong
#16
Image credits: Edas Wong
#17
Image credits: Edas Wong
#18
Image credits: Edas Wong
#19
Image credits: Edas Wong
#20
Image credits: Edas Wong
#21
Image credits: Edas Wong
#22
Image credits: Edas Wong
#23
Image credits: Edas Wong
#24
Image credits: Edas Wong
#25
Image credits: Edas Wong
#26
Image credits: Edas Wong
#27
Image credits: Edas Wong
#28
Image credits: Edas Wong
#29
Image credits: Edas Wong
#30
Image credits: Edas Wong
#31
Image credits: Edas Wong
#32
Image credits: Edas Wong
#33
Image credits: Edas Wong
#34
Image credits: Edas Wong
#35
Image credits: Edas Wong
#36
Image credits: Edas Wong
#37
Image credits: Edas Wong
#38
Image credits: Edas Wong
#39
Image credits: Edas Wong
#40
Image credits: Edas Wong
Read more: boredpanda.com