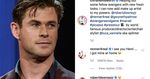 Chris Hemsworth may be a mighty hammer-wielding god, but that doesn't mean he's above the occasional poster-related prank.
On Tuesday, Hemsworth posted an Instagram video from the Avengers: Endgame press tour.
SEE ALSO: 'Avengers: Endgame' cast explain how bathroom breaks should work during the movie
In the clip he can be seen going between the posters of his cast-mates in a corridor, gleefully scrawling glasses on Chris Evans' face before writing "I heart Thor" on the cheek of Robert Downey Jr.
View this post on Instagram
Helping out some fellow avengers with new fresh looks. I can now add make up artist to my powers. @robertdowneyjr @renner4real @gwynethpaltrow #avengersendgame #marvel #picasso #presstour 🎥 by world famous producer/director/writer/hair stylist @luca_vannella aka splinter
A post shared by Chris Hemsworth (@chrishemsworth) on Apr 8, 2019 at 10:08am PDT Read more…
More about Robert Downey Jr., Chris Hemsworth, Jeremy Renner, Avengers Endgame, and Culture
Read more: mashable.com