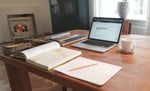 Covid 19 Has Changed Blogging — Maybe ForeverCan you leverage the opportunity?
Photo by Wouter on Unsplash
Around 30 years ago, 900 million fewer people traveled abroad. That number repeated itself in 2020 since the fight against the COVID-19 pandemic demanded the imposition of worldwide travel restrictions. To further illuminate the impact, the fashion industry witnessed a drop of 93% in its economic profit — revenue that would again take you back to the latter half of the 20th century.
Contrarily, the healthcare industry grew to unprecedented levels, with telemedicine soaring high with a whopping 3000% increase from September 2019. And this might not come as a surprise that the EdTech industry grew exponentially, too, with more than 1.5 billion students resorting to online education towards the end of April 2020.
So, when Kirill Pyshkin of Credit Suisse says that 'we are now at a Netflix moment for education — the point where the traditional education system is about to be disrupted' — he says it right. When McKinsey & Company's analysis highlights that shopping trends have and will significantly change with consumers preferring digital channels, it hints at an undecipherable market dynamism. Finally, when UNWTO reiterates that the New Normal is still unknown, they are pushing us to comprehend and consume an online world that will be very different from 2019 and before that.
And it's safe to say that the driver of this change on the Internet would be content — the subject it is based on, the way it is formulated, and the manner in which it is being pushed through the marketing funnel. The sweet spot of this content would be a Blog. Since the world has changed, so will the writing.
This is how Covid 19 has changed blogging foreverA shift from the core industries
A few days back, a friend of mine who happens to be an experienced travel writer expressed her concern over the scarcity of jobs available in the travel industry. She elucidated how the advent of COVID-19 pushed many travel writers out of the game since the companies canceled the trips, hotels closed their doors, and people stopped flocking to the travel blogs. To be honest, this change was quite understandable due to the worldwide lockdown restrictions imposed in 2020 (and at present, too, in some parts).
Notice the difference in the searches around travel blogs. While the red curve (May 10, 2017 — May 10, 2019) is steady, the blue curve (May 10, 2019 — May 10, 2021) exhibits a steep fall in the searches around travel blogs in 2020 post the COVID pandemic.
Photo by author, created using Google Tends and Canva
Now, this is indicative of two scenarios.
First off, people stopped looking for travel destinations since they didn't plan to head anywhere to ensure their safety during COVID.Budding bloggers and freelancers didn't approach the industry for developing their niche in the same.
A counter to this argument can be that COVID will soon be heading into obsoleteness (which is good news), and then these core industries will again boom. Sure, they will. But what about the people who have suffered an immense loss within these two years while sufficing these sectors. Would they be interested in participating again? I highly doubt it.
A change in the learning patterns
There's one company that made all the buzz during lockdown — Zoom. The Zoom application facilitated seamless video calling when colleges and institutions were being shut, and authorities were looking out for options to sustain the curriculum of students.
Enter Zoom, Google Meet, Airtable, etc., and the world started looking rosy once again, except the method of knowledge exchange, and learning changed swiftly. In the blogging industry, this change was welcomed by articles around EdTech and eLearning. And now you know how dominating this niche is — it's everywhere.
Photo by author, created using Google Tends and Canva
Since the learning methods have changed, the learning material ought to be reconstructed. And since your blog is the source from which Google adds value to the user, you have to cater to these new methods.
A change in visibility on social media
The blogosphere was already on the rise when COVID struck the whole world. A majority of people were sharing information and keeping tabs with their fellow bloggers in this digital age. And while social media was already envisioned as a significant part of the marketing (promotional) funnel, users didn't really care. Well, most of them didn't.
But now they will, and I can very well affirm the same, for I have been witnessing a change in outlook towards social media. Here in India, literally, everyone is using these channels to spread their voice, be it for help, relief, appreciation, criticism, knowledge, information, etc.
"Over the past year, more than half of consumers (54%) say their use of social media has grown, and perhaps unsurprisingly, Gen Z and Millennial consumers have seen the greatest surge in social media usage and expect it to keep rising."— Jamie Gilpin, (Gary Drenik on Forbes).
But it must be noted that this rise during COVID hasn't had a significant negative impact on the blogosphere. Reasonably, it has pushed people to resort to social media to talk about things and address their concerns. This is not to say that the blogosphere has lost relevance. However, it has evolved in a different direction — an apparent shift from the core industries where blogging was seen to be a prime source of reporting.
Now, this change has been wrought in blogs, as they now have to focus on how they can make their mark on social media and limit their scope to accommodate for growth while complying with a solid promotional pipeline.
The very idea of the new normal
What if the phrase 'New Normal' was never brought into existence? Simply put, we wouldn't have been talking as much about the upcoming change. Because we're interested in changing owing to the change in the environment, the talks are changing and so are the methods to accommodate them. And this is the type of New Normal that the blogosphere is having to deal with now — having to evolve for the changes in the industry and methodologies.
And quite frankly, this has to be echoed through your content. The content you create should reflect your belief that the world will change, and COVID will be the source of that change.
Take this article, for example. A year or two ago, I would have been inclined to emphasize and critically, factually, and statistically evaluate the credibility of the phrase 'blogging is going to die.' I won't be doing it now because I know there's a surge, and COVID-19 is fueling it at an unparalleled rate.
An inclination towards different niches
When I scroll through LinkedIn these days, I see people posting about Freelancing. I see professionals proudly using the words "freelancer" and "freelance" within their profile headlines. When I scroll through my Google Feed, I see blogs around optimizing the workspace at home, tips for being proactive while working remotely, and tricks to grow the freelance business.
I no longer come across blogs explaining the intricacies of a corporate job. I'm no longer approached by content that speaks about the different managerial behaviors. I'm no longer in contact with the long list of best practices for sustaining a full-time job for a prolonged period.
As a matter of fact, the interests of people have changed, and that is being complemented by the recommendation systems. The source of these recommendations is Google and Google operates by matching the user intent with the most relevant content.
Since the way people search for content to read today is not the same as what it was before, it's actually a no-brainer that the blogging industry has had to shift its attention to fresh subjects.
The assimilation of an entrepreneurial mindset
There's one thing that COVID-19 has taught each one of us — you just can't have a single source of income all your life. You have to get out there, commit to multiple things, be competent in working them out, and innovate to the utmost level to help yourself survive through the thick and thin.
More and more people are embracing this idea and moving towards justifying their capabilities. They have understood that entrepreneurial behavior is the key to success in 2021 and beyond and the blogging industry is picking up the pace in this regard.
Notice the increase in searches around "online business." It's clear that people are trying to figure out how they can emulate the income of their day job. In all honesty, this seems the most plausible option in the present day.
Photo by author, created using Google Tends and Canva
As for bloggers, words and phrases like online business, entrepreneurship, work from home, remote working, etc., are integral to their niche development in the new normal.
In a nutshell
Blogging, as a practice, will remain the same, for it will consistently adhere to the search engine technicalities. However, blogging as a career and blog as the knowledge base will certainly embrace the New Normal.
Amidst the challenging current social and financial situation, it would all depend on how effectively bloggers use the various monetization channels available to them, how concretely they analyze the environment's support to their niche, and how proficiently they use their skills to their benefit.
COVID 19 Has Changed Blogging — Maybe Forever was originally published in The Writing Cooperative on Medium, where people are continuing the conversation by highlighting and responding to this story.
Read more: writingcooperative.com