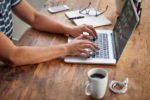 Writing is awesome. And getting paid for writing? Well, getting freelance writing jobs is the dream.
Of course, making it happen isn't always easy. Finding good freelance writing jobs can be challenging even for experienced writers, and breaking into the business is downright difficult.
One of the biggest obstacles for writers attempting to get paid for their work is finding legitimate, paid, online writing jobs. It's all too easy to stumble across freelance writing "gigs" that offer little more than exposure — which doesn't put money in the bank.
So where should you look for online writing jobs?
Fortunately, some reliable resources for finding online writing jobs do actually pay.
In this post, we'll share a few of our favorites. Here are some of the best places to find freelance writing jobs online.
A great resource for freelancers, this membership site is so much more than a job board. For $40/month, you get access to more than 300 hours of "bootcamps" that teach you how to make money as a freelance writer and hundreds of forums where you can get any question answered. Whether you want to listen to the expert guests on their podcast, access the 24/7 community of writers, or check out video and audio training materials, the Den has everything a freelancer needs to grow their career — all in one place. Plus, they have direct job referrals to quality writing gigs in the Den 2x program.
If you're serious about freelancing, this is worth considering. You can join at the links above, or read our full Freelance Writers Den review for more details.
2. FlexJobs
One of the top job boards for freelance writing jobs and remote work, FlexJobs enables you to create a custom job search profile to meet your specific needs. Select your categories (there are several under "Writing"), your preferred work schedule, your experience level and more to hone down your search results to those that best fit the freelance writer job you're looking for. You can also set alerts so you're notified when new jobs matching your search criteria are posted.
A subscription is $9.95/week, $24.95/month, $39.95 for three months or $59.95/year. Here's a search for "writer" jobs if you want to try it.
3. SolidGigs
SolidGigs is part job board, part productivity tool. Why? Because their team literally saves you hours of scouring job boards. They hand-pick the best gigs from around the web and compile them into a weekly email, including remote opportunities.
It's $21/month to subscribe, and they offer a free seven-day trial. Along with curated job opportunities, you'll also get access to business training courses and hundreds of lessons on freelancing and interviews with successful freelancers.
Sonia Weiser's bi-weekly newsletter has become a must-have for freelance writers. She gathers dozens of calls for pitches from Twitter and emails them to her community twice a week. She offers the service through Patreon, where she asks for a membership contribution of up to $10 (and also offers sponsorships for those who can't afford it). If you can only make a one-time contribution, she provides an option for that, too.
In addition to freelance writing jobs, she includes career advice, resources on how much different outlets pay, and other helpful links.
A platform that's still in its beta phase, Working In Content aims to connect organizations with passionate content professionals. As a bonus, it values diversity, equity and inclusion, and it encourages the employers it works with to do the same.
Whether you're a UX writer or a content strategist, this site is a great option to find work in content design, marketing, management and more. It offers full-time and contract roles that are either remote or in cities like Seattle, New York City and San Francisco.
Be sure to subscribe to its free newsletter that shares expert interviews, resources and job opportunities once a week.
Created by Darren Rowse of ProBlogger, an authority site on blogging, the ProBlogger job board features part- and full-time, contract and freelance writer jobs across a wide variety of locations, industries and writing specialties.
Plus, given ProBlogger's high profile in the blogosphere, it's likely you can often find jobs posted by some big-time blogs and employers who have an idea what good writing is really worth. Besides content writing, it also lists a healthy dose of copywriting jobs.
This site content writing job board includes remote, freelance, contract and full-time jobs. To peruse these hand-picked writing opportunities, visit the site online, sign up for daily job alerts or subscribe to its paid newsletter that shares brand new openings once per week for $10/month.
Another good resource: This site offers a content writing blog that features long-form interviews with prolific content writers, authors and founders who share tips of the trade.
Powered by Adobe, Behance is an online platform for creative professionals to showcase their work, find inspiration and connect with companies looking to hire.
Behance allows you to upload your past projects to quickly create a visually-pleasing online portfolio, making it a great resource for writers without a website. It has its own job board which you can browse to find your next career move or freelance writing job!
9. MediaBistro
MediaBistro is a great resource for media freelancers of all stripes, offering online courses, tools and information that can help you navigate your career.
Be sure to check out the freelance job board section of the site, as well, for a wide range of jobs for all experience levels from industries like TV, PR/marketing, magazine and book publishing and social media — a little something for everyone.
This weekly e-newsletter from FreelanceWriting.com provides a nice compendium of freelance writing and editing jobs with competitive pay rates.
With exclusive job opportunities as well as posts pulled from sites like Indeed and Craigslist, the job board consolidates a variety of gigs for everyone from newbie to seasoned freelancers. Save yourself the time of scouring numerous sites and let this newsletter bring the decent jobs right to your inbox.
Who Pays Writers? is a crowd-sourced list of publications that pay freelance writers — and it's a gold mine. The list has hundreds of publications to explore; it not only shows you which publications are accepting submissions, it also tells you how much they pay per word.
The site primarily offers writers a good research opportunity to learn how much different publications pay, but there are some online blogging opportunities as well (depending on the publication). Maintained by an anonymous volunteer collective, the list is updated monthly.
12. The Ultimate List of Better-Paid Blogging Gigs
Freelancer Sophie Lizard compiled a free ebook listing 75 blogs that pay $50 to $2,000 per post, broken down into sections like Writing Blogs, Food Blogs, etc. She also includes some good tips on how to approach these blogs, how to promote yourself once you've landed a post, and more.
To get the ebook, add your email address to her newsletter list — you'll also get free access to her money-making toolkit and more.
13. LinkedIn Jobs
If you've already got a LinkedIn profile (and you really should to attract new clients), don't let it just sit there. Networking goes a long way in the freelance world, and LinkedIn is a great resource to do some networking through common connections.
While you're doing that networking, check out the Jobs section and sign up for email alerts when jobs are posted that match your interests. Many will be location-based, but who's to say you can't approach these employers with a proposal for freelance writing services? Maybe they need someone to fill the gap in the hiring interim, or maybe the job could just as easily be done remotely but they hadn't considered that. Talk about a different kind of pitch!
14. Freelance Writing Jobs (FWJ)
This invaluable resource updates daily with online writing jobs scooped from around the 'net. It's also got a rich archive filled with posts offering all kinds of tips and insight for beginning and experienced freelancers alike.
Along with the daily blog posts, you can also check out the Freelance Writing Jobs Board, where those in need of copy services of all sorts post jobs on the regular.
15. Upwork
Although Upwork has a bit of a reputation for offering low-rate jobs, it's definitely possible to find postings offering livable wages for writing jobs online. When this article was published, a job to write a finance/trading article for $500 and a ghostwriter gig for $600 were both listed.
Plus, you get the added benefit of rate transparency: You know exactly what you're going to get before you even put in the effort to read the full job description! If you're curious about this platform, here's a longer post on why one writer says upwork is legit.
16. Where to Pitch
This last one takes a little bit of forethought and footwork; instead of simply listing online writing jobs, Where to Pitch offers a list of potential venues when you type in a topic you're interested in working on. If you're willing to put in that effort, you're bound to find some new publications to pitch.
You can also sign up for the Where to Pitch newsletter, which gets you access to five real pitches that snagged the writer bylines in the New York Times, The Atlantic, NPR, and other large publications.
17. Freelance Writing Jobs for Beginners
If this list is helpful, you'll get even more out of The Write Life's ebook: 71 Ways to Earn as a Freelance Writer. We suggest dozens of different ways to earn income online as a writer, including information on how much each gig pays and tips for how to land those freelance writing jobs. The bulk of the jobs we suggest are ones you can do from home.
Offering full-time, freelance and remote jobs opportunities, JournalismJobs.com can help you find writing, editing, reporting or copy editor gigs. You can also find jobs across a wide range on industries like non-profit, technology and TV, so you'll never get bored with this website's selections.
Plus, while you're here, be sure to set job alerts to know right away about new freelance writer jobs, check out its section of career advice or even peruse the fellowship listings.
Okay — but how do you run a freelance writing business, anyway?
Even with tons of resources for finding online writing jobs, it can be hard to know exactly what it takes to get your foot in the door with those editors. After all, you don't just fall into a job (usually); you've got to prove to someone that you're the right fit.
All of that to say nothing of the fact that running a freelance writing business is its own job, once you get started. You'll have to negotiate pay raises, deal with editorial disagreements, and even — perish the thought — figure out self-employment taxes.
If you're eager to learn about any of those topics, check out some of these helpful posts, created to help freelancers tackle every part of the writing-for-a-living experience.
How to Become a Freelance WriterHow to Pitch a StoryTips for Raising Your Freelance Writing RatesPortfolio Website Options for FreelancersAvoid Freelance Writing Scams
We never said it was easy, but the writing life certainly is a rewarding one.
This is an updated version of a story that was previously published. We update our posts as often as possible to ensure they're useful for our readers.
This post contains affiliate links. That means if you purchase through our links, you're supporting The Write Life — and we thank you for that!
Read more: thewritelife.com