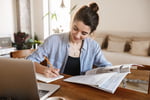 The growing field of technical writing — the work of creating user guides for new products, capturing how a business brings aboard a new customer, directing a user step by step through installing new software and thousands of other tasks — is a lucrative one.
I made the switch to in 2019 and wish I had known about the option far earlier.
I came to technical writing after working as a newspaper reporter and copy editor. Leaving the profession I'd loved for decades wasn't easy, but I became even more grateful for my new career when the pandemic started and I became the sole breadwinner for our family of six. Back in March, my husband lost his job and finding a new one in the Covid-ravaged landscape took six months. I don't like to think how our household would have fared if I'd stayed in journalism.
Money isn't the sole reason to consider a job in technical writing, but it's no small consideration either.
My work on a team handling information technology documents for a federal government contractor outside D.C. pays $70,000 — almost twice what I earned at my last newspaper job.
Want to make the leap into technical writing? Let's break down what technical writing is and how you can get started in this niche.
What does a technical writer do?
A technical writer puts things simply — translating complex information into a message that allows the intended audience, whether that's a consumer or a software engineer, to take the desired action. Tech writers must decide the structure for best presenting the information to boost understanding for the end user.
Tech writers typically churn out standard operating procedure (SOP) documents, technical proposals, online help sections, installation guides, quick reference guides, white papers and more.
Technical communication is not only about writing, but editing (your own work and the work of others) and keeping terminology usage and other word choices consistent throughout a document and across multiple documents.
While the written word remains the focus for most tech writers, their documents increasingly aren't printed on paper, but rather read online. And tech writers no longer rely on words alone to get their message across but turn to interactive technologies to deliver a blend of text, illustrations, photographs, screenshots, custom graphics, animation, audio and video.
Tech writers tend to cluster in information technology (IT) fields, with many working in the federal government or for federal contractors. Other popular fields include healthcare, pharmaceuticals, finance, research, engineering and green energy. Some tech writers create documents used solely "in house" while others focus on writing for consumers or the public at large.
Writers who live in high-tech corridors may have an easier time landing work though one of the silver linings of the pandemic has been an uptick in work-from-home jobs in the field.
How much can you earn as a technical writer?
The median salary for a tech writer was $72,850 in May of 2019, according to the Occupational Outlook Handbook put out by the U.S. Bureau of Labor Statistics.
That's more than what comparable media professionals such as editors, writers, authors and public relations specialists make (their median salaries are in the low $60,000s) and significantly more than what reporters, correspondents and broadcast news analysts (with median pay of $46,270 earn.
There's also demand for tech writers. In contrast to journalism, where layoffs and even shuttered newsrooms have become the norm, the number of tech writing jobs will grow in the coming decades.
Thanks to the ongoing boom in scientific and technical products overall, the U.S. will add 4,300 tech communication jobs between 2019 and 2029, according to the Occupational Outlook Handbook. (The forecast for the reporters category for that same period calls for 5,800 fewer positions, an 11 percent drop.)
What kind of skills does a tech writer need?
Mention "technical writing" and many people think of dense documents overflowing with acronyms, abstract concepts and jargon. In other words, not exactly pleasure reading. But the latest trend in tech writing substitutes hard-to-read gobbledygook for text that's accessible to all.
This push, part of what's known as the plain language movement, aims to make it easier for the public to read, understand and put into use all kinds of important info (everything from legal contracts to the steps involved in asking for a new Social Security card).
A good tech writer also has a knack for structuring information, laying out the key points in the logical sequence so the end user can zero in on what's needed without reading every single word. Users can find what they need to know just when they need to know it.
Other building blocks that help a tech writer transition into the field include:
The ability to write clearly, concisely and in a neutral style
Curiosity
An analytical mind
An ease in interacting with busy scientists, engineers, illustrators, researchers, security analysts and various SMEs
Who should become a technical writer?
Most tech comm professionals have at least a bachelor's degree, often in English, journalism or some other communications specialty. Some tech writers come to the field after careers in academia, elementary education, business or as foreign language translators.
Recovering journalists are also naturals for making the move to tech writing. Anyone who's worked in a newsroom is likely an expert in conducting interviews with subject matter experts (SME), including being respectful of the SME's time but also willing to ask follow up questions or even "dumb" questions if some essentials remain murky. They know how important it is to aim for perfection — from grammar and punctuation to all the technical details — but still turn in the work on time.
Being tech savvy in any specialty field is a plus (no tech writer has ever gotten turned down for a job for knowing too much) and being passionate about technology is a given. A person who writes clearly who also has a degree in engineering, computer science or another technical field probably won't have trouble landing work as a tech writer.
Whatever your degree or previous professional experience, you'll want a portfolio to highlight your best work. One way to get some strong samples: Find an entity in need of tech writing and show off what you can do pro bono. Maybe a small business in your neighborhood could use written instructions for a task or a how-to guide to operating a piece of equipment.
How to break into technical writing
Anyone mulling a tech comm career might want to connect with the Society for Technical Communication. Dating to the early 1950s, it's the largest organization for tech writers. The STC offers certificates in tech writing and a slew of other resources. It also has local chapters that offer helpful blogs and newsletters along with conferences and networking events. Virtual seminars have become an STC mainstay during the pandemic.
Other strategies for training to move into tech writing include:
Completing free online classes from Ugur Akinci's Technical Communication Center or another reputable source
Enrolling in a college or university that offers tech writing classes or even degrees. The University of Maryland Global Campus is one good online option.
Checking out Techwhirl, an online resource with information helpful to experienced tech comm veterans as well as students and aspiring professionals.
Connecting with working professionals through LinkedIn's tech writers group, Technical Writers United and other groups on Facebook
Creating a resume just for tech writing jobs.
You'll want to read up on tech writing too. Tom Johnson, a California-based tech writer who started his I'd Rather Be Writing blog more than a decade ago, put together a list of resources he calls 40 Foundational Books for Technical Writing. He includes "Technical Writing Process" by Kieran Morgan and other guides to getting started in tech comm as well as two classics perfect for writers of all stripes: William Zinsser's "On Writing Well" and Strunk and White's "Elements of Style."
So what's it really like to be a technical writer?
The shorthand on technical writing: It's a little dull.
Maybe that characterization comes from all the onetime journalists working in tech, those diehards who know nothing compares to getting the scoop on election night, snagging an interview with the celebrity visiting town, chasing down the latest twist in a political scandal.
But tech writing delivers its own quiet satisfaction. The job is not as routine as it might seem at first glance. One day a tech writer is updating an SOP to include newly implemented cybersecurity measures, the next calls for talking with an SME to add another question and answer to a website FAQ page.
So while tech writing lacks the buzz that drew me to writing originally, my new gig lets me draw on many of the skills I honed in journalism — but without the late nights, weekend work and Christmas Eves and other holidays stuck in the office.
It feels great to know my skills are in demand and that I earn enough to pay my bills and plan for the future.
Photo via Dean Drobot / Shutterstock
The post How to Become a Technical Writer: Tips for Breaking Into This Lucrative Field appeared first on The Write Life.
Read more: thewritelife.com