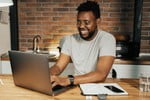 Here's what I learned dumping freelance writing for in-house writing
Source: Pexels
My rookie year as a freelance writer was so-so. From charging scrimpy rates, getting duped by scam clients, to losing opportunities simply because I'm Nigerian, freelancing didn't turn out as imagined. Then came 2019. I had a little break. My clientele and rates soared. For the first time as a freelance writer, I felt seen. My confidence solidified.
As my confidence grew, so did my greediness. I started accepting more jobs than I could handle. This greedy behavior ultimately became my Achilles heel. Flash forward to January 2020, I lost all my retainers on the basis of plagiarism, under-delivery, and the inability to meet deadlines. My freelance business took a nosedive, leaving me with no choice but to rebuild.
Rebuilding was, regrettably, frustrating. First, I tried using my rusty Upwork and Fiverr accounts to source for new clients, which didn't work out because I couldn't stand bidding for low-paying jobs. I also applied for jobs on Problogger. Here, I managed to receive a few interview invites but none of them worked out. Nature, it seemed, was bent on teaching me a lesson.
When all my efforts to land clients proved futile, I decided to publish a book on becoming a thought leader in the legal industry. In the process of trying to partner with relevant legal industry stakeholders ahead of the book's publication, I received an offer to join Strictly Law Business, a legal startup, as a Chief Content Officer. This was how my in-house writing journey began.
For context, in-house writing means working as a writer for a company full-time. Essentially, you work at agreed hours and write content to meet the company's goals in exchange for a monthly fixed salary.
Because of my lack of in-house writing experience, my reaction to the job offer from Strictly Law Business oscillated between "I think I can do this," and "oh my… I might be exposed for the fraud that I am." Notwithstanding, I resumed the job as I lacked options.
Contrary to my expectations, I performed excellently in my new role. Within my first month, I revived the company's newsletter and introduced an event idea that increased revenue by 30%. Ordinarily, this should mean quitting freelancing, but alas, freelancing was the toxic lover who I couldn't do without. I soon found myself searching for freelance clients amidst my 9–5 work schedule.
This time, client acquisition was a walkover because my personal branding efforts had quadrupled the demand for my services. This breakthrough left me floating on air, but not for long. Like a flash in the pan, my fortune quickly went south.
After a short honeymoon phase, 99% of my clients terminated our ongoing contracts due to my inability to give their jobs maximum attention. This setback was the last straw for me, making me resolve to give up my 2 years+ freelance writing career. Simultaneously, I was running out of steam as the CCO. Work had gradually become an unavoidable, life-sucking chore. I kept up, nonetheless.
A month later, Kelechi Udoagwu invited me to join her company (Week of Saturdays) as the Content and Community Manager. I accepted this offer without a second thought because it was a wish come true. I had always wanted to work with Kelechi since 2019.
After a month of juggling both roles at Week of Saturdays and Strictly Law Business, I resigned from the latter to handle my content and community management job with bells on.
Eight months have passed since then. At the time of writing this article, it's been two weeks since I resigned from my position at Week of Saturdays.
"Should I job hunt for another in-company writing role? Or I should revamp my freelance business?" This has been my most recurring thought. And while I haven't come to a conclusion yet, comparing the pros and cons of the two writing paths made me realize this:
Every writer should try in-house writing at least once in their lifetime.
Unlike freelance writing, in-house writing rarely gets a positive PR. There are countless content teaching writers how to freelance their services, but rarely do you see content advocating in-house writing. This is understandable, though. In a world that glorifies freedom, who wants to work at agreed hours and write consistently only to get paid on a fixed basis? According to brilliant minds like Naval, that equates "modern slavery," doesn't it?
Prior to 2020, I couldn't imagine writing for a company full-time. The mere thought made my blood run cold. Working two in-house roles, however, got to change my perspective.
Scroll down to read why you should consider an in-house writing position, steps to landing an in-company writing role, signs staff writing is best for you, and more.
Why should you work as an in-house writer?Portfolio building
Without a doubt, I had a great portfolio before joining Week of Saturdays and Strictly Law Business. Still, my accomplishments at these companies made my portfolio even better.
For example, while at Week of Saturdays, I wrote evergreen content (such as The 2020 Freelance Writing Report and Every Question About Freelancing Answered) that satisfied the curiosity of freelancers at different levels and skyrocketed the brand's thought leadership. At Strictly Law Business, I wrote an ebook that helped lawyers start freelance businesses and introduced an event that increased its revenue.
These accomplishments enriched my portfolio because I now have evidence demonstrating how my content marketing skills have created a lasting impact in organizations. Likewise, you can work as a staff writer (even if it's just for a while) if you want to skyrocket your portfolio.
Valuable connections and work relationships
Quality relationships are a bedrock of a successful writing career, and I am lucky to have cultivated a couple of them while at Week of Saturdays and Strictly Law Business.
Interviewing successful writers and journalists for the Week of Saturdays' Writers Who Inspire Us series was akin to attending regular coaching and networking sessions. One interview, in particular, motivated me to reassess my writing process. I also got the chance to build genuine friendships that still serve me.
At Strictly Law Business, I managed to develop relationships with brilliant team members with whom I can always communicate and share ideas that often translated to mind-blowing realities. This is a sharp contrast to my freelance writing career, which majorly entailed solo work.
If you're keen on relationship building and teamwork, you should give in-house writing a try. It offers a structure that makes these desires possible.
Credibility proof
It's a bit hard to measure the impact of your services on clients' successes as a freelance writer. Usually, you simply write, ensure your client is satisfied, and get paid. Rarely do you get access to information such as the percentage by which your content grew traffic or achieved specific business goals.
However, knowing this information sets you miles ahead of other content writers. Fortunately, you've easy access to it when working as an in-house writer. In my case, my access to Week of Saturdays' site backend exposed me to how my content strategy and development impacted the brand's website traffic and search impressions. So far, this knowledge and evidence of impact have made job applications and cold emailing seamless. I'm more confident because my words are backed with proof.
In addition, including a salaried work experience in your resume bolsters your credibility because it assures clients that someone else has directly vetted your work, and you can deliver results.
More focus on writing craft
As a freelance writer, half of your activities might involve lead generation and client management. By comparison, this onus isn't on you when working as an in-company writer. Instead, the company's executive and marketing team bears the responsibility. Resultantly, the average in-house writer has more time to focus on writing as a craft. This increased focus often leads to more sharpened writing proficiency.
I dare say I spent the last 10 months actually writing than I did most of my freelance career when I had to split time between writing, applying for gigs, marketing, and managing existing clients.
Expert, editorial feedback
As a freelance writer, you might not always get editorial feedback about your work quality. Especially when your clients are private individuals or companies with no content marketing department. Working in-house, on the other hand, gives you the opportunity for regular editorial or peer-to-peer feedback. I enjoyed this very much, particularly at Week of Saturdays.
Sometimes, I would write what I imagine to be my best work yet, only for the editor-in-chief to point out errors and refine the piece until it bears almost no semblance to my original work. Initially, this hurt my ego, but I learned to appreciate the corrections when I began to see improvements in my writing. I wasn't as good as I thought, after all.
Unlike freelance writing, where you can easily get away with bad writing, you cannot get away with terrible writing when working in-house. You have a higher authority to report to.
Free mentorship
If you're lucky to work directly under a kind, experienced supervisor, free mentorship is probably the biggest perk you'll enjoy working in-house. In my case, I enjoyed both writing and non-writing mentorship.
While working as the CCO at Strictly Law Business, I enjoyed the privilege of being a free recipient of its mentorship program with a renowned energy lawyer: Ayodele Oni. All because I was a staff member. Busola Ajala, the CEO, was also a figure who constantly gave me priceless pieces of advice.
At Week of Saturdays, I was directly under Kelechi Udoagwu, a writer I revere. In continually reviewing my work and discussing the company's goals, Kelechi unconsciously became my mentor — both on writing and life issues.
When you work as a staff writer, you stand a higher chance of working under a more experienced expert who may directly or indirectly serve as a mentor — for FREE. This is not commonplace when freelance writing.
Better accountability
Working as a salaried, full-time writer entails meeting company's targets and answering to your supervisor. This holds you to account and can power up your motivation to write consistently. Because all eyes are on you, you can't afford to slack on your terms as you would when working solo. In-house writing provides an accountability system that continuously motivates you to put in your best shot.
Stable income
This list won't be complete without discussing the income advantage. Freelance writing is often touted as one of the best income streams for writers, but is it?
Apart from the difficulty in landing profitable clients, you might encounter certain lean periods and have to work many jobs to meet your income goals. On the flip side, in-house writing gives you a consistent income and benefits. You're guaranteed to always get your paycheck at the agreed fixed time of every month.
If you love income security and stability, you should probably pursue in-house writing.
How do I land an in-house writing job?
Whether you want to work in the content marketing department of a B2B/B2C company or become a writer in an agency, you need to apply certain strategies when job searching. What are these strategies?
Get some experience
91% of employers say they prefer employees with work experience. So acquiring some experience is the first step to take before you begin your job search. You can acquire writing experience through any of these:
Taking internshipsPartaking in volunteering writing rolesGuesting posting on established blogsStarting your blogCreating independent projectsHandling freelance assignmentsDevelop an irresistible portfolio
Work samples are a non-negotiable prerequisite for any writing job. Thus, while gathering writing experience, don't forget to develop an online storehouse for your work samples. To get the best results from this, build a portfolio that cuts across your desired industries and keep it updated.
Suppose you want to work as a tech writer, for instance, your portfolio should include brilliantly written tech content. Doing this might make a hiring manager consider you as the possible best person for the job.
Prepare a compellingly written resume
Once you've acquired enough experience, it's time to sell yourself on paper. To do this, prepare a well-formatted resume that summarizes your achievements, demonstrates your skills, and highlights any other info relevant to the job description. Having a nice resume, I sadly admit, isn't a guarantee of landing a job. This brings me to the next point…
Become a supernormal networker
Referrals account for 81% of job opportunities. And so, it'd be foolish to discard the power of networking when applying for a staff writer position. It'd further be hypocritical for me not to state that networking made my role at Week of Saturdays possible. After I found Kelechi Udoagwu online in 2019, I tried my best to establish a valuable connection.
First, I became a loyal contributor to her company's blog. There were also times where I offered my SEO and content strategy services for free. These acts kept on top of her mind and made me her best choice for the Content and Community Manager position.
When networking on social media or in real life, don't think of it as merely exchanging professional details. Instead, think of it as a way to build authentic connections, that among other benefits, can get you referrals. This way, you become a networker with a "value-for-value" mindset.
Use job boards
Daily, several writing jobs (both onsite and remote) get posted on job boards such as LinkedIn, Craigslist, and Weworkremotely. Regularly monitor these jobs and apply for them. An important reminder, though: don't limit yourself to the 'writing category.' Endeavor to check out the marketing or technology categories too. These categories sometimes include job roles requiring writing skills.
Also, try not to use only the keyword' writer.' It's not the only writing job title. 'Blogger,' 'Content Editor,' 'Content Marketing Writer' are other keywords you can also experiment with. Maximize job boards' search functionality to the fullest!
Try looking for an editing job
While an editing job isn't the same as writing, it is a step in the right direction if you've in-house writing ambitions. Therefore, if the previous tips don't seem to be working for you, you can search for editing jobs as an alternative, using the terms: 'proofreader,' 'editor.'
Become a permissionless apprentice
If all these steps come to naught, create an opportunity for yourself by becoming a 'permissionless apprentice.' A Jack Butcher's principle, permissionless apprenticeship involves catching the attention of someone or the company you admire by giving them free value without expectations. This principle, if applied strategically, can get you a job without actively applying for it.
What industry are you looking forward to working in? How can you make yourself known for generosity and consistent value addition in this industry? Who can you start giving value to? These are the questions to ask yourself before you leverage the permissionless apprenticeship concept.
Out of the seven highlighted tips, this strategy is easily the best because its worst possible outcome is you getting experience and creating value in the process.
Is in-house writing right for me?
A 9–5 job isn't for everyone. You might want to consider this fact before applying for one. Just because it worked for me doesn't mean it will work for you.
Be that as it may, there are tell-tale signs to predict if you will be happy working a regular full-time writing job. Here are some of them:
1. You can't sell to save your life
If you are naturally not a salesperson, then you should stick with a 9–5 writing job. Freelance writing demands a huge deal of marketing, which you're simply not cut out for.
2. You love working with a team
If you hate feeling isolated, an in-house writing role might just be the perfect fit for you. As an in-house writer, you will get to participate in office culture, which mostly insulates against isolation and encourages togetherness.
3. You're not self-directed
You often need direction and supervision to stay productive.
4. You love a stable income and job security
Not having income paid at fixed times horrifies you.
5. You love to specialize
When working in-house, you perform responsibilities related ONLY to your job description. This leaves room for specialization, unlike freelance writing, which makes you wear multiple hats.
6. You crave a work-life balance
If you desire a work-life balance, a 9–5 job is the best option for you. You know exactly when your work hours end and can conveniently plan your life around it.
Is in-house writing without its challenges?
Absolutely not. Typical of any system, in-house writing comes with its cons. Here are some of them:
You might have to work long hours
In-house writing can be nerve-racking, particularly in busy peak periods where you might need to work beyond your work hours. So get your coffee cup ready and handy. You'll be drinking a lot of coffee.
2. You might have to work for brands you detest
As an in-house writer, your company's clients are automatically your clients. You might not like some of these clients because of what their brands stand for, but you have no choice. You've to swallow your disgust and help your company satisfy them, even though it's against your personal values.
3. You don't get to define your own goals
As a staff writer, you work in alignment with your company's target goals, not yours. Even though your company's large goals might leave room for fulfilling some of your career goals, you rarely have autonomy at the end of the day. Your company's goals will always trump yours. Meet its targets, and you get rewarded with bonuses, raises, and promotion,
4. No room for flexibility. The typical 9–5 writing job is routined
Every weekday, you're to sit at the desk and perform your tasks for 8 hours. You cannot work only at your peak hours. This rigidity can cause your productivity, novelty, and creativity to suffer.
5. Your input might supersede your compensation
This is perhaps the most significant disadvantage of working in-house. For instance, your input helping your company rake in millions doesn't mean your $50,000/yr paycheck will proportionally increase.
6. Office life shenanigans
Working an in-house role means having to deal with the craziness of office culture. From having to interact with co-workers during periods where you crave silence to daily commuting, a full-time writing role leaves no room for escaping the sometimes disadvantageous office culture.
I never liked the idea of in-house writing because I perceived it to be a loss of freedom. Thankfully, working at Week of Saturdays and Strictly Law Business changed my mind.
I'm not sure what next step to take yet, but in-house writing is a top contender for my future career path. And I recommend writers to try it at least once in their lifetime. Consider your nature: is it the right fit for you? Weigh the pros and cons and determine if you can successfully navigate.
This is my story. Over to you:
Have you ever worked as an in-house writer? Did you like the experience? If you haven't worked a 9–5 writing position before, is it a path you'd love to try? Please share in the comments.
In-house Writing: The Career Path Every Writer Needs to Try was originally published in The Writing Cooperative on Medium, where people are continuing the conversation by highlighting and responding to this story.
Read more: writingcooperative.com