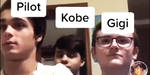 The untimely passing of NBA legend Kobe Bryant has evoked a polarizing range of public emotions in the aftermath of the news. Many remember a hero and devoted father, while others say his legacy shouldn't overshadow the 2003 sexual assault case in which Bryant was accused of raping a 19-year-old hotel employee.
Yet there's no disputing the fact that the helicopter crash that claimed Bryant's life—along with the life of his 13-year-old daughter Gianna and seven others—was a horrible tragedy. So people are hardly amused over a teen's TikTok video that seems to mock Bryant and Gianna's final moments together.
"I'm scrolling through tiktok and what the actuallllyyyyy FUCKKKKK IS THISSSS," fired off Twitter user @FlexxTwin on Sunday, just hours after the news of the crash broke. The accompanying video appears to depict Bryant, Gianna, and the helicopter pilot wildly flailing with the caption "helicopter crashing" superimposed over it.
Twitttttteerrrr I'm scrolling through tiktok and what the actuallllyyyyy FUCKKKKK IS THISSSS


pic.twitter.com/xy6vLwN7vh
— Key Ting
(@FlexxTwin) January 27, 2020
At the time of this writing, the clip mocking Bryant has been viewed over 735,000 times on Twitter.
As of Monday morning, the video was still apparently uploaded to the @konathehawaiian TikTok account. (It has since been removed, although it's unclear whether the platform or the user was responsible.)
"This hasn't been deleted or it has been uploaded again," added another user. "He's even posted another one mocking the fact he is getting heat for it. He's a proper degenerate."
Foggy weather conditions in Los Angeles are believed to be the cause of the crash, and TMZ reports that even Los Angeles Police Department air support had been grounded due to the heavy fog. Kobe's helicopter first encountered issues above the Los Angeles Zoo and is said to have circled the area at least six times waiting for the skies to clear.
However, as the fog became heavier, the craft inexplicably headed in the direction of a mountainous area which was ultimately the catalyst for the crash. Bryant was just 41 at the time of his death.
READ MORE
Conspiracy theorists are already taking advantage of Kobe Bryant's death
Men's rights activists are trying to cast Meghan Markle as an abuser
Young woman using TikTok to document the end of her life says she's dying next week
H/T Fox News
The post Kobe Bryant helicopter crash mocked in teen's TikTok video appeared first on The Daily Dot.
Read more: dailydot.com