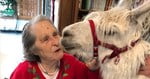 Move over, therapy dogs. Here come the llamas!
Llamas and alpacas are simultaneously growing more common in therapeutic settings. While a handful are registered with Pet Partners, a national nonprofit clearinghouse for therapy animals, most are simply family farm pets whose owners take them to hospitals, college campuses and senior centers to ease people's stress.
At Pet Partners, 94% of the registered therapy animals are dogs, but there are 20 llamas and alpacas in the mix, said Elisabeth Van Every, a spokeswoman for the group. (Most are llamas, which are much larger than alpacas and typically far friendlier to humans.)
Writing in The New York Times, Jennifer A. Kingson explains how the charismatic camelids are increasingly being used for therapeutic purposes in nursing homes and rehabilitation facilities. "The novelty factor is a big part of the appeal, along with the creatures' big-eyed, empathetic gaze," she writes.
Source: The New York Times
Submitted by:
Tagged: theraphy , cute animals , theraphy animals , llamas , alpacas Share on Facebook






Related StoriesLlamas Are Becoming Popular As Therapy Animals 
Read more: feeds.feedblitz.com