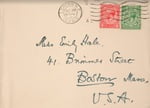 "Emily Hale" began trending on the Internet this week – when Princeton University Library released the 1,131 letters that the poet T. S. Eliot had written her before her death 50 years ago last fall.
But what made the episode even more newsworthy was the unexpected release by Harvard University's Houghton Library of a letter that Eliot wrote in 1960, with instructions that it be released when his letters to Hale became public. (The link to the letter is here.)
A small gaggle of (mostly female) scholars and researchers and (mostly male) journalists turned up at the Princeton Library over the past few days to delve into the Eliot-Hale letters. While some journalists have quoted from the letters, the position of the Eliot Estate is that they are restricted by copyright until 2035, although plans have been announced for a volume of the letters that will be published by Eliot's former publishing house. Meanwhile, there was no such restriction on Eliot's "letter from the grave."
The letter seemed unnecessarily mean-spirited and, some researchers thought, likely reflected the handiwork of Eliot's second wife, Valerie. Eliot shocked his friends, including Hale, with his sudden decision to marry his secretary, who was 38 years his junior. After the poet's death in 1965, his widow continued to manage his estate until she died, at the age of 86, in 2012.
T.S. Eliot and Emily Hale in Dorset, Vermont during summer 1946. Photo courtesy of Princeton University Library
I first came to know Emily Hale about five years ago, when I studied the poem "Burnt Norton," and learned that Hale had accompanied Eliot to visit the deserted mansion of that name in 1934. The materials that were opened in Princeton this past week included a short memoir that Hale was persuaded to write about their relationship. In it, she said Eliot had described the poem, the first of his "Four Quartets" as a love poem to her.
When I learned that Eliot's letters were to be released this year, I became determined to try to tell Hale's story in fictional form, learning much about her life as a speech and drama teacher and talented amateur actress and director. The result is The Poet's Girl, released this past week by Thought Catalog Books.
Among other things, Eliot's posthumous letter asserts that he and Emily Hale never had sex, an assertion with which most researchers would agree. He also writes, cruelly, I think, that "I came to see that my love for Emily was that of a ghost for a ghost, and that the letters I had been writing to her were the letters of a hallucinated man, a man vainly trying to pretend to himself that he was the same man he had been in 1914," when Eliot had first declared his love to Hale. "It would have been a still greater mistake to have married Emily than it was to have married Vivienne Haigh-Wood." Eliot said many times that the despair of his disastrous first marriage had inspired his masterpiece poem The Waste Land. He went on to say of his second wife, "I cannot believe that there has ever been a woman with whom I could have felt so completely as one as Valerie."
As one of the Princeton librarians quipped about the Eliot letter, "It reminded me of that scene in The Wizard of Oz, and the wizard is saying, "Pay no attention to those other 1,100 letters."
The crate pictured housed the collection for over 60 years and held a post-it note that read, 'Eliot/Hale, sealed until 2020.' Photo by Shelley Szwast, Princeton University Library
While I can't quote specifics, we researchers agreed that the letters we have begun reviewing are filled with moving expressions of love and passion, and continued affectionate endearments, over a period of 27 years. I believe that Eliot biographer Lyndall Gordon (who is among those reading the letters in Princeton) was correct in her assessment that Eliot viewed Hale as a sort of Beatrice to his Dante, and put her on a pedestal of perfection that, at times, from the vantage point of Eliot's letters, seemed to make her uncomfortable. Sadly, we don't truly know what Hale thought. Although the Eliot letters make clear that the two of them had discussed passing their correspondence on to a major research library, Eliot arranged for her letters to be burned after he married his second wife.
If anything, after reading some of the letters, I feel that in my own novel, I "underwrote" the depth of Eliot's love for Hale and assumed more of an early attraction on Hale's part than seemed to exist. In one version of her memoir that survives, she wrote, that when Eliot left for Europe in 1914, "he told me how very much he cared for me; at the time I could return no such feeling." His subsequent marriage, she said, "was a complete surprise to his family and friends and for me particularly, as he had corresponded quite regularly with me, sent flowers for special occasions, etc., I meanwhile trying to decide whether I could learn to care for him had he returned to the 'States.' "
She wrote, "We did not meet again until the summer of 1922, when I was in London with my aunt and uncle. His marriage was already known to be a very unhappy affair, which was affecting both his creative work and his health. Only his closest friends at this time knew fully of the miserable relationship between his wife and him. Knowing this, I was dismayed when he confessed after seeing me again that his affection for me was stronger than ever, though he had assumed years of separation from his home in America and old friends would have changed his attitude toward me. From this meeting in London until the early 30's I was the confidante by letters of all which was pent up in this gifted, emotional, groping personality."
The closest friends and family members of Eliot and Hale expected that if and when Eliot's first wife died, the two of them would marry. So did Hale. When Eliot told her he had decided he no longer had the emotional energy to marry her, she wrote, "This was both a shock and a sorrow, though looking back on the story, perhaps I could not have been the companion in marriage I hoped to be, perhaps the decision saved us both from great unhappiness—I cannot ever know."
In 1956, Hale began making arrangements to donate Eliot's letters to Princeton. Throughout that year, he continued to write to "Dearest Emily" and sign off with endearments such as "with much love." Although she was trying to preserve his letters so that generations of future scholars would better understand the nature of the poet's genius, it seemed as if a switch was flipped in his brain when he learned that archivists at Princeton might have actually read the letters. (At the time, the letters were also formally appraised for purposes of acknowledging the value of Hale's gift.) Eliot seemed to be less concerned about the love and passion he had expressed for Hale than he was about the sometimes snotty, critical comments he had made about his relatives and people who thought they were his friends.
Within days of sending a sweet Christmas letter to Hale, he married his secretary. Ever the proper daughter of a Unitarian clergyman, Hale apparently sent off a letter to the new couple, offering her best wishes for their happiness.
An envelope in a bundle tied with ribbon addressed to Emily Hale at her address in Massachusetts. Photo by Shelley Szwast, courtesy of Princeton University Library
I made a decision to try to tell Emily Hale's story before the letters were opened, even as I knew that they would bring new details to light. In two days of reading, I've learned a few things, some of which were surprising. I learned, for instance, that Hale and her aunt and uncle had tea with Eliot and his first wife shortly before the Princeton correspondence begins.
But I am still angry that Eliot burned her letters, depriving all of us of Emily Hale's side of their story. And in this #MeToo era, I'm sad that more than 50 years after his death, he and his second wife were still trying to have the last word.
Read more: thoughtcatalog.com