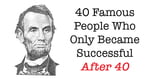 Are you trying to reach your full potential in life? Maybe you think you have missed your chance? Or you've tried and failed before, so, you don't want to try again? Throughout life, many people want to reach their full potential and often put themselves down if they haven't done so by a particular age and time.
However; there is always time! You don't have to be a certain age, a certain personality or even have certain talents… if you work hard and try your best, you can reach your full potential, no matter the circumstances.
All you need to be able to reach your full potential is the willpower to do so, the motivation and the belief in yourself.
When Do We Reach Our 'Peak' And Potential?
Some people believe that once you hit a certain age, you have reached your 'peak'. This means that you have reached the best you can be and now you are highly unlikely to reach your full potential. Some people might say they are 'too old' to unlock their highest, full potential.
Society tells us that it's mostly young people who manage to reach their full potential and that the older we get, the less chance we have. This doesn't have to be true for everyone. This is a social norm that most of us grow up with, but it's not necessarily the truth.
We can change our lives at any age; you don't have to be young to try and reach your goals in life. There are many people who have hit their full potential in their 40's or 50's even 60's and 70's. It's never too late to unlock your full potential.
(Want to discover your life purpose? Do you feel like it's 'time' to start living your best life? Download your FREE hypnosis audio today… Click here now!) Age Is Just A Number
There are many examples of successful people who didn't find success until they were much older than the 'social norm' would say they should have been. Age really is just a number, and shouldn't hold us back from trying to reach our highest potential.
To help you understand just how much you can achieve, at whatever age, here are 40 famous people who only became successful after the age of 40.
40 Famous People Who Only Became Successful After 40
Many people, perhaps more than you know, have struggled with success until finding their full potential in their 40's. Take these success stories as inspiration to reach your full potential, no matter your age.
1. Martha Stewart – After working in catering for years, Martha started hosting her own successful TV show and writing multiple books when she was in her 40's.
2. Vera Wang – Vera was 41 years old when she opened her first design studio and started her successful career in the fashion industry.
3. Henry Ford – Before his success, Henry worked as an engineer under Thomas Edison. Henry Ford was 40 years old when he founded the Ford Motor company.
4. Samuel L Jackson – Samuel L Jackson struggled with drug addiction before he became successful, and at the age of 43 he landed his first major role in Jungle Fever and went on to another major role in Pulp Fiction.
5. Steve Carell – Steve didn't become a household name until the age of 43 when he landed the lead role on the American version of 'The Office'.
6. Betty White – Betty first appeared and gained media attention, on 'The Mary Tyler Moore' show; she was 51 years old at the time.
7. Alan Rickman – Before his acting career, Alan worked as a graphic designer. He then left in his 20's to go to acting school. He started filming for Harry Potter and Die Hard in his early 40's.
8. Patrick Stewart – Beginning his career in theatre, Patrick didn't actually land his major role in Star Trek until he was in his 40's.
9. Wendy Williams – Before her success, Wendy started as a disc jockey before landing her own talk show 'The Wendy Williams Show' at the age of 44.
10. Regis Philbin – Regis hosted many failed talk shows before co-hosting Live! With Regis and Kathy Lee at the age of 57.
11. Abraham Lincoln – Abraham Lincoln became president at the age of 51. Before that, he left the House of Representatives to practice law and thought his political career was over.
12. Sam Walton – Before his success, Sam ran various stores – but most of them failed in the process. He used these failures as lessons and at the age of 44 he opened the first Wal-Mart and became one of the richest men in the world.
13. Peter Mark Roget – After retiring from his mechanical and scientific work, Peter started to work on a book that would organize words by their definitions. He was 61 at the time. By the age of 73, his book, the first thesaurus, was published.
14. Julia Child – In 1961, Julia Child's cookbook 'Mastering The Art Of French Cooking' was first published. Julia was 49 years old.
15. Donald Fisher – Donald Fisher and his wife opened the first GAP store when Donald was 40 years old (and had no retail experience). Today, the company is one of the world's largest fashion chains.
16. Ray Kroc – Before buying McDonald's at the age of 52, Ray had a career as a milkshake-device salesman. He eventually grew McDonald's into the world's biggest fast-food franchise.
17. Anna Moses (Grandma Moses) – She began painting at the age of 76, becoming one of America's great folk artists. Her paintings are now worth millions.
18. Octavia Spencer – Octavia won an Academy Award and made a name for herself in her breakthrough role in 'The Help' – she was 41 at the time.
19. Laura Ingalls Wilder – At the age of 65 Wilder's book 'Little House' was published and would later inspire the hit TV show 'Little House on the Prairie'.
20. Harry Bernstein – At the age of 93, Harry started writing the book, 'The Invisible Wall: A Love Story That Broke Barriers' after the death of his wife. The book was published when Harry was 96.
21. Lucille Ball – Before her success, Lucille was actually asked to leave two drama schools due to her failure to perform. Eventually though, after moving to Hollywood, she would become the first woman to head up a TV production company. When 'I Love Lucy' aired, Lucy was 40 years old.
22. John Glenn – John was 41 years old when he became the first American astronaut to orbit Earth. He then went on to become a US senator at the age of 53 and held that role for 24 years.
23. Melissa McCarthy – Melissa had several small roles in her career, but it wasn't until the age of 41 that she shot into stardom with her role in Bridesmaids.
24. Kathy Bates – Kathy didn't get her breakout role in 'Misery' until she was 42 years old.
25. Richard Adams – In 1972, Richard published his first novel 'Watership Down' – he was 52 years old.
26. Momofuku Ando – After World War II, Momofuku wanted to find a way to provide quick, easy and cheap food for everyone. He was 48 years old when he developed the instant ramen noodles.
27. Stan Lee – Stan was 40 years old when 'The Fantastic Four' was first published – years later, he would become the household name for the comics and Marvel Universe.
28. "Colonel" Harland Sanders – Starting out, Sanders sold fried chicken on the side of the road. This was during the Great Depression. He achieved success with his fast-food chain at the age of 65.
29. Bryan Cranston – Perhaps known for playing Walter White in Breaking Bad – Bryan actually first starred in Malcolm In The Middle at the age of 44.
30. Reid Hoffman – Although he founded the social networking site 'LinkedIn' when he was 35 years old, it wasn't until Reid was 43 when LinkedIn became public.
31. Joy Behar – Joy was an English Teacher for some time until she launched her show business career at the age of 40.
32. Tim and Nina Zagat – Previously both with careers in the legal sector, Tim and Nina decided to leave their legal careers and write their first restaurant guides – this was at the age of 42. Their company is not part of Google.
33. Jack Cover – Jack worked as a nuclear physicist who worked in aerospace and defense. In 1970, at age 50, Jack started Taser, Inc, which produced the taser gun. By 2009, the Taser gun was in use in over 45 countries.
34. Ronald Reagan – Of course, Ronald previously had been a famous actor, but he was not elected as President until the age of 55 – this was after winning the vote by over a million.
35. Nelson Mandela – After serving four years in prison, Nelson Mandela became president of his country at the age of 72 and became the recipient of the 1993 Nobel Peace Prize.
36. Rodney Dangerfield – Rodney earned his fame as a last-minute replacement on 'The Ed Sullivan Show' at the age of 46.
37. Dame Judie Dench – Although she was famous on the stage and in England, Dame Judie Dench became a Hollywood name at the age of 61, when she played M in a James Bond film.
38. Ang Lee – Lee was a stay at home dad before he became a hit director for movies such as Brokeback Mountain and Hidden Dragon. He was in his early 40's when he started directing.
39. Brian Dennehy – Actor Brian Dennehy was 44 years old when he starred in the film, Rambo. This was when he broke into mainstream audiences.
40. Robert Noyce – Robert Noyce was 41 years old when he co-founded 'Intel' and became a model for future CEO's due to his relaxed working environment and for declining the usual executive perks.
Don't Let Anything Hold You Back
So, as you can see, there are many people who have achieved success at a much later age than the social norm says it should be achieved. Anyone can achieve success and reach their highest potential if they want it enough and try hard to get it.
No matter your age, sex, religion, race, class or ability, you can unlock your highest potential and achieve success. If you are unsure of what your highest potential might look like, why not try out different hobbies and passions of yours and make a list of what you would like to achieve.
Maybe you think you don't have enough time to achieve your highest potential?
Ask yourself: When will there be enough time?
You can keep holding off until one day you realize you've been wasting all the time in the first place.
Life is short and there will never be the 'perfect moment'; which is why we need to just go for it. We should all have the opportunity to seek our passions and achieve happiness in life, whoever we are.
Perhaps you have heard of Charles Proteus Steinmetz?
If not, his story is truly inspiring. Born with hip dysplasia, dwarfism, and hunchback, Charles didn't let his disabilities hold him back. Charles Steinmetz became a genius in mathematics and electronics.
He has had numerous theories named after him, as well as many honors and scholarships. Charles' work earned him the nickname 'The Wizard of Schenectady'. Steinmetz wrote 13 books and 60 articles on engineering and other topics. He made groundbreaking discoveries and, at the time of his death, he held over 200 patents.
This just shows the amount of determination he had to reach his full potential, despite any obstacles that may have been in his way.
We Always Have Space To Grow
One of the most important factors of being successful is the belief that you can be successful. If you constantly put yourself down and tell yourself that you won't achieve your full potential, then the chances are, you probably won't.
You need to have the belief in yourself and the power to overcome your own limiting beliefs. The only thing holding you back right now might just be yourself. Have a think about how you talk to yourself and what you think you can achieve; if you are negative, then it's no surprise you aren't reaching your fullest potential.
One thing we need to do is realize that we deserve success and we can achieve our fullest potential.
Reach Your Full Potential
A great tool that can be used to help you replace your limiting beliefs with more positive ones, is called Self-hypnosis. Self-hypnosis tracks are great for rewiring your subconscious and helping you to think positively and replace any negativity with positive beliefs.
This 'Reach Your Full Potential' hypnosis track can help you to understand that you deserve success and that you can achieve it too. It can help you to become the best possible version of yourself, no matter your age. You should feel that you become more motivated to change your lifestyle and habits once your negative beliefs disappear.
If you want to find out more about the Reach Your Full Potential hypnosis track then click here.
The post Reach Your Full Potential: The Key To Unlocking Your Highest Potential appeared first on The Law Of Attraction.
Read more: thelawofattraction.com