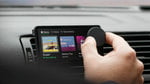 Enjoy your last rides with Car View.
Spotify is preparing to end support for the app feature that makes music listening controls easier to access while driving. It's not clear when the change is happening — Car View is still an option in the Spotify app as of this writing, at least for some users — but the company claims to have a replacement for he driver safety feature in the works.
There are still some questions surrounding the "why" and "when" since news of Car View's looming death came from the Spotify community forum rather than a press release. But forum moderators were pretty clear about what's ahead when some people noticed Car View missing from their own Spotify app (h/t Android Police).
"We can confirm that we're retiring the car view feature," a moderator from Spotify wrote. "This however doesn't mean we don't want to improve on how our users listen to Spotify while driving. On the contrary, we're actively exploring a variety of new ways to deliver the best in-car listening experience. Think of retiring car-view as something that needs to happen in an effort to make way for new innovations coming down the track."
The post goes on to suggest using Google Assistant for in-car music listening in the interim, especially since its driving mode works with Google Maps. But there's no indication of when the vague promise of a Car View replacement is happening, or why it's necessary in the first place.
SEE ALSO:

Spotify is reportedly testing a TikTok-like video feed
Spotify users are understandably frustrated, with the forum thread having amassed more than 100 replies since it was first posted in mid-October. The lack of a replacement feature, or any tangible information on the same, is a real sticking point. Especially in light of the fact that Spotify sells an $80 piece of hardware called Car Thing, which launched in 2021, that serves as a touch-based interface that connects a Spotify-equipped smartphone with a car.
The whole thing feels like a puzzling choice on Spotify's part, especially since Car View is a safety feature more than anything else. To remove it with no preamble, no replacement at the ready, and no explanation for why either of these things happened is surely, and unnecessarily, adding the confusion users must be feeling.
Mashable reached out to Spotify for clarification and we'll update this story when we hear back.
Read more: mashable.com