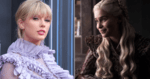 "I had the time of my life fighting dragons with you" Taylor Swift sang years ago.
But it seems the Game of Thrones references run deeper than just dragon imagery. In a new interview, Swift explains that the HBO juggernaut was definitely in her head while writing reputation. 
"A lot of the songs [on reputation] were influenced by the show," she told Entertainment Weekly.
Swift has always written semi-autobiographical music, but between 1989 and reputation she became a Thrones fan and couldn't shake the show's impact.
"These songs were half based on what I was going through, but seeing them through a Game of Thrones filter. 'Look What You Made Me Do' is literally Arya Stark's kill list," she said, adding that it also has notes of Daenerys and Cersei(We figured that one out back when the song dropped, if we can pat ourselves on the back for a moment). Read more…
More about Entertainment, Music, Television, Hbo, and Taylor Swift
Read more: mashable.com