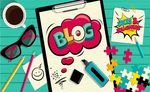 The Beginners Guide to Successful Blogging
Did you know that once you have a few tips, starting your own blog is pretty easy and a great way to earn some side income, get seen as a writer or to even sell your own products? Many people feel that starting a blog from scratch is a daunting prospect, but even a non-technically minded person can start a blog themselves when they have instructions!
So today we are giving you an in-depth, step by step guide to starting a blog from scratch, and making it successful! The steps to get your blog up and going and online are:
Choosing a platform for your blog Choosing a Name Buying a domain name (your online address) Host your domain name (which will incur a yearly fee) Setting up the website Choosing a blog design Customising it Publishing What You Need to Know Before You Start
A blog is a collective term for many things. It can be a website, just a Facebook Page where you write regular status updates, a diary, a snapshot into a journal, a digital magazine or a group. The sort we will be showing you today is the online website kind of blog where you share regular articles.
Choosing a niche that you love writing about is a great start. Have a really thorough brainstorm session about what you could write about, consistently.
Some random ideas can include:
Your weight loss journey A diary of your travels An informational blog about business Fishing, sport or dance Cooking, cleaning or parenting
Think about what you love to do, your hobbies and passions, what you love talking to your friends about. If you love it and want to write about it, there will be others that will want to read it!
Another thing you need to think about is if you plan on making money from your blog – or not. If you are just going to be blogging for fun, there are free platforms to run your blog on and it makes blogging nice and cheap to start except for some low-cost hosting fees. But if you plan on monetizing your blog (that is, use it to make a bit of cash), then you need to do things a bit differently and choose a platform that allows you to do advertising. This is a little pricier at the beginning but gives you a whole lot more flexibility as to what you want to use your blog for.
Hint: When in doubt, go the monetization route. It is harder to change your blog over from one platform to another later on if you go the cheaper route.
Once you have chosen a topic, the next big thing is to decide on a platform!
Deciding on the Blogging Platform to Use
To start an actual blog, you will require a 'platform' on which to build your blog. Sounds scary, but it isn't. Really there are only two choices to make, a free platform, or a self-hosted platform. There are pros and cons of each.
Free Blogging Platforms:
If money is tight, it is really easy to fall into the 'Free Platform' trap. With platforms for newbie bloggers such as Blogger or Tumblr, it looks from the outside that the free way is the way to go. BUT. Being free is just about the only advantage these platforms have.
When you have your blog on a free platform – your blog name will be something along the lines of 'This is My Blog.Tumblr.com.au' and it really does scream 'I couldn't afford a self-hosted blogging account. Which is all well and good if you are just doing it for fun. But it does look extremely unprofessional and is a common 'Newbie' mistake. Plus you then don't own your blog, the platform does. And you want your blog to be just that, yours.
Free Blogging Platforms include:
WordPress.com Blogger Tumblr TypePad Wix Self Hosted Platforms:
A Self-Hosted Platform is where you own your own blog and you are fully in charge of your blog and all the contents.
Self-hosted platforms include:
WordPress.org Shopify Woo Commerce
Look I'm a WordPress girl the whole way. Their platform is easy to use (even for beginners) and it has so many options that there is a solution (usually a free solution) for everything that you could possibly want to do with your blog.
Cons of self-hosted platforms are:
They are harder to set up than their free counterparts. You need to pay a hosting fee which can become costly If you get stuck or run into trouble, you will probably need to pay someone to help you
Naming Your Blog AND Finding a Domain Name for Your Blog
Before you even think of a name for your blog, you will need to go and see if the Domain name is available. The Domain name is your unique online address where people can find you.
For example, the name of my blog is Stay at Home Mum and my domain name is www.stayathomemum.com.au. I also own www.stayathomemum.com. I have the .com redirected to my .com.au site because people can look for both!
So to get to my blog, you need to use the domain name. The thing is, many of the really awesome domain names are already taken as there are so many websites in the world.
One positive thing about buying a domain name is that is is pretty cheap to do. Here in Australia if you buy a .com.au domain name, you will need to register it for a minimum of two years. After this period of time, your domain name will expire, and you will need to pay additional fees to continue ownership.
If you already have a domain, but don't like the name, you don't need to keep it. Just buy one that you do want, and allow the old one to expire. You don't need to do anything more than that.
A good blog name is something really descriptive and relatively short.
It actually isn't uncommon for blog newbies to buy a domain, then have second thoughts later on and abandon that domain. Don't worry – it happens. Again, just let the old one expire and find a new one to suit you and your blog.
When purchasing your domain name, if you are in Australia, you will require the .com.au (and you will need an ABN to purchase a domain name), but it is also handy to purchase the .com domain should it be available. After all, it is a small initial outlay and you never know, you might hit it big and go global! You can direct other domains you do own that are similar to your main blog domain so that if someone types in the wrong thing, it still 'redirects' to your blog page.
You can grab an ABN from the Australian Taxation Office, it is free and easy (and you will need this for taxation purposes anyway).
So where do you buy a domain name from? Well, there are loads of options. Some of the more popular choices include:
Go Daddy Crazy Domains
When you go over to one of these websites – you just type in the box provided the intended domain name. It will let you know if that name is available – or not. Make sure you have a few back-up plan names because commonly named domains are nearly always taken.
Registering and Hosting Your Blog
To get your blog actually on the internet – you need to host your blog.
A domain name is like an address, but the host is like a house – where your blog will live and breathe. Most of the time the place where you buy your domain name will also offer hosting services. You can go down this route, or you can choose your very own web hosting company.
Not all 'Hosting' is made alike. Some hosts are made for little blogs, others are more expensive and are made for huge websites. The good thing is that you can change your hosting relatively easily. But checking out what they have to offer – and whether they can 'scale up' as your blog grows is a sign of a good host.
Web Hosting Companies include:
Siteground Ventra IP Bluehost Host Gator
This is just a few. For reviews and services of each host, we recommend you check out the reviews and comparison site, Aussie Hosting. They have an article called 'Best Web Hosting in 2018' and they update it all the time. I've found it to be an easy read and it lists the pricing for all the hosts and the services offered by each.
Setting Up Your Website
If you are a bit tech-savvy, now is the time to go and find a WordPress Theme for your website, and fully customise it for your blog.
If you have no idea what I just said. Take a seat and hold on to your hats! This is perhaps the trickiest part of the whole blogging world!
Once you have a domain name, you need to set up the actual website. Of course, you will need to think about what you want your website to look like, and what you want it to provide to your customers. If you plan on selling products, perhaps an e-commerce site should be what you are going for – in that case, I suggest you look at something like a Shopify site.
For a basic blog, finding a WordPress theme is the go and then doing some Youtube videos on how to use WordPress to fully customise your site.
There are loads of really basic themes that are pretty easy to use. If you have the time and tenacity, it is good to grab a basic WordPress Theme and then just muck around with it to learn the ropes of WordPress. But if you get stuck, we can help you out!
Check out the Theme Directory on the WordPress site for some inspiration!
Writing Your Very First Blog
A 'Typical' blog post is about 600 words long. It also contains loads of images (see the Image section) and depending on your topic and style of your blog, it has to offer excellent information to your reader.
You might see blog posts that are really tiny, or blog posts that are just HUGE. It really would depend on your audience as to the size – or how much information you have on a topic to write about. A few tips when writing your blog:
Write How You Speak – it gets your own voice across and sounds more natural. Make it very conversational and ask questions at the end to be engaging. If you are citing something from another website, make sure you include a credit to that website (it is only polite!) Offer value to your readers so they keep coming back!
Keep a spreadsheet of all your blog ideas so that you have inspiration on topics to write about when inspiration doesn't hit. Everyone gets writers block now and again!
A few tips on blog writing:
Write your blog in a word or Google Doc document
Then just copy and paste it over to your blog when you are done. The amount of work I have lost over the years because my blog has accidentally shut or I closed the window or the power went off. If you save the document in a word document, you can't lose it later on!
Keep Your Blog Posts in a Similar Format
That is, if you do an introduction, three paragraphs and a conclusion – keep doing it this way. It gives your blog consistency. In saying that, ask for feedback from your readers and adjust accordingly.
Keep Images Consistent
If you have a certain 'tone' to your blog, keep this tone over all the images on your blog. I'll give you an example, I write a parenting blog, but I'm into 1950's fashion. So my parenting blog has a real 50's feel with all my images. Rockabilly ladies, curlers, bowling shirts. It is my 'vision' come to life on the internet. So blend what you love into the blog – no matter your taste or style.
Always have an 'About You' Section on Your Blog
People who visit your blog and read your articles regularly will want to know more about you. And to do that, they will be visiting the 'About You' section on your blog. Make sure you have an up to date image there, and tell them a little about yourself, including an email address or form so that your readers (or potential advertisers) can get in touch with you. Never ever list your home number and address. This is the internet remember and there are crazy people out there!
People are genuinely interested in who they are following, what you are about and that there is a real-life person behind it all. Show them that you are really real.
Before Your Hit the Publish Button
Read over your work, check for spelling and grammatical errors. If you can't proofread your own work (and many can't!), then get someone to do it for you!
Some tools that might help you include:
Grammarly – Grammarly will check your spelling, grammar and also will check your work to ensure it is totally unique online. If you accept any guests articles on your blog to build your content, you can also use Grammarly to ensure it is not plagiarised, which unfortunately is a real problem in the blogging world. Use SEO (Search Engine Optimisation)
Now there is no secret code or mysteries behind SEO. It is really just making sure that you include keywords as to what the article is about, in the article – without going over the top. For example, if I am writing an article about Rainbow Unicorns, I know I must use the words 'Rainbow Unicorns' at least twice in an article so that the internet knows what the article is all about. That's it. Simple huh!
Make sure you also use the keywords and the name of your blog on your images too – because image searches on Google also help your blog to 'Rank' – and by 'Rank' – I mean, being closer to the top in Google Searches.
There is a plugin on WordPress called 'Yoast' which is great for helping you to optimise every article the best it possibly can be, it is very user friendly. I highly recommend adding something like this to your blog for helping you to 'Optimise' your website.
Not into Blogs? Do a Vlog!
Writing content is certainly not for everyone. If you are more of a visual person, consider doing Vlogging instead. Videos go bat-shit-crazy on social media – and even if you are a writer and are blogging, do more videos!
Start your very own Youtube channel and host the videos there, and you can easily grab the 'code' from Youtube to embed them in your blog or straight onto social media.
Where to Get Images for Your Blog
Google is a magical place to see images. Unfortunately – they belong to other people and can't be used for your blog. You will need to source royalty free images to use on your blog. Luckily, if you are just starting out there are quite a few free places to get a hold of royalty free images for your blog. There are also loads of paid sites which have just incredible photographs to include, it would really depend on your finances whether you go the free or paid route.
Some great places to get some free images to include:
We recommend this Ebook on Sourcing Products Online How to Get Traffic to Your Blog
The next important thing to do once your blog is up and your first post is published is to try and get people to read it! Traffic is what makes blogs valuable. It is what advertisers will look for when they want to buy space on your site. Traffic is just about THE most important part of running a successful blog.
There are a huge amount of ways to get traffic to your blog. Here are a few:
Social Media
Set up your own blog's Facebook Page, Instagram Account, Twitter Account and Pinterest Feed. Make sure they are updated regularly as you add more content to your website. All social media accounts pointing to your blog is the best way to get free, organic website traffic – the exact type of traffic you want!
We recommend you read '50 Ways to Grow Your Facebook Business Page' for more tips on making the most of social media.
Look, some people pay for traffic. If they are using Adwords or something similar – awesome – they can afford to do so. But please, don't go to those dodgy websites that promise you traffic for a fee, you get the wrong sort of traffic (yes, traffic can be wrong!). You want traffic that will perhaps buy products for you, will come back and engage, and that genuinely love your blog. You don't want dodgy overseas visitors that are using bots to get traffic and do nothing. It really doesn't achieve anything apart from parting you with your hard earned cash.
It's the same with people buying followers on Instagram or Facebook. Dodgy. Plus if you want to host advertising on your site, you have to show them the analytics, and dodgy followers show up like a pair of fluro coloured dog balls at night!
Blog or Vlog Consistently
Produce new content on a regular basis. Whether that be daily, weekly or monthly, just make the content come out on a consistent basis. Google loves consistency, and we need to please the Blog God Google to make sure we get a good ranking.
Give Your Readers Something Unique
Can you get this information anywhere else? Make your content unique. Don't do what everyone else is already doing. Find your own spin on things, add your own 'flavour' – and you will flourish!
How Can You Tell How Much Traffic Your Blog is Getting?
Sign up for Google Analytics, it will give you a comprehensive breakdown of where your traffic is from, how long they stay and what articles they are looking at!
Monetization of Your Blog
Once your blog has been up and running for awhile, and you know what you are doing, the next step if monetization. The secret (it's no secret) to making great money online is to get bulk traffic. So no matter what type of monetization you decide to go with (or a few at once) – they will all require traffic to make it feasible.
Blogs can make money in a variety of ways, but here are the most popular.
Google Adsense Paid Placements Affiliate Marketing Sponsored Articles Product Reviews Sell your Own Digital Products (E-books) Sell Other Products Set up a Subscription Site (ie a Paywall) Accept Donations to Your blog
And most blogs use a combination of some or all of these to make an income. Here is a brief overview of each.
Google Adsense
Google Adsense is a Google product that you need to sign up to. It allows publishers (that is websites and blogs) to serve media advertisements to a targeted audience. The ads are served and maintained by Google, so once you have implemented 'the code' into your website, Google will look after it. If people click on the advertisements served by Google, you get a set amount (depending on the ad). Google pays directly to your bank account every four weeks.
Google works out what ads to serve on your website depending on what part of the world you are in, the sort of content your produce, and loads of other factors.
Google Adsense is perfect for smaller website owners that don't yet have the know-how or knowledge to serve other types of advertisements on their websites and provided you produce enough traffic, can be very lucrative.
Paid Placements
Paid Placements is having your very own advertisers on your website. You can sell any space on your website – for whatever price you like! You will need to invoice the advertiser for space on a regular basis, and negotiate whether they provide the advertisement, or they might ask you to get it done for them.
Although it is more work than Google Adsense, it does offer more control to the blog owner.
Affiliate Marketing
Affiliate Marketing is promoting a product on your blog or website and taking a commission on the sales of that product. You do affiliate marketing through one of the affiliate platforms available (there are loads of them). Some of the best affiliate marketing platforms include:
Commission Factory Rakuten Marketing Clix Galore Share a Sale
Here is a list of the Top 14 Australian Affiliate Programs
Sponsored Articles
Sponsored Articles are a paid article that is written by the blog owner on a particular product or service. To make the articles 'Native' (that is, very un-advertising like), the blog owner should be a genuine fan of the product or service in the first place so can speak about it in a natural way.
Sponsored articles can make a blog a lot of money if it brings loads of sales and traffic to the advertiser's site.
Product Reviews
Product Reviews are telling the blog audience all about a product, why they like it, and the pro's and con's of the product including a place to buy it. Many smaller bloggers will do product reviews in exchange for product.
Sell Your Own Digital Products
If you can write ebooks on any topic, consider selling them on your blog. There are also loads of other platforms such as Amazon where you can sell your e-product for a commission on sales.
Sell Other Products
You can attach an e-commerce site to your blog and sell your own line of products. The sky is the limit!
Set up a Subscription Site
A Subscription Site is where a user must pay to read the content contained in the blog. Many of the larger news sites are now going to a subscription system to monetize their sites. You will need a plug-in and be able to take payments to make this happen on your site.
Accept Donations
Some blogs refuse any advertising on their sites and instead ask for donations from their readers. You can 'embed' code from Paypal to accept donations – this is easy and only takes a few minutes to implement!
What Makes a Blog Worth Money?
A Facebook Page cannot be bought and sold. Why? You don't own it.
A Youtube Channel cannot be bought and sold. Why? You don't own it.
An Instagram Account cannot be bought and sold. Why? You don't own it.
This is why people start their own websites and start blogging. A real website with traffic is worth money – and you DO own it!
The more organic traffic you get from Google (or Blog God as I love to call him), the more your blog is worth. And like Real Estate, it gains value whilst you own it, and you can still make it pay 'rent' via advertising money! So a good blog can be a fantastic investment when done right. Like real estate, you have to make your blog attractive to others. So spend time getting the look and feel right. Spend time writing articles and making it a great resource for your 'customers' (followers).
If you build a blogging business, and get sick of it – you can just sell it! Just like a house!
Conclusion:
Setting up your first blog website might look daunting, but seriously it may be tricky at first, but it isn't hard. it is a tremendously fun job that can turn into a very lucrative career!
Follow my steps and you will be up and running in blog-world right away.
We wish you all the best! Remember to join our 'Tenacious Business Development Facebook Group' to get insider information on all things blogging, social media and online business related!
Read more: stayathomemum.com.au