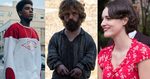 The 71st Annual Emmy Awards were historic for a number of reasons, some remarkable (Billy Porter!) and some just facts (no host? Okay then). 
As with every year's ceremony, the three-hour telecast (which didn't run over?!) was filled with highs and lows, but dare we say… more highs?
Here's our list of the best and worst moments of the 2019 Emmys.
Best: The Fleabag-ening
"I find acting really hard and really painful."
Image: Jeff Kravitz/FilmMagic
It takes a singular comedy series to de-throne Veep after its years of sweeping the Emmys, and luckily Fleabag Season 2's winning streak in the comedy categories was entirely earned, because it is just that. From Phoebe Waller-Bridge's equally hilarious and cheeky win for writing to her truly gobsmacked response to her second statue for acting, to Harry Bradbeer's win for direction and then the big win for in Outstanding Comedy Series..Fleabag Season 2 deserves every accolade it gets forever. Read more…
More about Entertainment, Television, Michelle Williams, Fleabag, and Emmys 2019
Read more: mashable.com