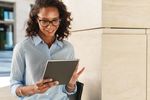 Are you a freelancer who spends time writing on sites like Textbroker, Writer Access, Fiverr, or even Upwork?
If so, you might want to grab this free ebook our friends at the Freelance Writers Den are giving away right now.
It's called Quit the Content Mills: 6 Writers Reveal How They Earn More, and like the title says, it features interviews with writers who have ditched the content mills and gig sites and started making more money from their businesses.
The book is co-authored by Carol Tice (founder of the Freelance Writers Den and the Make a Living Writing blog) and Linda Formichelli (freelance writer and co-author of several books) — two experts who know what it takes to build a successful freelance writing career.
What's in the Book?
Quit the Content Mills is a free ebook aimed primarily at new and mid-career freelance writers who are "writing for pennies" on mills like Textbroker and gig sites like Fiverr and Upwork.
Here are some of the things you'll read about:
The tactics one writer used to go from making $10 an hour to $85 an hour
How another freelancer 10X'd their income, going from earning $1,000 and month to $10,000 a month.
What one freelancer did to land a $1,500 article assignment from a client
What Do We Like about the Book?
Being a freelancer can be a difficult, lonely journey at times. Sometimes, you have to take on jobs you don't want to just so you can keep food on the table, and in many cases, that leads to writing for content mills.
The problem is it's very easy to get so sucked into churning out one article after another for these sites that you don't have time to market your business and strategize ways to level up your career.
That's why this book is so useful. It shows writers who feel stuck that there is hope and there is a way to start earning a lot more money, often while doing a lot less work.
We found the stories in Quit the Content Mills to be inspiring and insightful, and believe this is a great read for someone looking to start on the path to building their dream freelance career.
Only Available for a Few More Days…
Our friends at the Freelance Writers Den are offering the Quit the Content Mills ebook totally free right now, but the offer is only available until May 5. After that, you won't be able to get the book anymore.
Interested in checking it out?
Click here to grab your free copy now.
The post This Free Ebook Shows Freelancers How to Make More Money by Ditching the Mills appeared first on The Write Life.
Read more: thewritelife.com