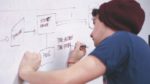 TL;DR: A lifetime subscription to MyDraw Advanced Diagramming Software is on sale for £14.32 as of Aug. 2, saving you 71% on list price.
Goal setting can be as easy as writing down your dreams on paper, but if you have various goals for each facet of your life, it's sometimes better to map it all out.
MyDraw offers an easy way to create mind maps: visually stunning digital representations of your goals. It's also an advanced diagramming software and vector graphics drawing tool, which you can use to build flowcharts, org charts, network diagrams, floor plans, family tree diagrams, general business diagrams, drawings, invoices, scorecards, and so much more.
MyDraw's user-friendly interface is patterned after Microsoft Office. You can create charts and vector drawings using drawing tools for lines, curves, rectangles, ellipses, polygons, and other shapes. If you don't feel like making everything from scratch, you can always make use of the automatic layouts to make arranging diagrams easier.
Number geeks will be delighted to know that MyDraw also lets you generate flowcharts and organisation charts that are defined in Excel spreadsheets. And if you're more of the creative type, there are also tools in place to help you create posters, brochures, menus, invitation cards, and other assets.
A lifetime subscription to MyDraw typically costs £50, but for a limited time, you can get it on sale for £14.32.
Save 71% on MyDraw Advanced Diagramming Software
Buying Options
See Details
Read more: mashable.com