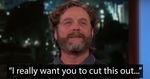 Children say and do some pretty odd things sometimes — especially when they're only 2 years old.
Zach Galifianakis' son is no exception. In the clip above from Jimmy Kimmel Live!, Galifianakis and Kimmel exchange stories of some funny-but-embarrassing things their kids have done in the past.
But the actor and Between Two Ferns host has one anecdote about a question his son asked him when he was peeing that tops everything that's gone before it.
Writing it down frankly won't do it justice, so just skip to 4:08 in the clip above for the full segment. Read more…
More about Jimmy Kimmel Live, Jimmy Kimmel, Zach Galifianakis, Entertainment, and Talk Show
Read more: mashable.com