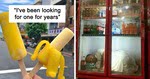 Egypt is one of the oldest countries in the world. Located in northeast Africa, it has been around since about 3150 BC and is home to the Great Pyramid of Giza, the only surviving ancient wonder.
But there's more to it. And there's one subreddit that wants you to go beyond the statues and tombs, showing all the things that tourism agencies tend to exclude from their promotionals.
Appropriately titled r/Egypt, this online community provides a deeper look into the country and its citizens. From a local Alexandria bird lover to a simple but very beautiful tree in Cairo, continue scrolling and check out some of its most popular posts.
#1 A Bench In The Library Of Alexandria, Egypt.
Image credits: Leena_Noor0
#2 I'm In Love With The Picture
Image credits: Noura_Fatnasi
We managed to get in contact with one of the subreddit's moderators, Bradhrad, and they were kind enough to have a little chat with us.
"The sub is mainly Egyptians but a fairly high percentage of the members are foreigners, either lurking or living in Egypt," Bradhard told Bored Panda.
The fact that the subreddit is bilingual also helps — it allows both English and Arabic.
#3 This Large But Beautiful Tree In Cairo
Image credits: reddit.com
#4 A Fluffy Tour Guide
Image credits: gamergirlsriseup
#5 The Sun Was Too Hot For His Litol Feet
Image credits: w-a-n-n
In Egypt itself, most people live along the banks of the Nile River, and over two-fifths of the population lives in urban areas.
Along the Nile, the population density is one of the highest in the world, exceeding 5,000 people per square mile (2,000 per square km) in a number of governorates.
The rapidly-growing population is also very young, with roughly one-third of the total under age 15 and about three-fifths under 30.
#6 We Famous Now…we Really Did Surprise The World I Am Really Proud!!
Image credits: YoYo_ismael
#7 Weather In Egypt Right Now
Image credits: karimy22
#8 Savage
Image credits: reddit.com
As you can probably tell from the pictures, the content on the subreddit is pretty varied. "It goes from politics to dark humor to a simple discussion on economics to an everyday question," Bradhrad said.
"Reddit is usually less popular than top social media sites like Facebook or Twitter, and as the subreddit is mainly in English, [so I think] most of the users on the sub are either teenagers or young adults."
#9 What The Hell Happened To These I've Been Looking For One For Years
Image credits: Abdelrahman_eltahhan
#10 Just A Normal Day In Egypt
Image credits: plaYeRUnknwn
#11 Amazing Shot I Have To Share
Image credits: mahmoud50569
#12 What A Beautiful Day
Image credits: fesbanu
What's really interesting is the fact that even though Egyp's history spans thousands of years, we're still learning about it. For example, archeologists have just discovered over 18,000 broken pieces of ceramics called "ostraca" that served as writing materials in ancient Egypt.
The inscriptions on the shreds include lists of names, representations of gods, and receipts for food purchases. Among these were hundreds of lines written in a school by pupils receiving Bart Simpson-like punishments, the team also believes.
#13 Einstein Clone Found In Kheir El-Zaman Supermarket
Image credits: SaifTaherIsGr8Again
#14 Yes, I Think To Myself What A Wonderful World
Image credits: LedoArt
#15 Portsaid
Image credits: fesbanu
#16 Nubian Houses In Egypt And Sudan
Image credits: husseinjabir97
#17 Can We All Take A Moment To Embrace Such A Beautiful, But Underappreciated Mosque In Sohag? It Won Global Architecture Awards, But Not That Many People Know About It. The Basuna Mosque.
Image credits: KingDahab
#18 Sunset In Cairo – (Shot By Hossam Abbass)
Image credits: Level-Worth7598
#19 Beautiful Sunset From Airbnb In Egypt 2020
Image credits: whosyourbaghdady
#20 Like If It Was Made Just Yesterday!!
Image credits: muachraf
#21 Pyramids Of Giza – A View Of The Pyramids Of Giza Along The Nile River At Sunset, 1934.
Image credits: Misery_Girl_1999
#22 My Egyptian Neighbor Gave Me A Sampler Of Her Mom's Home Cooking. Omg. I've Never Had Food Like This Before.
Image credits: eldersveld
#23 Red Sea From Space Egypt
Image credits: DaveGameZ666
#24 Scale ????????
Image credits: mahmoud50569
#25 Taba, Egypt
Image credits: Jamila_Alzaabii
#26 Amazing View Of The Pyramids Of Giza ♥️
Image credits: Jamila_Alzaabii
#27 Kings And Queens Are Being Moved From The Old Museum To The New Grand Egyptian Museum!
Image credits: Econort816
#28 A Photo Of The Sphinx In The Late 1800s. It Was Taken From A Hot Air Balloon And Was Still Covered By Sand
Image credits: 3askaryyy
#29 El Sakakini Pasha Palace, Cairo, Egypt. ??
Image credits: reddit.com
#30 This Guy Hanging From One Of His Belts To Show People That His Belts Are Good Quality. Egyptian Metro Sellers Are A Different Species.
Image credits: Zillak
#31 Cats In Egypt
Image credits: Sufficient-Refuse-98
#32 Never Failed To Impress Me, Egypt.
Image credits: WaelMwafey
#33 Satisfaction Smile With The Taste Of Life, Egypt
Image credits: mahmoud50569
#34 This Building In Alexandria, Egypt
Image credits: unknown
#35 Alexandria Sea After Quarantine ( Abo Qeer ) ?
Image credits: B4dr003
#36 El Minya, Egypt
Image credits: Wild-Damage
#37 A Normal Day In Cairo.
Image credits: WaelMwafey
#38 This Is Not Italy. This Is Our Lovely Alexandria!
Image credits: AlaaMaherr
#39 Artificial Intelligence Reconstruction Of What Pharaoh Ramses II May Have Looked Like (1,303 – 1,213 Bc).
Image credits: Pluto-NO
#40 F**k Giza Pyramids All My Homies Love Heinz Ketchup Bottle
Image credits: EdicaranFauna
Read more: boredpanda.com