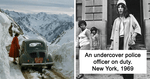 These days, when cameras are everywhere, from our phones to security cams in public spaces, it's easy to forget that the major part of history has passed without them. Only in 1888, when Kodak released the first commercial camera, did they slowly begin permeating our lives.
But long before thousands of snaps on our camera rolls, photographs were reserved for capturing precious and one-of-a-kind moments. These incredible visual monuments of history have resurfaced and brought a whole new meaning to events and lives of people in the past.
And today we're about to get on board down memory lane full of raw emotions and unstaged realities captured in these rare historical photos. After you're done, make sure to check out our part 1 right here.
#1 100,000 Iranian Women March Against The Hijab Law, Tehran 1979
Image credits: poaia
#2 Meet The "Night Witches", Fearless Russian Female Pilots Who Bombed Nazis By Night, 1941
Image credits: Beast667Neighbour
#3 In 1941, The Photo On The Left Was Taken Of Soviet Soldier Eugen Stepanovich Kobytev On The Day He Left To Go To War. The Photo On The Right Was Taken In 1945 After The End Of The War, Just 4 Years Apart
Image credits: irishamerican
"Photography historians are each different in how they approach studying the life of the medium: some are interested in its technical history, asking what camera improvements, and limitations, meant for the people who became photographs," Gabrielle Moser told Bored Panda.
Gabrielle is a writer, book author, independent curator, and Assistant Professor of Aesthetics and Art Education at York University. She was happy to share some insights into the wondrous world of historical photography and what photography historians do to bring them back to life.
"What could you literally photograph—because of film speed, exposure times, and the ability or inability to print multiple copies of an image—and what did that mean for the kinds of images that were made?" These are the inquiries photography historians are looking for the answers to.
#4 A Native American Mother And Her Child – 1900s
Image credits: admaiora_
#5 Keshia Thomas Protects An Alleged Kkk Supporter From A Mob In Ann Arbor, Mi, 1996
Image credits: InevitableClear
#6 Annette Kellerman Promotes Women's Right To Wear A Fitted One-Piece Bathing. She Was Arrested For Indecency (1907)
Image credits: mrkyle31
"For instance," Gabrielle continued, "war photography was incredibly difficult until the early 1900s since shutter speeds were so slow and exposure times were so long that any movement, like armed battle, wouldn't be captured by the camera. That didn't mean that photographers didn't make images of wars, but that they had to be inventive, using staging, re-enactment, or capturing the aftermath of battle, as Roger Fenton, Mathew Brady, and Timothy O'Sullivan were all very skilled at."
#7 A Red Cross Nurse Writing Down Last Words Of Mortally Wounded Soldier, Taken Around 1917
Image credits: PeJae
#8 Sir David Attenborough As A Young Man, Late 1950s
Image credits: respedi
#9 A Boy's Reaction Staring At A TV Screen For The First Time (1948)
Image credits: SchoolProjectLad
The professor explained that many important photography historians have also traced where these images circulated, who would have seen them, and in what context: "did they have captions? Were they shown in newspapers, or in more spectacular settings like lantern slide presentations, or through a stereoscope which produced a 3D effect for the viewer? Were they used by the government for the purposes of surveillance, or by activists to make claims for social change?"
#10 Coal Miners Coming Up A Coal Mine Elevator After A Day Of Work In 1920's Belgium
Image credits: rockystl
#11 British Soldiers (Interrupted During Drag Show Rehearsals By A German Raid) Manning A Bl 6-Inch Mk Vii Naval Gun At Shornemead Fort, England In 1940
Image credits: File-Environmental
#12 An Undercover Police Officer On Duty. New York, Brooklyn, 1 July 1969
Image credits: reddit.com
"Other photography historians are curious about how photography was used as a fine art form and about how artists like Julia Margaret Cameron, F. Holland Day, and Berenice Abbott adapted the medium to make photographs that were taken as seriously as paintings and sculptures from the same period."
More recently, there has been an interest among photography historians in the social life of photographs. "It focuses less on the artists who made the images and more on the people who are in them. These historians ask how photographs might be used to claim rights, like citizenship, or to protest social and political injustices," the professor explained and named some important figures who used images for social justice: "Photographers like Lewis Hine, Raja Deen Dayal, James van der Zee, and later Roy DeCarava, Susan Meiselas, and Zanele Muholi."
#13 Arikara Warrior 'Bear's Belly' – North Dakota, USA – Photo By Edward Curtis (1909)
Image credits: rockystl
#14 Lockheed Martin Employee Sally Wadsworth Working On The Fuselage Of A P-38 Lightning In California In 1944
Image credits: NihilisticNoir
#15 Grand Central Terminal, NYC, The Sun Can't Shine Through Like That Now Due To The Surrounding Tall Buildings. 1929
Image credits: Feiruzz
When asked how photography historians determine the date, context, and the participants of the particular photograph if there are no apparent indications, Gabrielle said that most photography historians rely on their technical knowledge of photography to date images that are "orphaned" from their captions.
"We examine the photographic print—its dimensions, the quality of the image, its wear and tear—to determine what kind of camera or printing technique was used. Daguerreotypes produce a mirrored surface, a high level of detail and contrast, but could only be made at very small scales, for instance, while salt prints could be much larger, and printed on paper, but sacrificed a level of detail."
#16 A Woman Overlooking A Snowy Mountain Pass In The Pyrenees Mountains, France – 1956
Image credits: Cecca105
#17 Visiting Quarantined Family And Friends At Ullevål Hospital, Oslo – Photo By Anders Beer Wilse – 1905
Image credits: StcStasi
#18 American Troops Treat A Wounded Dog On Orote Pennisula. W.Eugene Smith. 1944
Image credits: gnevzmaja
Turns out that "early Kodak cameras were the first widely available and cheap mass-produced cameras in North America, introduced in 1888," Gabrielle said and added that they have particular prints that produce a circular image.
"Determining the context in which an image from the past circulated can be much trickier. Historians often have to look to archives of illustrated newspapers to see if photographs were reproduced there, and often with photographs made for press agencies, like Magnum or Black Star, stamps and captions are included on the back to indicate where the image was seen."
#19 San Francisco's Iconic Cliff House, Shortly Before It Was Destroyed By Fire In 1907
Image credits: Maynard078
#20 Geologist Thomas Griffith Taylor And Meteorologist Charles Wright In The Entrance Of An Ice Grotto. Terra Nova Expedition, Ross Island, 5 January 1911. Photo Taken By Herbert Ponting
Image credits: reddit.com
#21 Today In 1945, The Auschwitz Death Camp Was Discovered And Liberated By The Red Army
Image credits: hollmantron
However, in the case of private or domestic images, "like portraits, family photo albums, passport photographs, or class photographs," the professor said that we might not ever know everything we want to know about who is in the photographs, or what context in which they were made. Having said that, she added that "we can use our imaginative capacities to speculate and make educated guesses."
#22 JFK & Bill Clinton Greeting At The White House, In 1963
Image credits: SmoothlyPass588
#23 Female Snipers Of The 3rd Shock Army, 1st Belorussian Front, 775 Confirmed Kills, Germany, May 1945
Image credits: NihilisticNoir
#24 Mother And Baby Of Family Of Nine Living In Field On U.S. Route 70 Near The Tennessee River, March 1936
Image credits: ghostmrchicken
According to Gabrielle, as digital photography has become accessible to almost everyone through smart phones, we have begun to value historical photographic processes, "especially ones that have been made obsolete, more highly. Especially the processes that resulted in one-of-a-kind images, like photograms, daguerreotypes, cyanotypes, and Polaroids, because they seem unique and irreproducible."
#25 Last Sword Duel In History In France, 1967 Between The Mayor Of Marseille And The Socialist Party Candidate For Presidency
Image credits: Chocolatechipweb
#26 Shepherds Listening To Music Records, Azerbaijan 1939
Image credits: lonerinchaos
#27 A U.S. Marine Rescues Two Vietnamese Children During A Gun Battle At The City Of Hue, During The Tet Offensive Of The Vietnam War – 1968
Image credits: 999kid999
"In many ways, the more we know about the history of photography, the more we seem to find parallels between now and the past. We might worry that there are 'too many images' in the world through platforms like Instagram, TikTok, or even in the millions of photographs uploaded to Flickr and Facebook each day, but if we look back at some of the earliest cartoons and caricatures about the invention of photography in France in 1839, we see the same panic surrounded the first viable and publicly available photographic method, too," Gabrielle concluded.
#28 Homecoming, A British Soldier With His 8 Month Old Daughter As He Arrives At The Docks From Overseas 1945
Image credits: NihilisticNoir
#29 One Of The Many Selfies That Emperor Nicholas II Took Throughout His Life, (1868-1918)
Image credits: Pavel-Romanov
#30 A German World War II Prisoner Is Released By The Soviet Union And Reunited With His 12-Year-Old Daughter, Who Has Not Seen Him Since Infancy. 1956
Image credits: noctus_exterreri
#31 Cetshwayo, King Of The Zulu Who Defeated The British At The Battle Of Isandlwana, 1878
Image credits: Zuccaro1
#32 Navajo Riders In The Canyon De Chelly, Arizona. 1904, Photo Taken By Edward Curtis
Image credits: verostein
#33 The World's Last Commercial Ocean-Going Sailing Ship – The Pamir – Rounding Cape Horn, 1949
Image credits: Bernard_Hunor_Deak
#34 Frozen Niagara Falls, 1911
Image credits: reddit.com
#35 A Native American Man Looking Over The Newly Completed Transcontinental Railroad In Nevada, 1869
Image credits: Feiruzz
#36 An Outdoor Hockey Game In Sweden Is Cut Short, 1959
Image credits: verostein
#37 All Of Them Pick Shrimp At The Peerless Oyster Co. Photo Was Taken While Bosses Were At Dinner As They Refused To Permit The Children To Be In Photos. Out Of 60 Workers, 15 Were Apparently Under 12 Yrs Old. Bay St. Louis, Miss, March 1911
Image credits: NihilisticNoir
#38 Oldest Austrian Soldier Of Ww1, A 79-Year-Old Gaspar Wallnöfer, Veteran Of Habsburg Campaigns In Italy In 1848 And 1866, September 1917
Image credits: KandiLili
#39 A Rare Photo Of A Traffic Accident In The Netherlands More Than 100 Years Ago. The Photo Was Taken In 1914
Image credits: AbAladwani
#40 A Babushka Keeps The Ears Of Her Grandson Warm As He Takes An Oath Of Enlistment For The Russian Army. Volgograd, 1994. Photo Taken By Nikolai Ignatiev
Image credits: reddit.com
#41 Survivors Of 1972 Of The Infamous Andes Plane Crash. The Passengers Resorted To Cannibalism To Survive 72 Days In The Snow
Image credits: hconfiance
#42 Rome When It Became The Capital Of The Kingdom Of Italy (1871)
Image credits: PinkWarPig
#43 Acrobats Balance On Top Of The Empire State Building (1934)
Image credits: Itchy_Kiwi
#44 Anti British Propaganda, Japan 1941
Image credits: pireui
#45 Eddie "The Eagle" Edwards Soars Above A Roaring Crowd At The 1988 Winter Olympics. He Finished Last
Image credits: sadnubbin
#46 Iron Workers Pose For A Photo Atop The North Tower Of The World Trade Center, 1973
Image credits: DecisionLivid
#47 Las Vegas Police Facing Mike Tyson After He'd Just Bitten Holyfield's Ear Off (1996)
Image credits: SubstantialRange
#48 The Airship Le Jaune Flying Past The Eiffel Tower, In Paris, France. (11/20/1903)
Image credits: X0llynh0BR
#49 FDR Using Help To Get Out Of His Car, One Of The Few Photos That Show His Paralytic Illness, Journalists And Photographers Avoided Showing The President In This Weak State Especially During WWII, Taken In The 24th Of September 1932
Image credits: PeJae
#50 Conrad O'brien-Ffrench Greets A Bear. Having Spent His Youth As A Mountie, Surviving The First World War And Serving As An Mi6 Agent In The Second World War, He Was Known To Welcome Danger. Banff National Park, 1950. Photo Taken By Rosalie French
Image credits: reddit.com
Read more: boredpanda.com