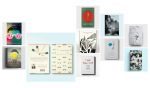 We are at a pivotal moment in book cover design trends—it is no longer business as usual. Sure, the basic rules of book design still apply—covers must be clear, legible, and suited to the genre all while projecting enough mystery to entice a prospective reader to pick it up off the shelf. But beyond that, book designers are pushing boundaries and breaking rules, creating compelling and subversive covers that truly delight.
There's something for everyone out there right now, from playful covers that are satirical yet welcoming to bold covers that grab you by the lapels at first glance. Read on to check out the book cover trends we're most excited about in 2020!
Distinctive type book covers
Delicately illustrated book covers
Rainbows and primary colors in book covers
Textured book covers
Creative photography book covers
Found materials in book covers
Handwritten pencil fonts in book covers
1. Distinctive type book covers
—

by Predra6
Strong and unique typography is a must have this year. You can choose to make artwork using your handwriting skills, or to create your own font family. Make the title pop and create a strong connection with your artwork. Bring it to life and let it breathe.
– Predra6
Over the past few years a handful of strong, legible serifs became ubiquitous in book cover design across all genres. They were highly readable and bold, but came to feel a bit characterless and empty. In response, the past year has given rise to highly distinctive fonts and we see this trend continuing well into 2020. Expect retro-esque serifs that harken back to the seventies and eighties as well as others that test the limits of readability (see: Baron Wenckheim's Homecoming) but are far from forgettable.
2. Delicately illustrated book covers
—

by green in blue
Expect a shift back to the classics — look for covers with great illustrations and a handwritten typography approach.
– Boja
While illustrated covers have been on-trend for years, the illustrations of the past few years were often heavy and influenced by the great mid-century illustrators. While those styles remain in circulation, we're starting to see lighter illustration styles pop up—like the delicate flower skull found on the cover of Ghost Wall. We're also seeing a slow re-emergence of line art. Matisse and Picasso-inspired line drawings marry beautifully with type treatments for a refreshingly modern approach.
3. Rainbows and primary colors in book covers
—
While muted neutrals and stark black and white covers will always have their place, 2020 will be the year of primary colors. Some designers view pure reds, blues and yellows as a risky choice, but others, like top designer Oliver Munday, are playing with the arresting power of a pure red.
In the past, covers have favored only a small range of colors (one or two, maximum), but in 2020 we're expecting a renaissance of bold rainbow colors. A cover like the one for Dead Astronauts would have been rejected earlier in the decade, but today its wild colors are right on time.
4. Textured book covers
—

by Cakamura
Since so many people discover new books while scrolling through Amazon, it's more important than ever that a cover pops both on a bookshop shelf and online. One way designers will approach this in 2020 will be a zeal for texture. We're seeing more covers that play with texture to create touchable, tactile covers—even when viewed on a screen. These covers often have a depth that surpasses illustration and photography.
We've seen type and illustration interacting more for the past few years (we featured covers that overlap text with graphic elements in our 2019 Book Cover Trends) but now we're seeing a transition to more texture overall.
5. Creative photography book covers
—

by arté digital graphics
Photography can be a challenging element to integrate into book cover design. Even when starting with a strong image, it may lose its impact when combined with type. But recently, designers have been experimenting with new ways to present photographs.
With fiction we will see designs that speak to the human desire to escape from reality.
Going against design expectations, the subject can be obscured, or in the case of Melissa Broder's The Pisces, created entirely with white space. In the realm of nonfiction writing (where photographic covers are considered the norm) designers have been pushing the envelope particularly hard: the red X on The Unwanted, and the way the black background works to evoke the IRA's black face masks on the Say Nothing cover.
Keep a close eye on photography in book covers throughout 2020—this is one of the more exciting trends to watch.
6. Found materials in book covers
—
Cover designers are always looking for new ways to draw potential readers into a book cover, whether they're scrolling through their favorite online superstore or combing the shelves at a local bookshop. One trend in book design that never fails to captivate is found materials. Think of it as the evolution of collage, where a designer takes familiar elements from the world around us and repurposes them for a book cover.
The way, for example, the scraps of paper interact with the photograph on the cover of The Memory Police to give prospective readers a strong hint about the plot of the book (it takes place on an island where all the inhabitants are missing certain memories).
7. Handwritten pencil fonts in book covers
—

by Beaux Arts
Handwritten fonts have been all the rage for most of the 2010's but like any other trend, what's popular tends to change over time. While a few years ago beautiful handwritten calligraphic scripts were huge, 2020 will bring a wave of more "human" handwriting on covers. Often rendered in light pen or even pencil, these elements feel relatable, which helps more readers immediately connect with the cover.
A new decade of book cover design trends
—
Book cover design in 2020 is looking to be supremely democratic. We're expecting fantastic covers on self-published books as well as those put out by major book publishers. The bar is set so high that everyone is putting out their very best work—and we don't see the creativity stopping any time soon. Here's to the new decade and all the gorgeous book covers we hope to see!
Want an on-trend book cover design?
Let our designers create something unique for you.
Get a book cover design
The post 7 exciting book cover design trends for 2020 appeared first on 99designs.
Read more: 99designs.com
http://alihanrin.com/