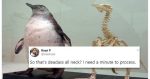 41 Strange, a Twitter account thats run by authors who share weird photos from about the web, tweeted an image of a penguin standing beside a sketeal version of itself. Well, one Twitter user, @vdeIrossi, was confused by the image writing that they needed "a minute to process" the fact that a majority of a penguins skeleton is mostly neck.
Soon after sharing the initial shock, other Twitter users began to comment their surprise and confusion, as well.
Now we know, penguins are 98% neck and 2% wobble — you learn something new everyday!
Submitted by:
Tagged: skeleton , penguins , interesting , cute , neck , lol , tweets , funny tweets , weird Share on Facebook






Read more: feeds.feedblitz.com