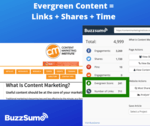 Evergreen content consistently drives traffic, shares and backlinks to your website. It is a key part of any content strategy.
In this post we look at:
The definition of evergreen content The benefits of evergreen content How to find examples of evergreen content Tips for creating evergreen content What Is Evergreen Content?
At its most basic, evergreen content stays relevant long past its publication date. This type of content takes its name from the evergreen trees, which retain their leaves throughout the seasons.
Key performance indicators for content that's evergreen are a steady stream of backlinks, social shares and traffic.
Most content is relevant for a short period of time. Even some articles that gain significant attention soon after they come online can see that interest decline quickly.
By contrast, evergreen content tends to be read and shared consistently over time.
Best Formats and Topics for Writing Evergreen Blog Posts
To keep audience attention for the long haul consider these formats:
Educational or informative posts. For example What is content marketing?
Practical posts. For example How to speak so that people want to listen
Research or statistical reference posts. For example Millennials Overtake Baby Boomers As America's Largest Generation
Posts that answer questions. For example Frequently Asked Questions On Genetically Modified Foods
Lists and resources. For example The Ultimate List of Marketing Stats. This particular list is technically not evergreen as it is updated each year but it works well as an ongoing resource.
There are also topics that remain evergreen and relevant over time. These include:
Love



Long life
Health
Parenting
Career advice
Remember, formats and topics can only take you so far.
Ultimately it's the quality of the content that drives traffic. So, don't rely on format alone. Marry format with laser-focus on meeting your audiences' needs and offering them the best possible answer to their most pressing questions.
What Are The Benefits of Evergreen Content? Evergreen content drives traffic.
The main benefit of content designed to be evergreen is that it delivers a consistent stream of traffic to your site over time.
Evergreen posts stand out in your Google analytics or site traffic statistics. They are the posts that consistently bring visitors to your site month after month.
Evergreen posts are backlink magnets
These posts are very beneficial to your SEO strategy as they not only drive traffic, but they also gain links consistently over time.
Backlinks function as a vote of confidence for search engines. When Google or another search engine wants to know if a piece of content is valuable, its bots will look for links from other authoritative sources.
Evergreen blog posts offer great value for the money
Because evergreen blog posts retain their relevance and keep working for your brand, they offer a cost-effective answer to increase the ROI of your content marketing.
Investing in evergreen content is like investing in a high-quality pair of shoes. You'll spend more at the beginning, but save $$ over time.
How To Find Good Examples of Evergreen Content with BuzzSumo
BuzzSumo that allows you to search for good examples of evergreen content in any topic area or on any domain.
We look for articles that consistently gain shares and links over time. Based on this consistency we allocate each article an evergreen score.
In simple terms the higher the score the more evergreen the article. If an article is less than 40 days old we score it zero by default.
To compare your content with others who write about the same topics, check out these average evergreen scores.
This approach provides another perspective in the search for effective content examples.
Thus rather than sort by total shares or links, the evergreen filter shows the top posts that consistently gain shares and links over time.
Searching for evergreen content by topic
Simply enter the topic you want to search for and filter by evergreen score as shown below.
Searching for evergreen content by domain
You can also search for evergreen content on a particular website by entering the domain you want to search for rather than a topic.
Tips for Creating Content That Will Last
Kevan Lee, VP of Marketing at Buffer, offers in Evergreen Content Ideas: The Complete List For Your Blog. (The post itself is also a good example of an evergreen blog post.)
Kevan suggests these key elements:
Be the definitive source. This means writing comprehensive long-form content where necessary. Our research consistently finds that authoritative, long-form content gains more links. Write for beginners, do not assume too much knowledge. I would add to this answering the questions your audience is asking. Lee Odden says it well: Be the best answer to your customers' questions."
You can use BuzzSumo's Question Analyzer to research the questions being asked on a topic across hundreds of thousands of forums including Quora and Reddit, or tools like Answer the Public. Researching questions helps you to focus on the keywords used in relation to your topic.
The post How To Research and Create Evergreen Content appeared first on BuzzSumo.
Read more: buzzsumo.com