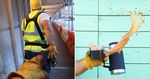 Forget everyone else, this is the only influencer you need to follow from now on.
A dad named Omar from Austin, Texas is finally getting the Instagram engagement he deserves after all of his hard work influencing. 
When Omar recently found out exactly what it means to be an influencer, he decided to give it a go. He created the Instagram account @justaconstructionguy and started posting carefully curated snapshots of his daily life.
His daughter shared his antics on Twitter, and it was later screenshot and reposted by the meme account @middleclassfancy. When Omar's daughter first posted about his account, he had 75 followers. After being shared across meme accounts all over Instagram this week, his following has blown up to 285,000 at the time of writing.  Read more…
More about Instagram, Influencers, Culture, and Web Culture
Read more: mashable.com