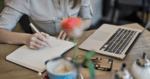 TL;DR: Get the comprehensive "Improve Your Writing Skills" master class bundle for $19.99 — a savings of 98% off its usual price. 
Okay, so maybe you're not planning to write the next City of Girls or even open your long-lost journal, but writing skills may just be the important career weapon you're missing. 
Whether you're a software engineer, a digital marketer, a barista, or an MLB baseball player, we'd be willing to bet you'll be required to write something, somewhere. Wouldn't be nice if you could express yourself eloquently? 
This writing skills master class may be the motivation you need to become a better writer. Offering a total of 18 hours of training, it's tailored for both new and experienced writers — and it's on sale for just $19.99. Read more…
More about Writers, Work Life, Online Learning, Mashable Shopping, and Shopping Onlinelearning
Read more: mashable.com