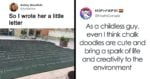 I couldn't imagine my childhood without sidewalk chalk. This is how my parents taught us, little kids, letters and numbers, and this was basically the only thing that would keep us interested. It had unlimited play potential so you could doodle, play with friends, create art and unleash your imagination. The best part, you didn't need to worry about leaving a mess!
But it turns out not everyone is as excited about chalk drawings. In fact, one co-op neighbor got so annoyed about this mom and her toddler using sidewalk chalk in the courtyard that she complained to the board.
While you may wonder what precisely got her so upset (was it too much of a green color, not enough precision?), the mom Ashley Woodfolk shared a smashing response letter she wrote… in sidewalk chalk.
"So I wrote her a little letter. In sidewalk chalk. In the courtyard," Ashley tweeted yesterday and her post went viral, amassing 237.6K likes and counting.
So let's see what she had to tell her neighbor below, and be sure to share your thoughts on the incident in the comments!
After hearing her neighbor complained to the co-op board about her toddler using sidewalk chalk, mom Ashley penned a clever letter

Image credits: AshWrites
For anyone living outside the Big Apple, the co-op may sound new. Basically, when you buy a co-op, you don't actually buy your apartment; instead, you are buying shares in a corporation that is your building. The size of your share depends on the size of your apartment; buying the shares allows you to occupy a unit in the co-op building.
The thoughtful letter Ashley wrote was done in chalk in the courtyard, where chalk drawings frustrated her neighbor
Image credits: AshWrites
Co-ops are basically the homeowner's associations (HOA) of urban environments, where an organization in a condominium makes and enforces rules for the properties and residents. Moreover, every co-op has a board. The board is a group of members that has been elected to make decisions for the co-op on behalf of all the other members.
It turned out that the board of Ashley's co-op was "super apologetic and on her side" in regards to the incident. However, the woman added in her tweet that she doesn't want to make their lives harder. "I wish my pettiness could only affect her but the trickle effect isn't worth it," she said referring to the neighbor.
Here is the full letter Ashley wrote as shared on her Twitter account
Image credits: AshWrites
From the witty and graceful style of the chalk letter, you can suspect Ashley is no stranger to writing. In fact, Ashley Woodfolk is a full-time mom and writer, who, according to her website, lives in a Brooklyn apartment with "her cute husband, her cuter dog, and the cutest baby in the world."
Her books include The Beauty That Remains, When You Were Everything, Blackout and the Flyy Girls Series, so you may want to check them out!
People have shared some opinions about the board, wondering how they accepted the complaint, but Ashley said she doesn't blame them
Image credits: AshWrites
Image credits: AshWrites
Others showed their support for Ashley, giving her kudos for a great response in such an 'infuriating' situation
Image credits: Bridginne
Image credits: KoKabegami
Image credits: BigRedDukes7
Image credits: pwmartinson
Image credits: ShakeHandsBNice
Image credits: soltweetstuff
Image credits: pattidigh
Image credits: LoraBA83
Image credits: RuthLoisDev
Image credits: DCSUYD
Image credits: thatpackergirl
Image credits: AttkRunRepeat
Image credits: ChristeeDoubleE
Image credits: Oceanswam
Image credits: IdahoLark
Image credits: LadyOfCygnets
Image credits: Starbourne7
Image credits: wes_rose
The post Mom Writes A Letter In Sidewalk Chalk To 'Karen Neighbor' Who Complained About Her Toddler's Drawings And It's Going Viral first appeared on Bored Panda.
Read more: boredpanda.com