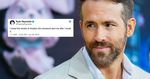 Even when Ryan Reynolds is blatantly promoting his own stuff, we still can't get mad at him.
He just does it so damn well.
SEE ALSO: 69 times Ryan Reynolds was hands down the funniest actor on Twitter
Reynolds has previously advertised Aviation Gin — the company he's owned since early 2018 — with the help of both Hugh Jackman and Andy King (aka the Fyre festival blowjob guy).
And now he's writing his own reviews of the stuff.
I loved this review of Aviation Gin someone sent me after I wrote itpic.twitter.com/YZN4KI0ATD
— Ryan Reynolds (@VancityReynolds) June 22, 2019
You can't fault the effort that's been put in — it's basically a short story in review form. Read more…
More about Ryan Reynolds, Culture, and Celebrities
Read more: mashable.com