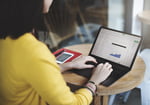 Updated March 2022
How many times each day do you check your email? Five? 10? More than that?
If you're tuned in to your inbox all the time, you know how powerful email is — even after all these years — for connecting people around the globe. And if you're not reaching out to your readers via a growing email list, you're missing out on a valuable opportunity to connect with and build your audience.
An easy way to grow your email list is to send out a regular email newsletter to your audience. We'll look at the best email marketing platforms in this article.
So what can a regular email newsletter do?
You can use an email newsletter to:
Stay connected with your readersInform your readers of upcoming events or book launchesSend out surveys and get potentially helpful feedbackAttract new readersShare exclusive insider content
If you don't already have an email newsletter, it's time to start thinking about it as a part of your marketing efforts to build an author platform. It will go a long way toward helping you land writing gigs and sell books.
Which email platform is right for you?
So whether you're just starting to build your brand as a writer or already have a loyal group of fans who keep asking what you've written lately, it's time to consider growing an email list.
Here's a peek into some of the most popular email marketing platforms, plus quick pros and cons for each.
1. ConvertKit
For beginners? Yes
Initial cost: Free
This service specializes in email marketing services for bloggers and authors. Key features include easy organization of sequenced courses, customizable automated messages and integration with the ecommerce platforms bloggers favor. Most users say it's easier to use than the other platforms on this list, so it's a good starting place for beginners.
Start building your email list with the free ConvertKit plan, good for up to 1000 subscribers. The free plan doesn't have access to all the more strategic features. To get those, their Creator Plan starts at $9/month.
One other cool feature of this platform is you can easily create unlimited landing pages, sales pages, and forms.
ConvertKit has been growing steadily since its 2013 launch. We moved to this platform in late 2019 and have since enjoyed an increase in subscribers to our email list.
2. MailerLite
For beginners? Yes
Initial cost: Free
This email platform is best for you if you're just getting started and have a small list. You can have up to 1,000 subscribers and send up to 12,000 emails in a month for free. In other words, if you had 999 people, you could send 12 times in a month for free. If you had 500 people on your list, you could send 24 times in a month for free.
Overall, it's a great option for beginners and comparable with Mailchimp and ConvertKit on the free options. For more on pricing, click here.
3. MailChimp
For beginners? Yes
Initial cost: Free
MailChimp is one of the most popular email services for new businesses building their email lists. Some users think MailChimp is cute, but it can be clunky during the editing process. The big perk is that it's free for up to 2,000 subscribers and 10,000 sends per month, which is a good starting point for most email newsletters.
While MailChimp is great for new email lists, the full-service features that MailChimp offers are important for the more strategic email marketer.
The recommended Standard package starts at $17 per month.
For beginners? Yes
Initial cost: $9.99 per month
Constant Contact is geared toward businesses, so if you're growing your brand, this option might be a good fit. The basic plan starts at $9.99 per month for a list of up to 500. All plans feature unlimited emails and include customer growth tools.
And if you're not tech-savvy — and maybe don't have time to even want to learn — Constant Contact offers additional services ranging from account setup to designing blasts for the copy you provide.
5. AWeber
For beginners? Yes
Initial cost: Free
Many big-name bloggers swear by AWeber. It was once the DIY choice, because it didn't have pre-designed templates like many of the other platforms. But AWeber has become more user friendly over the past few years. In fall 2019, the company launched Smart Designer, which analyzes your website to quickly create an email template that matches your brand.
Use AWeber for free and get unlimited emails for up to 500 subscribers. The paid plan with more customizable features starts at $16.15 per month for up to 500 subscribers and $26.15 for up to 2,500 subscribers.
6. GetResponse
For beginners? Yes
Initial cost: Free
GetResponse offers a free plan for up to 500 contacts. The paid, more comprehensive plans after 500 subscribers start at $12.30 per month Like many of the platforms we describe here, the company offers customizable email templates and landing pages.
If you just want to send emails to your community, GetResponse may not be your first place to start. But if you want to build a marketing funnel and sell products, this is a great all-in-one option packed with marketing tools for you.
7. Substack
For beginners? Yes
Initial cost: Free
This one's a little different from the rest. Instead of paying a fee to send emails through Substack, your readers pay to receive your messages. Every time you publish, you decide if it's for all subscribers or just for those who pay a subscription fee you set. If you have paying subscribers, Substack keeps 10% plus about 3% for payment processing fees.
If you want to build your email list to primarily share promotional updates, Substack is probably not right for you. But if you want to monetize your writing beyond traditional or self-publishing and you already have a solid following, it may be worth considering.
8. TinyLetter
For beginners? Yes
Initial cost: Free
TinyLetter is a MailChimp product, and its focus on text makes it a popular choice for writers. And unlike some of the MailChimp products, TinyLetter is completely free to use. The only catch: You're capped at 5,000 subscribers.
"TinyLetter is to MailChimp what Tumblr is to WordPress: It's newsletters for dummies," Rebecca Greenfield explained at Fast Company. "Unlike MailChimp, which caters to businesses and offers all sorts of testing and analytics features, TinyLetter provides just the basics. Writing a message is just like writing an email in Gmail, meaning the process takes only as long as crafting the body text."
Noted early adopters of TinyLetter include freelancer Ann Friedman. Since she writes for several publications, her weekly newsletter guarantees that fans never miss an article. (Ed. note: Friedman has moved up to TinyLetter parent MailChimp. You can read more about her experience here.)
For beginners? Yes
Initial cost: $9 per month
Pricing plans start at $9 for 2,500 emails — not subscribers — per month. If you want to send unlimited emails or automated messages to your list, pricing starts at $29 per month. Campaign Monitor gets mixed reviews for usability, similar to concerns about MailChimp.
Campaign Monitor also offers users the option to only pay per email campaign, which is perfect if you only plan on sending occasional emails to your readers, when you have an event coming up or when you have a new book coming out.
Next Steps After You Choose an Email Marketing Platform
Regardless of the email marketing platform you choose to use, remember that readers won't open your emails unless you're writing interesting content that provides value. And your list won't grow unless you make compelling content and new offers. So, before you sign up for one of these services, think strategically about how you'll communicate with your network and what value you're offering. We put together a list of Email Newsletter Best Practices: 4 Things to Consider that can help you get started.
If you're an author or writer of any type looking for more information on how to actually grow your email list, check out this article.
Ready to get more inspired to dive into using email lists more strategically? Tune into this inspiring interview Dorie Clark Interview: Building an Email List, the Long Game & Becoming a Full Time Author.
Ready to grow your email list today?
I'm Ready to Grow My Email List!
Which email list service do you use? Which feature is your favorite? Tell us all about it in the comments!
This is an updated version of a story that was previously published. We update our posts as often as possible to ensure they're useful for our readers.
This post contains affiliate links. That means if you purchase through our links, you're supporting The Write Life — and we thank you for that!
Photo via Rawpixel.com / Shutterstock
Read more: thewritelife.com