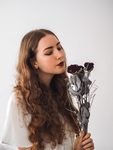 1. Write a love story together. Grab a sheet of paper and take turns writing one line or one paragraph of a story. You can make it steamy. You can make it romantic. Or you can make it straight-up silly. Just have fun with it!
2. Have your own personal wine/beer tasting. Buy a few different brands of cheap wine, or an assorted pack of beers, and then taste test the flavors. See which ones are your favorite and which ones you could live without. You're going to get drunk on Valentine's Day one way or another, so you might as well make it fun!
3. Paint together. Order some blank canvases and then paint portraits of each other. The sillier, the better! Or, if you want something you could potentially hang in your home, look up Bob Ross tutorials on YouTube. You'll be surprised at how well your paintings turn out when you have a great teacher.
4. Go on a virtual museum tour. There are plenty of virtual tours you can watch from the comfort of your own home. You can look at paintings and artifacts together. Or you could admire zoo animals and sea creatures together. Your options are endless. All it takes is a quick Google search.
5. Set up an indoor picnic. Put together some sandwiches, cheese, wine, and your favorite set of snacks. Then spread out a blanket and eat your meal on the floor. Make sure you take some cute pictures for Instagram before you're finished!
6. Decorate masks together. Remember how much fun it was to decorate t-shirts when you were younger? Well, you can do the same with masks. Dye them. Paint them. Draw on them with markers. Make something special for your Valentine! Then keep those masks around the house as a keepsake of this crazy year.
7. Have a candlelight dinner. Instead of going out to eat, you can order food from your favorite restaurant and bring it back to your house. Lights some candles, put on a romantic playlist, and then enjoy your meal while you talk about how much you love each other.
8. Make something yummy from scratch. Don matching aprons and try cooking together. Or, if you're better at baking, make heart-shaped brownies or cookies or cupcakes. Even if the finished product doesn't come out perfect, you'll have a fun time decorating side-by-side.
9. Watch a movie you would've seen in theaters. There are so many streaming sites now that you're bound to find something you haven't watched before. The final installment in the To All the Boys I've Loved Before comes out on Netflix a few days before Valentine's day, so you might want to give that a watch!
10. Set plans for the future. You can't do much right now, but you have the rest of your lives to spend together. Make a list of all the places you want to visit and all of the activities you want to do once the world returns to normal. That way, you'll have a checklist ready to go when you're bored out of your mind a few years from now.
Read more: thoughtcatalog.com