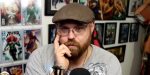 Last night's best picture Oscar win by Parasite was a historic moment in cinema history. The Korean subtitled movie about greed and class discrimination was the first foreign-language film to win the Academy Award's highest honor.
Parasite's triumph inspired extreme reactions ranging from exuberance to rage, and YouTuber Robert Storms was firmly in the latter camp.
In his mind, Parasite shouldn't have even been nominated for best picture because it was also nominated—and ultimately won—best international feature film. (This year, the Academy changed the best foreign language category to best international feature film.)
A video of him ranting about Parasite's win has gone viral for all the wrong reasons. As of this writing, a clip circulating on Twitter has more than 600,000 views. Most commenting vehemently disagree with his take.
Storms did not respond to requests for comment from the Daily Dot.
"I really want this video to get the exposure because I'm a little bit upset," Storms says in the beginning of the video, called "Oscars Goes Full Woke…..Parasite wins BEST PICTURE!!!!"
Storms proceeds to go on an expletive-filled rant implying that few Americans saw the movie, and opining that Parasite shouldn't have been considered for best picture.
"It won best foreign film. You know why? It's a goddamn foreign film," Storms says. "If you won best foreign film you should automatically be invalid to even be qualified to win best picture."
Storms says he wanted Joker to win but would've been fine with any of the other nominated films taking home the Oscar, such as Little Women, Ford v. Ferrari, or even Shazam!, which wasn't nominated for best picture.
"It pisses me off because Joker, let's talk about Joker," Storms says. "What is more important to our culture than the Joker, about a movie that talks about mental illness not being taken care, taken seriously, about how people in high places look down and frown upon the poor, the poverty and people with mental illness, about how we need to take more seriously?"
He then accuses the Academy of voting for Parasite to prove how "woke" it is.
"Pat yourself on the fucking back, Academy, go pat your woke-ass fucking self on the fucking back," he says.
Reaction to Storms' video was swift and passionate.
People insulted his intelligence, appearance, and views on race. Some noted the correlation between gamer culture and the far-right.
Twitter user @VoyageofDameron called Storms' comments "borderline racist." Others shared this opinion. Storms denies being racist.
Several pointed out that both Joker and Parasite deal with the divisions between economic classes.
"'Joker's a movie about our times, man!!! About how the rich need to be stopped, maaaan!!!'" one person sarcastically commented on YouTube. "You should probably watch Parasite, dude."
Another said, "Man you could've just done a little research on Parasite instead of embarrassing yourself like this…."
this mofo be like: i haven't seen parasite. joker is better, then proceeded to describe what parasite did successfully that joker couldn't
— khoi – parasite won best picture (@bongjoonwhore) February 10, 2020
This is so funny, but I love how this guy hates Parasite and loves Joker because Joker is "about how people in high places look down on people in poverty." This guy should really see Parasite! https://t.co/hyQvcPJNq1
— Dana Schwartz (@DanaSchwartzzz) February 10, 2020
RIGHTTTTTTHe would be like pic.twitter.com/2x9qCapOXI
— Anu

(@Anvkii) February 10, 2020
Parasite is currently at a $167.6 million international box office take, so honestly WAY more people have seen it than a lot of Best Picture winners at the time they won. https://t.co/szNO2cH2Bz
— Jennifer Matarese (@trollprincess) February 10, 2020
i am just saying what if we could figure out how to harness the power of "joker fans mad about parasite" and "rich people mad about parasite" combined as a never-ending clean energy source to power our cities a la monsters inc
— amy (@arb) February 10, 2020
the way Joker got critically panned yet he somehow expected for it to win Best Picture lmao
— LG6 is coming (fan acc) (@hauntedIIlusion) February 10, 2020
This isn't Storms' first dalliance with commentary that some find offensive.
A montage of clips on the Film Gob channel shows Storms repeatedly referring to, and miming, fellatio. He also uses a slur for homosexual men and goes on a tangent about the Mary Jane character in Spider Man: Homecoming being played by a biracial woman.
"Look guys, I'm not a racist. I'm farthest from being racist you'll ever meet," Storms says. "My main point: The fact that she's half Black does bother me. It's not insomuch as a racial thing."
Within hours of posting the Parasite video, Storms apologized. He said his point wasn't that Parasite is a bad movie, but that he believes the Academy should reexamine how it categorizes movies.
"I know I upset many of you and I'm sorry, but I stand by my video," he wrote on YouTube. "I hope you all won't unsubscribe, but if you do I'll understand."
On Twitter late last night, he lamented, "Welp, I'm the most hated person on internet."
Storms was more defiant this morning.
"Okay everyone, first thing is that I'm not a racist," Storms tweeted. "Anyone who knows me knows that is false.
"Secondly I did not criticize #Parasite like at all. My video was me being upset at the Oscars not Parasite."
READ MORE:
Netflix's disappointing Oscars night
Which Bong Joon-ho movies should you watch after seeing 'Parasite'?
The post This controversial YouTuber is really mad that 'Parasite' won best picture appeared first on The Daily Dot.
Read more: dailydot.com