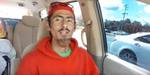 A YouTuber who posted racist videos and said he is "ambitious for more kills" has been arrested by Florida police for allegedly transmitting threatening interstate communications, according to the Sun-Sentinel.
Mostafa Hussaini, a 34-year-old who goes by the name Vam Vami on YouTube and who has called himself a racist, has openly discussed killing all Black people, Americans, most Europeans, and "hairy people of any races" in his videos.
As the Sun-Sentinel noted, Hussaini said in a video posted earlier this month, "I don't like Blacks, Spanish, some white, but there is (sic) no whites in Miami." He also reportedly hates Christians, military personnel, and people with blue or green eyes.
According to the criminal complaint, Hussaini killed a parakeet he had named Jesus by setting it on fire.
CBS Miami reported that, in one of his videos, he said, "Imagine burning some Black soldiers. They're going to look very black after I'm done burning them. I convert thousands of millions of that so there will be lots of burning…"
On Dec. 9, Hussaini, who only has 21 YouTube subscribers as of this writing, posted three videos about visiting Nova Southeastern University in South Florida. In one of the vlogs, he said he was kicked out of a university building by security. Later, he was arrested.
"On Dec. 9, NSU public safety officers witnessed a suspicious individual filming himself and confronted him," the university said, via CBS Miami. "In collaboration with the Davie Police Department, a trespass warning was issued and DPD reached out to local FBI. These disturbing videos were being posted to social media and all agencies continued to monitor the situation. Subsequently, police officers received verification that the subject was then wanted by the FBI.
"The individual was subsequently identified by law enforcement at a local gas station, leading to his arrest. While disturbing incidents happen every day in America, it is heartening to see that the process worked thanks to quick thinking and close collaboration between NSU and local and federal law enforcement."
Hussaini is scheduled to be arraigned on Dec. 26
READ MORE:
ASMR YouTuber Life with MaK says she was branded a 'Nazi' by online smear campaign
KSI is still a huge YouTube fan, but the streaming star wants so much more
2019: The year Logan Paul stopped giving a f*ck about his critics
The post YouTuber arrested after posting 'disturbing' racist vlogs appeared first on The Daily Dot.
Read more: dailydot.com