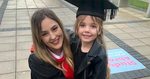 This hardworking young mother is proof that nobody stands in your way of success except for yourself. She became pregnant at a very young age, gave up her education and was bullied for being a teenage mother – but Rachel went against all odds as she knew that there are good things waiting for her out there, she just had to work for them.
Rachel Campey – a 21-year-old from Leeds, UK – recently gained her counseling psychology degree at Leeds Trinity University – with her smiling six-year-old daughter by her side. Her inspiring story went viral, encouraging people not to give up on themselves, no matter how hard the path you're walking sometimes may seem.
More info: Twitter
Rachel Campey got her degree in counseling psychology while holding her daughter's hand
Image credits: Rachel Campey
Rachel, who got pregnant at just 14, shared adorable photos of herself graduating from university with her now six-year-old daughter by her side. This week, she got a degree in Counseling Psychology and told the media that it was 'overwhelming' to achieve academic success after being kicked out of school at 15.
Rachel told the media that the ceremony was 'really emotional,' as she was battling anxiety and the pressure of getting a degree, working and raising a daughter as a single mother. "I saw Lily-Rose's face as I put my gown and my cap on when I was getting ready for the ceremony, and it just made it all feel so worthwhile," she said. "I just felt a lot of completion throughout the day. I felt overwhelming love and pride from my family, and from myself, as well as my daughter." She added that although tired, her 6-year-old was "smiling all day long."
She took to Twitter to celebrate her achievement and the post went viral
Image credits: RachaelCampey
Rachel got pregnant at 14 and was forced to leave school due to lack of support
Image credits: Rachel Campey
Rachel Campey – a recent graduate who lives in Cross Gates, Leeds – said she had to leave her school months after she became pregnant at the age of 14, as they couldn't support her. After, she went to various schools before eventually enrolling in York College and going to university from there.
The young mother told the media that her daughter was one of the main inspirations to get a degree: "If I hadn't had Lily-Rose, because I was struggling with my mental health, I don't think I would be here now. She changed my whole perception. I was on a very dark path before I had her, and she brightened it all up. I had so many moments in the first year where I didn't think I could do it, I was walking down the hall crying my eyes out going to drop out of university, thinking 'this is such a mess, why have I put myself in this situation," she said.
But her daughter inspired her to move forward while Rachel is inspiring others
Image credits: Rachel Campey
"When I was writing my dissertation, she was doing homework at the side of me, so she gets how long a process it has been," talking about her adorable 6-year-old, Rachel revealed to the media.
"They accidentally pronounced my surname wrong when I went onto the stage to collect my degree, and I heard her correct them and say 'that's my mummy."
Rachel has been nominated for the inspiration individual award at the 2020 Yorkshire Choice awards and is hoping to continue her education or becoming a public speaker. The young mom is also an ambassador for MindMate, a National Health Service (NHS) organization, that supports young people and professionals.
"If you're a young parent and you've suffered with mental health issues, it doesn't mean the end of your goals. You can still work towards them whenever you're ready. Just because somebody says you can't do it doesn't mean you can't actually do it, because you can if you really want to."
Here's how people online reacted
Read more: boredpanda.com