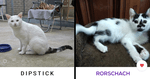 "Awww, look at the cute little floof! What's its name?" We've all been overwhelmed with fuzzy feelings at some point in our lives when we see someone's pet that's too cute to be real. And we just can't wait to find out more about them! But when we ask for their name, we expect something simple. Like Roger. Or Mr. Fluffy Meowington.
However, some owners want their pet names to be unconventional. Completely one-of-a-kind. With some secret meanings thrown in for good measure! And they're so impressive, people can't help but marvel at them. So much so that just a couple of short months ago, in April 2021, the 'Petfinder Names' project popped up on Twitter and it's dedicated to showing off the most unique and bizarre pet names.
We've collected some of the best ones for you to enjoy, dear Pandas. So go on, scroll down for some inspiration and a good laugh or two. Let us know which ones you liked the most (remember, clicking the upvote button is like petting the animal) and we'd love to hear all about the unusual and creative names you've given to your own best buds! So don't be shy—writeus a comment.
Jea, the 27-year-old genius behind the 'Petfinder Names' project, opened up to me about how the simple passion project captured Twitter users' hearts, the most unusual pet name they've ever heard, and how to get that noggin' joggin' and creatin' some unique pet names. They're also trying to find ways to use the account to help promote animals in need of homes and adoption. You'll find Bored Panda's full interview with Jea below, so be sure to read on!
#1
Image credits: petfindernames
#2
Image credits: petfindernames
#3
Image credits: petfindernames
"I started this account as a silly little thing on the side. I spend so much time browsing Petfinder and started to see some hilarious names and I thought they would be fun to share!" Jea told Bored Panda that fun lies at the core of the entire project on Twitter. The attention the account got has exceeded all of Jea's wildest expectations.
"I figured I would get some followers and people who enjoyed it, but it has blown up exponentially! Within this last week, I believe the account has gained 60k+ followers, which is incredible. I love the messages and tags of people saying this is their new favorite account or that it has brought them some joy," Jea gushed about the incredibly positive feedback.
#4
Image credits: petfindernames
#5
Image credits: petfindernames
#6
Image credits: petfindernames
According to the founder of 'Petfinder Names,' the most unusual name they've seen so far that they love is a cat by the name of Golfball Sized Hail. "But there are too many to count and I'm sure they'll just keep getting weirder!" they said.
"My best advice in finding a unique name would be to literally just start writing down random things you see or identify. for example, my nickname for my cat is Dumptruck, and I intend on naming my next pet Chainsaw."
#7
Image credits: petfindernames
#8
Image credits: petfindernames
#9
Image credits: petfindernames
There are generally two avenues for figuring out a name for your new pet! One approach (and my personal favorite, but don't let that influence your opinion) is looking your pet in the eyes and using your gut and intuition to see what name fits them best. Sure, your brain might be saying 'Leo,' but your catto's glittering green eyes might scream 'Emperor Emerald III.'
The second approach is thinking about what you want the name to represent. Perhaps you want to express a certain aspect of your pet's behavior. Or you've already come up with an ace idea for a name and you're planning to stick it to your pet no matter how much it might contrast with what they're actually like.
#10
Image credits: petfindernames
#11
Image credits: petfindernames
#12
Image credits: petfindernames
Somewhat unsurprisingly, the most popular pet names in 2021 are still very simple and to-the-point. You could even say they're unadventurous, though I personally like them. For instance, the top five names for puppies this year, according to Parade, are Luna, Charlie, Cooper, Bella, and Milo.
Meanwhile, the top cat names in 2021 are actually quite similar to the puppy ones, with two of them being the same. That just goes to show that dog and cat owners tend to think alike, even though they might not want to admit it. According to KittyCatter, the top five names are Oliver, Bella, Simba, Chloe, and Luna. Odds are that there's someone in your life who's got a cat with one of these names! They're great. But they're also a far cry from the fabulously unique monikers shared on Petfinder Names!
#13
Image credits: petfindernames
#14
Image credits: petfindernames
#15
Image credits: petfindernames
#16
Image credits: petfindernames
#17
Image credits: petfindernames
#18
Image credits: petfindernames
#19
Image credits: petfindernames
#20
Image credits: petfindernames
#21
Image credits: petfindernames
#22
Image credits: petfindernames
#23
Image credits: petfindernames
#24
Image credits: petfindernames
#25
Image credits: petfindernames
#26
Image credits: petfindernames
#27
Image credits: petfindernames
#28
Image credits: petfindernames
#29
Image credits: petfindernames
#30
Image credits: petfindernames
#31
Image credits: petfindernames
#32
Image credits: petfindernames
#33
Image credits: petfindernames
#34
Image credits: petfindernames
#35
Image credits: petfindernames
#36
Image credits: petfindernames
#37
Image credits: petfindernames
#38
Image credits: petfindernames
#39
Image credits: petfindernames
#40
Image credits: petfindernames
Read more: boredpanda.com