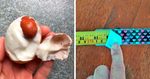 What we see isn't always what we get. Come to think of it, what we believe isn't always what's true, either. The moment you put on your detective hat and start investigating what things are made of, you might be in for a surprise. For mysterious things lie just beneath the surface of other things. Things that might shock and astonish you! Things that will astound and amaze you! [Queue fireworks]
Bored Panda has compiled a list of strange, weird, and unexpected things found inside common and seemingly ordinary objects. Scroll down, upvote your favorite photos, and let us know in the comments whether you've seen anything like this with your own eyes!
We're willing to bet that we've got your curiosity and your attention. So when you're done looking through this post, check out our articles about the unseen side of objects being revealed once they're cut in half and our list of rare photos that reveal the unseen side of things. These photos changed how we understand the world; we hope they'll change yours, too.
#1 My Dog Destroyed Her Toy Cactus, And There Was Another Sad Cactus Inside
Image credits: jpellizzi
#2 Ct Scan Of 1,000-Year-Old Buddha Sculpture Reveals Mummified Monk Hidden Inside
Image credits: M. Elsevier Stokmans
#3 Good Guy Die Manufacturer. Puts Die In Your Die So When Your Die Dies You Have A New Die
Image credits: IsshunGo
Some of the photos that blew our collective Panda hive mind included the crab inside the mussel, the sad cactus inside the happy cactus, as well as the teeny-tiny mandarin orange inside of its bigger sibling. Oh, and the rock inside of another rock was simply genius: great sense of humor, O Great Flying Spaghetti Monster.
#4 My Orange Had A Little Mini Orange Growing Inside Of It
Image credits: _Ineption
#5 I Broke A Yard Decoration That Had 2 Frogs And Found A Pig Playing Guitar Inside
Image credits: sansonmr
#6 I Found This Golf Ball Inside A Log
Image credits: TheWackyProphet
When we think of things inside of other things, our minds usually wander to one thing. Don't deny it, you probably had the same thought, too. That's right! Matryoshka dolls, also known as Babushka or nesting dolls!
According to the Nesting Dolls website, the very first set of Russian nesting dolls was crafted by woodworker Vasilii Zvyozdochkin and painted by artist Sergei Malyutin in 1890. They named their creation "matryoshka" which means "little matron" but also known as the Rooster Girl because of the traditionally depicted black rooster she holds in her arms.
#7 This Rock Inside A Rock
Image credits: RodrigoMilos
#8 The Inside Of My Daughter's Snap Bracelet Is From A Tape Measure
Image credits: ryanispiper
#9 I Ripped Up My Old Phone Case To Discover It's Made Of A Macau Beer Mat
Image credits: caed744
Matryoshka dolls became widely popular in 1900 after they won a bronze medal at the Exposition Universelle in Paris, France. Their rise to stardom meant that they started to be exported all over the world. They continue to be popular to this day.
#10 Welo Opal Inside Ammonite, I Can Now Die Happy After Seeing This
Image credits: SummerSerenity
#11 I Had An Egg Inside My Egg
Image credits: Pit_Mosh
#12 This Bocce Ball Is Full Of Little Balls
Image credits: bookfancier69
#13 The Tank Inside Of This BIC Lighter Was Just A Smaller BIC Lighter
Image credits: WhiteMystery
#14 Found A Tiny Crab In One Of My Mussels (Actually Inside The Mussel Itself, Not Just The Shell)
Image credits: bundiganja
#15 I Cut This Super Glue Out Of Its Plastic Container (US) And Found A Russian Variety
Image credits: cosmic_owl2893
#16 The Face Plate Fell Off My Car Charger To Reveal An Extra USB Port
Image credits: nikpappagiorgio
#17 Piece Of My Knife Broke Off The Handle And It Shows A Family On The Back
Image credits: Brenburger
#18 My Dog Tore Open His Yoda Plush Toy And The Squeaker Inside Is A Heart
Image credits: TimSPC
#19 Bullets Found In An Old Log I Was Splitting. You Can See Their Trail Marks
Image credits: Dklem80
#20 The Inside Of My iPad Case Is Made Of Old Toothpaste Boxes
Image credits: Theultravisitor
#21 Dropped A Frog Lawn Decoration Only To Discover 2 Snowmen Inside
Image credits: Brutl
#22 The Inside Of My Jeans Contain The Periodic Table Of Elements
Image credits: Bl4kc
#23 The Core Of This Rope Is Reused Diaper Rejects
Image credits: Crota2
#24 This 2 Pound Bass I Caught Had A Full Crawdad In Its Mouth
Image credits: DJCocoLoco
#25 This Fly Inside This Roll Of Tape We Received At Work
Image credits: Madrid1214
#26 My Book Has A Chapter From Another Book Printed Inside
Image credits: muhnahser
#27 Broke A Ball Playing Bocce. There Are Pool Balls Inside It
Image credits: cbnimble
#28 My Dog's Fitness Pig Toy Had A Buff Pig Inside
Image credits: prolonginginevitable
#29 The Inside Of This Broken Concrete Table Is Full Of Styrofoam
Image credits: fooleryl
#30 My New Jeans Have A Hidden Inside Pocket For A Condom
Image credits: Yuki-toKori
#31 My Dog's Toy Had A Recycled Water Bottle Inside It
Image credits: ebinisti
#32 Pawn Inside Of A Queen
Image credits: Waffle_Iron_McGee
#33 This Is The Inside Of A Can Of Shaving Cream
Image credits: ned883
#34 My Son Broke This Chess Piece Decor I Bought From "Ross" 5 Years Ago. This Was Inside
Image credits: jessicamossy
#35 Our Punching Bag Finally Ripped Apart Only To Reveal It's Filled With Old Clothes
Image credits: bananaknuckle
#36 Found Out That This "One Time Use" iPhone Charger Has Replacable AAA Bateries Inside
Image credits: Mingsonto
#37 One Of My Dice Cracked And Revealed Another One Hidden Inside It
Image credits: couldbeit
#38 Beer Felt Odd When Opening, Discovered A Can Within A Can
Image credits: allwearre
#39 This Pool Has A Pool Inside
Image credits: RenanMemories
#40 Ceramic Santa Head Broke Off And Found This Inside
Image credits: teamgnar865
#41 My Pill Is Filled With Little Pills
Image credits: simplelife6
#42 Found A Newt In A Mushroom Today
Image credits: Swampstompah
#43 My Aunt Found An Orange Inside Of Her Orange This Morning, Complete With Peel
Image credits: indeedyouarecorrect
#44 This Horse Trailer Had A Dinosaur In It
Image credits: yo_gabba_gavin
#45 My Dad's Coffee Grinder Was Acting Up. So He Took It Apart. This Is What Was Inside
Image credits: heretik9
#46 Cracked Cue Ball Reveals Another Ball Hidden Inside
Image credits: FLORI_DUH
#47 Buddhas Inside Owl
Image credits: Kichitsukima
#48 Boring Rock Has A Little Surprise Inside
Image credits: blenderdut
#49 Human Head Inside Of Frankenstein Halloween Decoration
Image credits: Glatzos
#50 Cut This Log And Found Bullet Inside
Image credits: Toller312
#51 My Pencil Broke And Revealed Chinese (I Think) Writing Inside
Image credits: ConvenientGoat
#52 Ever Wondered What's Inside A 6-Volt Battery?
Image credits: Admiral_Aladeen
#53 My Pepper Had A Pepper In It
Image credits: bimonscificon_
#54 My Mom's Boyfriend Cut Down A Dead Tree And Found Another Tree Inside
Image credits: Toastiimuffin
#55 There Was A Heart Inside This Stuffed Cookie Monster My Dog Was Destroying
Image credits: pizzapost
#56 Found A Green Bell Pepper Growing Inside A Red One
Image credits: Bluntster
#57 My Grape Had Another, Smaller Grape Inside Of It
Image credits: GymPowers
#58 I Broke The Balcony Railing By Leaning Against It And Found A Wasp Nest Inside
Image credits: reddit.com
#59 I Cut An Apple In Half This Morning And Found The Seeds Had Started Sprouting Inside The Apple
Image credits: ryanehowell
#60 So, The Wrist Pad On My Mouse Pad At Work Is Filled With Anime Material
Image credits: Beep_Colonist
#61 A Full Cornetto In Another Cornetto
Image credits: Myth_of_Shadows
#62 A Cigarette In A Broken Concrete Filled Tape Dispenser
Image credits: TheBrilliantBriton
#63 Accidentally Broke A Pill And It Had 12 Tiny Tablets Inside
Image credits: phelyan
#64 This Pill Broke In My Purse And Revealed A Smaller Pill Inside It
Image credits: helpimacraygf
#65 An Onion, Inside Of An Onion
Image credits: kaboomwe
#66 This IKEA Table Is Made Of Cardboard Inside
Image credits: _littlekidlover_
#67 Today I Found A Baby Shark Inside A Calamari
Image credits: aronkovacs
#68 My Wallet Has Arabic-Looking Writing Hidden In The Leather
Image credits: AevinPaos
#69 Inside A 9 Volt Battery: 6 AAAA Batteries
Image credits: croastbeast
#70 My Slowly-Disintegrating Wallet Has Revealed Retail Packaging From A GTX 980 Inside The Stitching
Image credits: shittywhopper
#71 The Binding Of My Journal Broke To Reveal Chinese Sheet Music
Image credits: __SpacemanSpiff__
#72 Bought This 2 Dollar Power Bank To Check What's Inside. Was Not Disappointed
Image credits: Shizalo
#73 I Was Filling The Fuel Tank On A Forklift When The Line Got Clogged. I Removed The Nozzle And Found A Frog Stuck In The Valve
Image credits: i-be-me
#74 Ate Through My Cone To Reveal A Cone Inside It
Image credits: Awolrab
#75 This Screwdriver Handle Has Another Handle Inside Of It
Image credits: shafthurtsalot
Read more: boredpanda.com