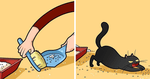 Another day, another article about cats. Here we have another post about the almighty furry companions. They are everywhere. Not only do they rule your home if you happen to be owned by a cat, but they also are the kings, queens, and some would even say Gods of the internet.
Russian artist Lingvistov portrays that perfectly in her fun and hilarious comics. She illustrates what it's like living with cats, what kind of shenanigans they get into, and how they change your life. Most people that live with a feline companion will probably relate and see many similarities with their own cat.
More info: Instagram | lingvistov.com | twitter.com | youtube.com | lingvistov.tumblr.com | pinterest.ru
#1
Image credits: lingvistov
On Lingvistov's website, they write some information about themselves: "We are a team of creative people who can't walk past a cute book shop, who love cats, art design, illustrations, and a good joke. Hey, who doesn't? We live in Russia and professionally we're not even close to designers or artists (Who cares about professions?! You're born this way!). We are also not greedy businessmen/megalomaniacs/tycoons. We actually come from different educational backgrounds (one of us even has a stable job) but were lucky to find one thing that we love doing, which is creating unique gifts and illustrations that make people around us happy. We're very enthusiastic about what we do and about our online gift shop!"
#2
Image credits: lingvistov
#3
Image credits: lingvistov
"Landysh (i.e. me) and Asia graduated from linguistic university and dreamed of spreading our knowledge and love of English to as many people as possible. So began the story of Lingvistov school of English via Skype, which still exists! Check it out here! But (a very important fact!) it turned out that we had much more to offer. We LOVE illustration art, cartoons, comics, memes, and brilliant English humor! And we started making Lingvistov doodles and uploading them to our website and social network pages. We also LOVE books in all their shapes and forms. And we started writing children's books, stories, illustrating them, and making audiobooks. English is still a very important part of our lives because it lets us reach amazing people from all the corners of the Earth and make them smile when they see our doodles or read our books with funny book illustrations. Soon our students, Facebook, and Instagram followers started asking for greeting cards and art prints with Lingvistov doodles. Asking is too mild a word… demanding! So we launched our online shop with unique gifts, funny greeting cards, and illustrated books. This was the beginning of a very exciting journey that's still continuing!"
#4
Image credits: lingvistov
#5
Image credits: lingvistov
"Nothing can make your day better, sunnier, and more special than a portion of good humor and funny pictures (esp. if they feature cats)! Lingvistov doodles are absolutely unique drawings created by Landysh. They usually contain a funny joke or a well-known saying, but that's not always the case. One of my students said they are mostly about cats, food, and sleep. I'd say they are about the most important things in our lives! Now we design, print, and deliver greeting cards and art prints with Lingvistov doodles. The idea is: if you're looking for birthday gift ideas, a gift for mom, or just a very unusual gift that has the potential to make somebody much, much happier, Lingvistov Shop is the place to find them!"
#6
Image credits: lingvistov
#7
Image credits: lingvistov
If you want to see previous posts by Lingvistov you can click here, here, here, and here. Their main topic is their cats and life with one. So if you want to see more or enjoy their comics, follow them on their social media accounts and show them some love!
#8
Image credits: lingvistov
#9
Image credits: lingvistov
#10
Image credits: lingvistov
#11
Image credits: lingvistov
#12
Image credits: lingvistov
#13
Image credits: lingvistov
#14
Image credits: lingvistov
#15
Image credits: lingvistov
#16
Image credits: lingvistov
#17
Image credits: lingvistov
#18
Image credits: lingvistov
#19
Image credits: lingvistov
#20
Image credits: lingvistov
#21
Image credits: lingvistov
#22
Image credits: lingvistov
#23
Image credits: lingvistov
#24
Image credits: lingvistov
#25
Image credits: lingvistov
#26
Image credits: lingvistov
#27
Image credits: lingvistov
#28
Image credits: lingvistov
#29
Image credits: lingvistov
#30
Image credits: lingvistov
Read more: boredpanda.com