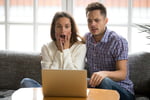 As Halloween draws nigh, I'd like to introduce you to 10 monsters that haunt my nightmares.
Now, these guys and ghouls don't regularly visit me, but they are a source of fear from time to time. And what's often most troublesome is that I can seldom tell if they're going to turn into a monster when we first meet.
Plus, I'm not the only one they visit.
I surveyed a group of editor friends on Facebook and discovered they've been visited by these monsters too.
Editorial monsters
1. The ghost
This possible editing client frightens me with their exuberant abuse of the exclamation mark in their first email. They're so excited to work with an editor that they can hardly wait to take the next step.
But when I reply, the ghost vanishes, never to be seen or heard from again.
The ghost silently glides by the cardinal rule of working with an editor: At all steps in the editing process, seek to communicate clearly and in a timely manner.
2. Frankenstein's monster
This would-be client has written a book that's a monstrous mishmash of genres, styles, tone or plot. The editor (and therefore the eventual audience) doesn't know what to expect from one chapter to the next, or even one sentence to the next.
And the monster's creator, thinking that what he's made is the pinnacle of creation, doesn't see the readily apparent flaws in the book that everyone else sees.
Frankenstein's monster doesn't truly know what he is, but he expects someone else to make sense of it for him. When editors start doing that, they effectively turn into ghostwriters.
3. The werewolf
After receiving edits, the werewolf bares his fangs. He turns from a reserved client into an irate animal.
In less time than it surely takes to review his edits, he fires off an email of unprecedented anger and bile. He can't believe how ruined his work is now. He may be nicer the following morning.
The werewolf has failed to learn respect for experience and expertise or just doesn't know how to argue his point without being combative.
4. The vampire hunter
She questions an editor's rates. The vampire hunter believes most freelance editors are bloodsuckers who move from one paycheck to the next, seeking their next victim, er, client with little regard to the dripping-red pages they've left in their professional wake.
The vampire hunter may rely on outdated numbers or unfounded anecdotal evidence for their beliefs about rates. Instead, she should have an honest, open conversation with her chosen editor about the value that editor offers for such a rate.
5. The zombie
Barely alive, the zombie doesn't want to do much work on her own. She may not do any work. She's slow to accept changes or reply to time-sensitive communications. She also wants to dine on an editor's brain so as to somehow consume that knowledge without doing the educational work the editor has done.
The zombie needs to realize that the work of creating a book is work all the way through. Handing off the book to an editor does not mean the zombie's work is done. She still needs to be involved, especially when an editor asks a question. Don't make an editor wait more than one to two business days for a response.
6. The witch
The witch demands magic. She knows her prose is as awkward as a three-eyed newt, but she believes an editor can turn even that into something princely.
The witch may need to ride her broom into a writing workshop before submitting work. Or she may need to enlist some beta readers to see if her work is even ready for an editor.
7. The shapeshifter
He agrees to one thing but asks for another. For instance, he may request and sign a contract for copy editing but ask for "just a quick read through" as well.
The shapeshifter should understand the different types of editors, what kind of editing they need, and what kind of editing their hired editor offers. This should be done when vetting an editor.
8. The mummy
Wrapped up in their own little world, the mummy takes so long to reply to emails or calls that the editor is certain they've fallen asleep — or worse.
Like the ghost, the mummy fails at the chief commandment of working with an editor: communicate!
9. The (copy)cat
This fabricating feline sprinkles plagiarized content around their books like catnip, hoping no one will notice.
Never plagiarize. Editors can sniff out that content almost instantly. Even if they can't, plenty of online tools exist to help editors doublecheck suspected plagiarism. Plus, once you've plagiarized just a little, it calls your entire manuscript into question. The result? An editor won't want that cat to cross their path again.
10. The blob
This ever-growing monster keeps adding content to his manuscript even as it's being edited. Even worse, they keep adding content after it's been edited!
The blob needs to know when to say when. He should do his best to achieve his best work before sending it to an editor. Any substantial changes during or after the editing phase should be — you guessed it — communicated to the editor.
How not to work with an editor
Now, this isn't a complaint article about editing clients. Rather, it's meant as a curtain-parting glimpse into what editors deal with in terms of unprepared, underprepared, or naive clients. It's what not to do when working with an editor.
Additionally, many of these "monsters" come by it honestly. Because they don't live, breathe and eat writing and publishing as editors do, they just don't know what's conventional or expected. Most editors understand this and are glad to help new authors learn the ropes — so long as the author is receptive to expert advice.
Be a monster this Halloween, but don't be a monster to your editor.
We frighten easily, which is ironic given how much red we see.
Photo via fizkes / Shutterstock
The post Boo! These Are The 10 Monsters Your Book Editor Fears Most appeared first on The Write Life.
Read more: thewritelife.com