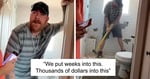 When you hire someone to fix things in your home, you are putting trust in a complete stranger. While you are paying them and it's their job, you still are letting in a person you know nothing about in your home. They may do a half-hearted job or they might steal something from your home, you really never know.
A woman from Colorado trusted a job regarding the renovation of her shower and had a negative experience with the contractor she hired. She asked the contractor to not pay until she sees the finished bathroom, but the man didn't take it very well and destroyed all the work he had just done.
More info: twitter.com
A video of an angry contractor demolishing tiles in the shower that he himself put up went viral
Image credits: Amber Trucke
Amber Trucke hired Terry James Gregory and Jordan Cazares of Dream Home Remodels of Colorado to renovate her shower. The cost of the job end up being $7,555 but there was still $4,300 remaining to pay.
However, Amber didn't want to pay the remaining amount until she saw the shower done and working properly. That is when the contractor got very angry and came to the house just to smash the shower into pieces.
Image credits: Amber Trucke
Image credits: NewsChannel 13
The man was knocking down the walls because the woman didn't agree to pay for his job immediately, so he decided to take everything he had done down
Image credits: Amber Trucke
In the video, you can see an angry man with a sledgehammer saying, "We put weeks into this. Thousands of dollars into this" and he starts smashing and destroying the walls. The woman who is filming is asking him to stop, but the man's answer to this is just, "Is someone going to pay me?"
He explains with irritation in his voice his way of thinking: because the owner still has not paid him, the tiles in the shower are his property, and he can do with it whatever he wants, shutting down the woman's argument that it's not his house to destroy.
You can watch the man raging in the bathroom in the video below
Image credits: GrindFaceTV
Image credits: NewsChannel 13
Amber Trucke talked with KRDO who showed how the woman's bathroom looks now. It is more similar to an abandoned house ready to be knocked down and not a renovated shower.
Amber told KRDO, "It makes me sick, it makes me scared. This is more than just trashing my bathroom, my sense of safety is gone."
Image credits: NewsChannel 13
The homeowner, Amber, shared screenshots of a chat which shows how things escalated
Image credits: Amber Trucke
Amber created a Facebook account dedicated to this whole situation. She posted screenshots of messages that led to the contractors coming and destroying everything. She created the account, "For those who think I went through the whole process happy and then just decided not to pay for no reason."
Image credits: Amber Trucke
Amber was not willing to pay until she saw the finished job and that didn't seem right to the home remodeling business owners
Image credits: Amber Trucke
Image credits: Amber Trucke
What we find out from the messages with Jordan, one of the contractors, is that Amber just wanted to make sure everything was done properly before putting down the final payment. Also, she was of the impression that the work was not finished yet.
However, Jordan was not happy with this and it could be that she was afraid of not receiving that payment at all. Or it could be that she was afraid that the company's scam would fail.
What was suspicious is that when Amber asked for receipts of the materials, Jordan wasn't willing to provide them. This is up for debate whether she said that out of principle or because she was asking Amber to pay more than was needed.
From the chat, we got to know that the homeowner had more complaints so it was understandable why she wanted to wait until she saw the shower before paying
Image credits: Amber Trucke
Also, it was suspicious why the contractors didn't want to send receipts for the materials they bought
Image credits: Amber Trucke
Image credits: Amber Trucke
Amber was also suspicious about the glass door that was supposed to be installed a long time ago but she was starting to think that it wasn't even ordered, so it is understandable that she wouldn't want to pay for it.
Finally, the conversation reached its culmination when Jordan announced that she and her husband will be coming to the house to 'repossess their materials and labor' since Amber is 'refusing payment.'
What the homeowner didn't know was that they would be destroying everything. On Facebook, Amber wrote, "Friday at 10:30, they were 'finished' and demanded immediate payment […]. Saturday, when I was asking for proof of the shower door having been ordered, Jordan got upset […]. That's it. 23 hours. Bc I didn't pay in 23 hours (there is NO statement from me in writing or otherwise to them that I wasn't going to pay) they showed up like thugs and destroyed my property."
Amber shared some photos of how the shower looked when the work was still in progress and it didn't look that good
Image credits: Amber Trucke
The contractors told their side of the story and they claim that Amber refused to pay for their work
Image credits: Amber Trucke
It is actually hard to choose sides in this situation because if you're a business owner, you should be wary of people avoiding payments but if you are hiring a business, you will want to be sure that they do their job well and not rip you off.
The contractors told their side of the story to DailyMail. They said that at the end of the home improvement project, communication with Amber broke down and that they understood that it's fine when clients want to see the job they've done, "I needed to know of issues to fix, or have payment by the end of the day."
Image credits: Amber Trucke
Image credits: Amber Trucke
However, in this situation, it is safe to say that the contractors overreacted as Amber just wanted to put off the payment and not avoid it completely. Also, she was not entirely satisfied with the job before, so she just wanted to be sure before sending the transaction that the shower looks like she wanted it to look. Her concerns were not without basis as the following photos shared on her Facebook account show, the tiles were uneven and the bathroom overall looked like a mess even before the demolition.
Image credits: Amber Trucke
What do you think of the contractor's behavior and the homeowner's determination to not pay before she sees the result? Have you ever been in a similar situation? Who do you think is in the wrong here? Leave all your thoughts in the comments!
People in the comments were divided about who is in the wrong in this situation
Image credits: NyCarp718
Image credits: domtat42
Image credits: manifestedson
Image credits: BlaccL
Image credits: Str8outda408
Image credits: mikeythefireman
Image credits: 10LBers
Image credits: gavincent
Image credits: socaliguy1981
Image credits: Medeya
The post Customer Wouldn't Pay For Renovation So Contractor Destroys It All first appeared on Bored Panda.
Read more: boredpanda.com