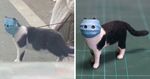 If there's one thing we respect here at Bored Panda, it's something that mixes our love for memes, cats, dogs, and weird things. That's why we're overjoyed when Japanese artist Meetissai posts an update of their newest sculptures of animals caught in awkward and strange positions.
We've collected some of Meetissai's newest sculptures, including that of a cat wearing a face mask, supposedly to stop it catching the coronavirus that affects humans. So scroll down, upvote your fave Meetissai sculptures, and drop us a comment or two below with your thoughts about their art!
And when you're done enjoying this list, check out Bored Panda's earlier articles about the Japanese artist's sculptures right here and here.
More info: Twitter
#1
Image credits: meetissai
#2
Image credits: meetissai
#3
Image credits: meetissai
Memes and their history are always fun to talk about. But let's be serious for a moment. Meetissai's sculpture of the cat wearing the mask raises the very important and pertinent question of the coronavirus which, at the time of writing, is still spreading. (If you're reading this in the future, we sincerely hope everything worked out in the end!)
According to the latest news, the coronavirus has claimed the lives of over 1,000 people, with over 42k confirmed infections across the globe, mostly in China. The illness has affected 28 territories across the globe. However, the epicenter of the virus, Wuhan, is locked down and the international community is taking steps to curb the spread as much as possible.
#4
Image credits: meetissai
#5
Image credits: meetissai
#6
Image credits: meetissai
Meanwhile, the Chinese government has removed several senior officials over their handling of the coronavirus outbreak, including the party secretary and the head of the Hubei province Health Commission, the BBC reports. The local Red Cross' deputy director also lost their job.
#7
Image credits: meetissai
#8
Image credits: meetissai
#9
Image credits: meetissai
Reuters spoke with Zhong Nanshan, one of the leading respiratory experts in China, about the situation. According to Zhong, the virus was hitting its peak in China in February. They were optimistic that the outbreak might be over by April.
If that's the case, the paranoia regarding the virus should subside and we won't be seeing any more cats wearing face masks.
#10
Image credits: meetissai
#11
Image credits: meetissai
#12
Image credits: meetissai
#13
Image credits: meetissai
#14
Image credits: meetissai
#15
Image credits: meetissai
#16
Image credits: meetissai
#17
Image credits: meetissai
#18
Image credits: meetissai
#19
Image credits: meetissai
#20
Image credits: meetissai
#21
Image credits: meetissai
#22
Image credits: meetissai
#23
Image credits: meetissai
#24
Image credits: meetissai
#25
Image credits: meetissai
#26
Image credits: meetissai
#27
Image credits: meetissai
#28
Image credits: meetissai
#29
Image credits: meetissai
#30
Image credits: meetissai
#31
Image credits: meetissai
#32
Image credits: meetissai
#33
Image credits: meetissai
#34
Image credits: meetissai
#35
Image credits: meetissai
#36
Image credits: meetissai
#37
Image credits: meetissai
#38
Image credits: meetissai
#39
Image credits: meetissai
#40
Image credits: meetissai
#41
Image credits: meetissai
#42
Image credits: meetissai
#43
Image credits: meetissai
#44
Image credits: meetissai
#45
Image credits: meetissai
#46
Image credits: meetissai
#47
Image credits: meetissai
#48
Image credits: meetissai
#49
Image credits: meetissai
#50
Image credits: meetissai
Read more: boredpanda.com