The first murders committed by the infamous Zodiac killer were the murders of Betty Lou Jensen and David Arthur Faraday on December 20, 1968. The couple were shot as they were parked a few blocks from Betty's home after their first date. The Zodiac went on to kill at least five total people in northern California and tormented the public by sending local papers cryptograms and letters about his crimes. Those letters were confirmed to be from the Zodiac when they included pieces of his victims clothing or details of his crimes that weren't available to the public. The Zodiac's identity has never been discovered.
Some have suspected the Zodiac's murder spree may have started before the Jensen and Faraday murders. On October 30, 1966, a student named Cheri Jo Bates at Riverside City College in southern California was violently murdered after an evening of studying at a campus library. When the library closed at 9pm, Cheri did not return home. Her body was discovered by a groundskeeper in the morning. She had not been robbed or sexually assaulted but was stabbed 42 times and had been kicked in the head several times. Cheri had hoped to graduate college and pursue a career as a flight attendant.
Unfortunately, the murder of Cheri Jo Bates has never been solved. Few witnesses saw Cheri that evening and no one saw the attack. It's believed that her killer disabled the ignition of her Volkswagon Beetle and may have offered Cheri help as a way to isolate her. Following the murder, menacing letters were sent to police. First a typed "confession" that contained details of the crime not made public, and then a handwritten letter sent to police and Cheri's father that were signed 'Z'. The stamps on the handwritten letters contained DNA that did not match the skin scrapings left under Cheri's fingernails during the struggle.
The typed letter to Riverside police included this chilling account of the murder:
According to the author of this letter, after the two had walked a short distance from her car, he had stated to her, "It's about time." Bates had replied, "About time for what?" to which he had simply replied, "About time for you to die."
The typed letter: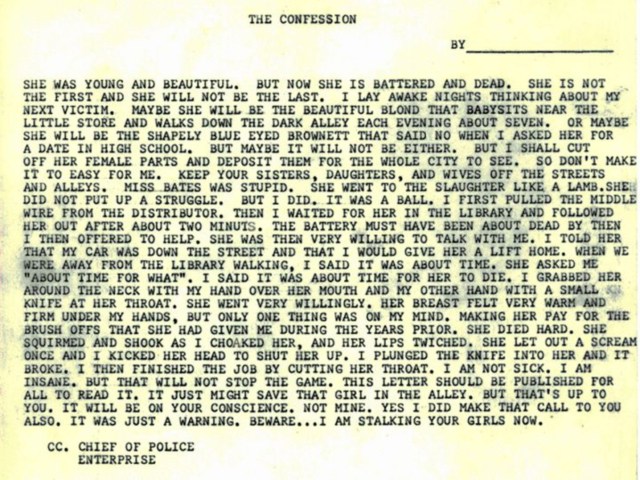 Riverside Police Department
The handwritten letter: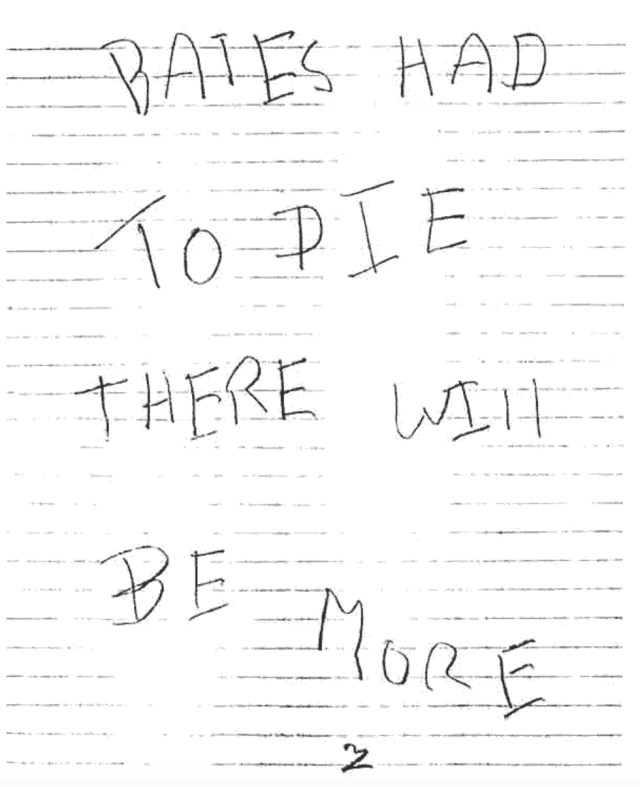 Riverside Police Department
The Chief Psychologist of a local forensic psychiatric hospital made a profile after reviewing the case that sounds a lot like modern day incel/manosphere killers:
He is obsessed and pathologically preoccupied with intense hatred against female figures—all the more so if he sees the young woman as attractive. Because of his own unconscious feelings of inadequacy, he is not likely to act out his feelings sexually, but in fantasy, as a rule. The fantasy can take on aggressive aspects … I would like to emphasize that there is a real possibility that he can become homicidal again."
All of these things together made some investigators and true crime readers wonder if the man who would become the Zodiac killer was behind this murder as well. In 1970 a journalist famous for working the Zodiac case, Paul Avery, received a letter telling him to look into the murder of Cheri Jo Bates and the similarities to Zodiac's Modus Operandi. In 1971 The Los Angeles Times received a letter from someone claiming to be the Zodiac killer that alluded to him being responsible for Cheri Jo Bates' murder along with several (unnamed) others.
In 2016 another anonymous letter was sent to Riverside police. This time the letter writer confessed to writing the handwritten letters received by police and Cheri's father, saying they were a teenager at the time and the whole thing was a sick joke.
This anonymous letter was postmarked from San Bernardino, California. In 2020 the stamp was tested for DNA. Using ancestry DNA, the identity of the letter writer was discovered and the person was approached by police and confessed to perpetrating the hoax. Their name has not been released to the public. Riverside police also confirmed this person was in no way involved in the Cheri Jo Bates murder or any of the murders attributed to the Zodiac killer.
Riverside police believe that an original person of interest identified in Cheri Jo Bates' murder is the killer. However, Bud Kelley, a patrolman and later a detective who worked the case in both roles for over 15 years, was a neighbor of the Bates and was convicted in 2013 of molesting two 7-year-old girls. He kept the investigation focused on a man whose DNA did not match that found under Cheri's fingernails.
The killer wore a Timex watch (set to a 7-inch wrist) and military issue boots in size 8-10 at the time of the murder. He may have driven a bronze colored Oldsmobile. Through January 31, 2022 there is a $50,000 reward for information leading to the identity of Cheri Jo Bates' murderer. There is a dedicated email for tips that can be found here.
Read more: thoughtcatalog.com