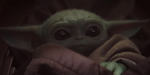 Baby Yoda's continued dominance over the internet has spurred an online petition calling for the beloved Star Wars character to have an emoji of its own.
Posted to change.org last week, the petition, which is pushing tech giant Apple to develop the emoji, blew past its initial goal of 2,500 signatures and has since garnered over 5,000 supporters.
The petition's creator, Travis Bramble, argues that Baby Yoda "stole our hearts" and now must "steal our keyboard space" as well.
"Your friend shares a pic of her new born baby? Respond with a cute little Baby Yoda emoji to show that you think her little rascal is cute beyond words," the petition states. "You're sick and your mom texts you 'do you want some soup?' Respond back with a cute little Baby Yoda to show her that your thirst for soup is insatiable."
Those who have supported the petition clearly agree, with one signatory writing that "Baby Yoda unites us!"
In fact, a recent study found that Baby Yoda is actually more popular on social media than every 2020 Democratic candidate.
The goal of the petition has since been expanded to 7,500 signatures and will likely continue to grow.
Demands for an emoji is just the latest facet of the Baby Yoda takeover, which has spawned everything from tattoos to memes.
Whether Disney, which owns the Star Wars franchise, would allow a Baby Yoda emoji to be created by Apple remains to be seen.
The character first appeared on the Disney+ series The Mandalorian and shows no signs of disappearing from popular culture anytime soon.
READ MORE:
People can't get enough of 'Baby Yoda'
Baby Yoda continues reign over the internet with sipping soup meme
TikTok shows priest baptizing… a stuffed Baby Yoda?
Baby Yoda GIFs restored after 'some confusion'
H/T Complex
The post Petition calls for Apple to make a Baby Yoda emoji appeared first on The Daily Dot.
Read more: dailydot.com