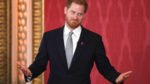 In a move that will surely shake up both the celebrity memoir industry and the British royal family, Random House announced that they will publish a memoir penned by Prince Harry for a 2022 release. The book announcement was accompanied by a statement on Twitter, noting that "Prince Harry will share, for the very first time, the definitive account of the experiences, adventures, losses, and life lessons that have helped shape him."
The generally tight-lipped nature of the British royal family makes a royal memoir an extremely rare event. The last royal to publish their memoirs was Princess Alice, Duchess of Glouchester, an aunt-in-law to Queen Elizabeth II who married into the royal family and lived to be 102 years old. Her book The Memoirs of Princess Alice, Duchess of Gloucester, was released in 1983.
In recent years, Prince Harry has done much to distance himself from the royal family's tradition of silence, culminating in the 2020 announcement that he and his wife Meghan, Duchess of Sussex, were stepping down as senior members of the royal family and moving to the United States. In a later interview with Oprah, both Harry and Meghan discussed the effects being a royal had on their mental health and shed light on their decision to leave.
According to Random House, Prince Harry's memoir will cover "his childhood to present day" in an "honest and captivating personal portrait," suggesting that the book will contain more details about his choice to leave England.
The insofar untitled memoirs of Prince Harry will arrive in bookstores some time in 2022.
Read more: mashable.com