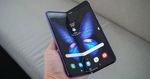 Seeing is believing, right?
After years of writing about foldable phone rumors and concepts and leaks, I finally got to hold Samsung's highly anticipated Galaxy Fold and try out its bendable display — crease and all — and I have to say, it definitely scores a 100 on hype. In a saturated market where all phones essentially look and work the same, the Galaxy Fold was refreshing.
As someone who's maybe been the most critical of foldable phones, I was surprised by how polished the phone was. For a first-generation product, the Galaxy Fold felt more finished than I expected it be.
Unfortunately, at the very moment I was fawning over the new form factor like a little boy, reviewers who were a few days into testing the Galaxy Fold learned the device might not be as durable or reliable as Samsung claims. Read more…
More about Mobile, Android, Samsung, Foldable Phones, and Galaxy Fold
Read more: mashable.com