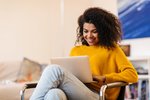 Even if you don't know the first thing about SEO writing, you've likely heard the buzz.
SEO is a great (and free!) way to get traffic to your website or blog. It's also a great skill to have as a freelance writer working for other clients, as it can help you provide additional expertise which means additional dollars in your pocket.
But from the outside looking in, it all can feel absolutely intimidating.
Don't worry — this guide will break it all down for you in an easy-to-understand way.
So what is SEO writing, and why is it time to get on board? And how do you even write an SEO post? I'll start with the basics.
What is SEO Writing?
SEO stands for search engine optimization. SEO writing is the practice of creating content that ranks on Google. (Of course, there are other search engines, but Google is the biggest player these days.)
Here's the easiest way to think about it: Take a second to Google a term or phrase. Let's go with "how to write an ebook." The first few results that pop up are probably paid ads. Skip those, and you'll start seeing various websites that cover the topic. (You might even spot The Write Life!)
The sites you're seeing have mastered SEO writing. They've made it to the first page of Google. That's your goal.
So why is page one of Google such a coveted spot? When your content ranks high, it gets more traffic.
The readers visiting your content are also coming in with high intent. They've just searched the specific topic of your article, so you've got a better chance of influencing them — whether you want them to click a specific link, download an ebook or subscribe to a newsletter or online course.
Ranking on Google is also a great way to boost your brand awareness and establish yourself as an authoritative figure in your niche. Basically, it's free advertising.
An SEO writing mini-dictionary: The terms you need to know
Want to give this whole SEO thing a shot?
I won't sugarcoat it: The world of SEO is pretty technical, and there's a whole dictionary worth of terms and acronyms out there. I've been doing SEO writing for about four years now, and I think these are the three most important terms to keep in your back pocket when starting out (no need to overwhelm yourself).
Keyword
The keyword is the word or phrase you're trying to rank for. This is what people are typing into the Google search bar. "How to start an ebook" is an example of a keyword.
Volume
Search volume refers to the number of searches a keyword gets per month. For instance, at the time of writing this, the keyword "how to write an ebook" had a volume of 2,400, according to Ubersuggest. (More on how to find this info in a minute!)
That means approximately 2,400 people have searched this term in the past month. The higher the volume, the more potential there is for traffic; however, you'll want to keep the keyword difficulty in mind…
Keyword difficulty
The keyword difficulty (KD) is a number between zero and 100 that indicates how difficult it'll be to rank on Google. If a keyword has a high KD, that means there's a flood of content around the term, so you've got a lot of competition. It'll be more difficult to climb the ranks.
As a general rule of thumb, you have a better chance of ranking with a lower KD.
Going back to our "how to write an ebook" example, its KD is currently 21, which means your content should have a decent chance of ranking if you've optimized it. If the KD were 50 or higher, it'd be more difficult.
How to choose your keyword (let Google help!)
Now that you've got the lingo down, it's time to start researching keywords for your SEO article. You'll want to choose this keyword before you write your content. Everyone's process looks a little different, but I'll show you how I do it.
Let's say I want to write an article about growing lavender. I'll brainstorm a list of terms and phrases around the topic. I think about what I would search as someone who's looking to grow lavender. Here's an example of what this list might look like:
Growing lavender
How to grow lavender
Lavender plant
Lavender garden
To add to your list, let Google help you out. Open a new browser window and start typing your keyword. When I type "growing lavender," several suggested searches pop up, including "growing lavender from seed" and "growing lavender indoors." These might be good article ideas.
You can also take a look at the "People also ask," "People also search for" and related searches sections on the first page.
Once I've got my list, I'll collect the volume and keyword difficulty of each term. If you're just starting out, Ubersuggest is a great tool for this.
Choose one or two of your keywords, and check out the volume and keyword difficulty. (Ubersuggest calls this the SEO difficulty, or SD.)
The sweet spot is finding a keyword that has a high search volume and low difficulty.
That means a lot of people are searching the term, but there won't be a ton of competition, so you have a better chance of getting up to page one.
I also love the "keyword ideas" section on Ubersuggest. These are just aggregated related terms you might not have thought about.
With my "growing lavender" example, I decided to write for the keyword "growing lavender indoors." Although there's a lot of search volume around "lavender plant" and "growing lavender," I choose the indoors angle because it still has a robust search volume of 2,000, but its keyword difficulty is super low — at an eight. It's also specific enough that it really caters to that reader searching with a high intent.
A brief note on SEO tools
There are so many SEO tools out there, but as you continue to explore the world of SEO, you'll find your favorite.
Ubersuggest is great for beginners, but the free version limits you to the number of keywords you can search in a 24-hour period, so choose the keywords wisely! If you want to subscribe, individual accounts start at $29 a month.
If you want to test out a few other tools before you make a commitment, Wordstream is also a great resource, and it comes with a free trial. My personal favorite is Ahrefs, which has a seven-day trial for $7 if you want to take a look. (Editor's note: We use Ahrefs here at The Write Life.)
5 SEO writing tips for strong content that ranks
Once you've got your high-volume, low-difficulty keyword, it's time to start creating your content.
Full disclosure here: There's never any guarantee what you create will rank. There are complicated Google algorithms working behind the scenes that ultimately make this call, and lots of other factors go into rankings that we don't cover here, for example, website speed.
However, there are some best practices for you can implement so you can create the best piece of SEO content possible. These are called on-page SEO optimizations, because they're changes you can make in the content right on the page.
Here's what makes for strong SEO writing.
1. Study Google
Outside of your keyword research tools, Google is going to be your No. 1 resource for SEO writing.
With your keyword in hand, open an incognito window (so your previous search history doesn't taint your results) and search your keyword. Take a look at the results. You'll want to focus on five key features on this page:
The featured snippet: This is the box that appears at the top of your search. Typically, it includes a headline and a numbered list. With our "how to grow lavender indoors" example, the snippet features a list of tips.
People also ask: Right below the snippet you'll find this section. These are related questions people have searched. It looks like folks are curious about "How long does it take to grow lavender indoors?" and "How do you care for an indoor lavender plant?" These are questions you'll want to answer in your article.
The top three to five results: Because we know Google likes these articles (they're on the mystical page one, after all), take some time to read the articles and consider their contents and organization. This will help you better understand readers' search intent.
People also search and related searches: You'll find both of these sections at the bottom of the page. These can also help inform what goes into your article. For instance, I might want to include information about "how to grow lavender from seeds" and "benefits of growing lavender indoors."
I like to take notes on all this information and throw it in a document.
2. Make an outline
Armed with your intel, it's time to make an outline. Typically, I despise outlining articles, but this is an essential step in SEO land.
In your outline, you'll want to include the recurring themes, elements and keywords you collected from studying page one. I like to take pieces from each Google element and each top-ranking article and create my own rendition.
While you're doing this, keep the reader in mind. If you were searching for "how to grow lavender indoors," what would you want to read about? I leave little notes to myself where I want to address commonly asked questions, related search terms or specific keywords.
To really create the best content, go above and beyond. See if you can pinpoint a missing theme, section or element the other top-ranking articles didn't cover. For instance, I notice none of the top-ranking articles for growing lavender indoors include ways to harvest and use your lavender (for oil, baking, tea, etc.), so I could include an ideas section at the bottom of my article.
3. Ask the experts
One of the reasons I love working with SEO content is because Google values page quality. It's looking for content with legitimate information from legitimate sources.
In fact, there's a popular acronym in the SEO community: EAT. It stands for expertise, authoritativeness and trustworthiness. Keep this in mind as you write.
To beef up your SEO article, reach out to an industry expert for an interview. You might also cite credible sources or databases. Adding external links (these are the hyperlinks to other websites) can also help.
4. Use your keywords wisely
There's a popular phrase out there called "keyword stuffing." It basically means a piece of content is unnaturally stuffed with keywords; the sentence structure is awkward, and all grammatical rules have gone out the window. Yikes.
You want to avoid keyword stuffing at all costs. Even if "growing lavender in apartment" is a related search, I wouldn't add it to my content as such — that's robot speak. It'd be OK to write about "growing lavender in an apartment."
Write as naturally as possible, and don't stretch to fit specific keywords or phrases into your content just because Google seems to like them. Keep to your craft, and write in a way that's clear and concise.
On that note, there are some important places you'll want to incorporate your primary keyword. (But avoid using it too much, see: keyword stuffing.) Places you'll want to use it include:
The headline: Like always, you'll want your headline to be enticing, but you'll also want to incorporate the keyword you chose. For example, "Your Guide to Growing Lavender Indoors (Even If You Don't Get a Ton of Natural Light)" could be a catchy headline.
The excerpt/description: When you upload your article to your website, write a strong excerpt that features your keyword. It never hurts to spark a little curiosity.
The URL: It's important to include your keyword in your URL.
The article: You want to let Google know you're actually writing about the topic at hand, so try to incorporate the keyword into your introduction and in a subhead, if you can.
The featured image description: Google doesn't just focus on the text — it also looks at the images. Write an image caption and description that includes your keyword, so Google knows it's relevant.
Above all, always keep the reader in mind. Generally, if you can make them happy, Google will take notice.
5. Don't overthink it
My biggest piece of advice is don't overthink this! Don't worry about hitting a specific word count or implementing any SEO "hacks." As long as you create a strong outline and write with the reader in mind — meeting their expectation and serving their needs — then you're doing exactly what you need.
What's next? Mastering the art of SEO writing
Remember: SEO writing is more of an art than a science. There's no specific tried-and-true formula, so this will take some tinkering and experimenting on your end.
As you continue to dive into the world of SEO, here are my suggestions:
Keep studying: Like I said, the SEO world is ever-changing; Google is constantly updating and putting out new releases. Stay tuned by following some of the top experts and publications. The Freelance Writers Den actually has a great bootcamp that goes super in-depth into SEO writing. It's definitely worth checking out in their course library. Additionally, check out Neil Patel, SEMrush, and Yoast for more great info. There are also plenty of podcasts, ebooks, Facebook groups, and online courses on SEO if you want to take a deeper dive.
Track your SEO performance: Once you've published your content, you don't have to continuously search the keyword to see if you're ranking. Instead, tap into your SEO toolbox. Head over to Ubersuggest (again, one of many options), and enter your website's URL. There, you can track your search traffic, your top SEO posts and your top-ranking keywords. Keep tabs on this as you experiment.
Optimize: If after a few weeks your article just isn't doing much, it might be time to optimize it. Conduct an "audit" for your target keyword, and see what else you can do to beef up your content. If some of the top posts include a comparison table, for example, consider creating your own.
Honestly, many people struggle with SEO writing because, well, they don't know how to write. You've already got that down, so now it's time to show Google what you can do.
Want to give SEO writing a try? What's the first topic you want to cover? Let us know in the comments below!
Photo via Dean Drobot / Shutterstock
The post SEO Writing Explained: How to Choose Keywords and Rank on Google appeared first on The Write Life.
Read more: thewritelife.com