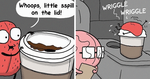 Have you ever wondered what your heart or brain would say if they could talk? What about your stomach or liver? Would they complain about your eating habits? Or that you don't sleep enough? Or perhaps they would be thankful for how you take care of them? Who guides your life more often – your heart or brain?
Comics artist Nick Seluk, also known as The Awkward Yeti, created illustrations showing exactly that. The artist brings human organs to life and portrays their adventures. He mainly focuses on the heart and the brain and the battle they have between themselves. One is cold and logical, the other warm and free-spirited.
More info: Instagram | theawkwardyeti.com | Facebook | twitter.com | linktr.ee
#1
Image credits: theawkwardyeti
On the artist's website, it says: "The Awkward Yeti and all of its work are authored and illustrated by cartoonist Nick Seluk. It was his dream since he was a kid to be funny, and someday he hopes to be. His New York Times Bestselling series Heart and Brain has brought popularity to the Awkward Yeti on social media, and he now copes with the pressure of trying to entertain millions of fans online.
In 2018, his first children's book was published by Scholastic, titled The Sun is Kind of a Big Deal, the first in a 3-book series. You can find it in book stores and Scholastic fairs in schools.
Nick lives in Michigan, which has super big lakes surrounding it. He enjoys thinking about running, not actually running, and mostly doing nothing."
#2
Image credits: theawkwardyeti
Nick told us more about how he got into art: "I have loved drawing comics since I was a kid, especially getting other people to laugh at them. I always naturally went back to comics because it was a medium that worked naturally with my short attention span. The most difficult part is fitting concepts, especially psychological or medical, into just a few comic panels. It requires taking a lot of information or an idea and simplifying it into as universal a language as possible. Heart and Brain are about philosophy, medicine, psychology, decision-making, ambition, and to a large degree mental health."
#3
Image credits: theawkwardyeti
"My art style is fairly loose, my writing style is character-driven and introspective. I have been making Awkward Yeti comics for about 9 years, and have no plans to stop. I'm inspired by the idea of being able to translate my thoughts into a tangible medium, rather than letting them get lost in my head. Entertaining others keeps me going."
#4
Image credits: theawkwardyeti
Here's some advice from the artist if you want to create art yourself: "If you want to create art, just do it and don't be afraid to make mistakes. The best way to improve, and to find your voice, is simply to practice and not give up when it feels difficult, or when you feel that you can't translate your thoughts into your medium of choice."
#5
Image credits: theawkwardyeti
Nick Seluk has been featured on Bored Panda a few times before. If you would like to see his previous work, click here and here. We also have many other comics that you can check out after these, like these funny and dark comics with unexpected endings, or funny comics about food that are full of puns and jokes, or maybe you would be more interested in comics for those with a darker sense of humor?
#6
Image credits: theawkwardyeti
Nick tells us more about himself: "I was born and raised in Michigan (in the US) and knew I wanted to be a cartoonist when I was a kid. I spent about 10 years as a graphic designer/art director before finding my place in art. I started posting comics on a Facebook page, which took off after some of them went viral. After introducing Heart and Brain, I was soon able to make a career from my comics by selling merchandise and having my comics published in books and comic sites. With a lot of hard work, I was able to quit my day job, and now I can work on projects that truly interest me."
#7
Image credits: theawkwardyeti
What do you think of these comics? Do you think your heart, brain, and other organs can relate? Tell us in the comments down below and don't forget to upvote your favorite ones. Also, go show some love to Nick Seluk on his social media pages if you enjoy what he does, your support means a lot to artists!
#8
Image credits: theawkwardyeti
#9
Image credits: theawkwardyeti
#10
Image credits: theawkwardyeti
#11
Image credits: theawkwardyeti
#12
Image credits: theawkwardyeti
#13
Image credits: theawkwardyeti
#14
Image credits: theawkwardyeti
#15
Image credits: theawkwardyeti
#16
Image credits: theawkwardyeti
#17
Image credits: theawkwardyeti
#18
Image credits: theawkwardyeti
#19
Image credits: theawkwardyeti
#20
Image credits: theawkwardyeti
#21
Image credits: theawkwardyeti
#22
Image credits: theawkwardyeti
#23
Image credits: theawkwardyeti
#24
Image credits: theawkwardyeti
#25
Image credits: theawkwardyeti
#26
Image credits: theawkwardyeti
#27
Image credits: theawkwardyeti
#28
Image credits: theawkwardyeti
#29
Image credits: theawkwardyeti
#30
Image credits: theawkwardyeti
#31
Image credits: theawkwardyeti
#32
Image credits: theawkwardyeti
#33
Image credits: theawkwardyeti
#34
Image credits: theawkwardyeti
#35
Image credits: theawkwardyeti
#36
Image credits: theawkwardyeti
#37
Image credits: theawkwardyeti
#38
Image credits: theawkwardyeti
#39
Image credits: theawkwardyeti
#40
Image credits: theawkwardyeti
#41
Image credits: theawkwardyeti
#42
Image credits: theawkwardyeti
#43
Image credits: theawkwardyeti
#44
Image credits: theawkwardyeti
#45
Image credits: theawkwardyeti
#46
Image credits: theawkwardyeti
#47
Image credits: theawkwardyeti
#48
Image credits: theawkwardyeti
#49
Image credits: theawkwardyeti
#50
Image credits: theawkwardyeti
#51
Image credits: theawkwardyeti
#52
Image credits: theawkwardyeti
#53
Image credits: theawkwardyeti
#54
Image credits: theawkwardyeti
#55
Image credits: theawkwardyeti
#56
Image credits: theawkwardyeti
#57
Image credits: theawkwardyeti
#58
Image credits: theawkwardyeti
#59
Image credits: theawkwardyeti
#60
Image credits: theawkwardyeti
#61
Image credits: theawkwardyeti
#62
Image credits: theawkwardyeti
#63
Image credits: theawkwardyeti
#64
Image credits: theawkwardyeti
#65
Image credits: theawkwardyeti
#66
Image credits: theawkwardyeti
#67
Image credits: theawkwardyeti
#68
Image credits: theawkwardyeti
#69
Image credits: theawkwardyeti
#70
Image credits: theawkwardyeti
#71
Image credits: theawkwardyeti
#72
Image credits: theawkwardyeti
#73
Image credits: theawkwardyeti
#74
Image credits: theawkwardyeti
#75
Image credits: theawkwardyeti
#76
Image credits: theawkwardyeti
#77
Image credits: theawkwardyeti
#78
Image credits: theawkwardyeti
#79
Image credits: theawkwardyeti
#80
Image credits: theawkwardyeti
#81
Image credits: theawkwardyeti
#82
Image credits: theawkwardyeti
#83
Image credits: theawkwardyeti
#84
Image credits: theawkwardyeti
#85
Image credits: theawkwardyeti
#86
Image credits: theawkwardyeti
#87
Image credits: theawkwardyeti
#88
Image credits: theawkwardyeti
#89
Image credits: theawkwardyeti
#90
Image credits: theawkwardyeti
#91
Image credits: theawkwardyeti
#92
Image credits: theawkwardyeti
#93
Image credits: theawkwardyeti
#94
Image credits: theawkwardyeti
#95
Image credits: theawkwardyeti
#96
Image credits: theawkwardyeti
#97
Image credits: theawkwardyeti
#98
Image credits: theawkwardyeti
#99
Image credits: theawkwardyeti
#100
Image credits: theawkwardyeti
#101
Image credits: theawkwardyeti
#102
Image credits: theawkwardyeti
#103
Image credits: theawkwardyeti
#104
Image credits: theawkwardyeti
#105
Image credits: theawkwardyeti
#106
Image credits: theawkwardyeti
#107
Image credits: theawkwardyeti
#108
Image credits: theawkwardyeti
#109
Image credits: theawkwardyeti
#110
Image credits: theawkwardyeti
#111
Image credits: theawkwardyeti
#112
Image credits: theawkwardyeti
#113
Image credits: theawkwardyeti
#114
Image credits: theawkwardyeti
#115
Image credits: theawkwardyeti
#116
Image credits: theawkwardyeti
#117
Image credits: theawkwardyeti
#118
Image credits: theawkwardyeti
#119
Image credits: theawkwardyeti
#120
Image credits: theawkwardyeti
#121
Image credits: theawkwardyeti
#122
Image credits: theawkwardyeti
#123
Image credits: theawkwardyeti
#124
Image credits: theawkwardyeti
#125
Image credits: theawkwardyeti
#126
Image credits: theawkwardyeti
#127
Image credits: theawkwardyeti
#128
Image credits: theawkwardyeti
#129
Image credits: theawkwardyeti
#130
Image credits: theawkwardyeti
#131
Image credits: theawkwardyeti
#132
Image credits: theawkwardyeti
#133
Image credits: theawkwardyeti
#134
Image credits: theawkwardyeti
#135
Image credits: theawkwardyeti
#136
Image credits: theawkwardyeti
#137
Image credits: theawkwardyeti
#138
Image credits: theawkwardyeti
#139
Image credits: theawkwardyeti
#140
Image credits: theawkwardyeti
#141
Image credits: theawkwardyeti
#142
Image credits: theawkwardyeti
#143
Image credits: theawkwardyeti
#144
Image credits: theawkwardyeti
#145
Image credits: theawkwardyeti
#146
Image credits: theawkwardyeti
#147
Image credits: theawkwardyeti
#148
Image credits: theawkwardyeti
#149
Image credits: theawkwardyeti
#150
Image credits: theawkwardyeti
Read more: boredpanda.com