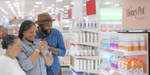 In February, Black-owned feminine care brand the Honey Pot was featured in a Target commercial, where one of the brand's founders expressed her company's goal of "supporting Black girls."
The commercial prompted backlash with people calling the company "racist." In retaliation of what they perceived to be a racist message, people ambushed the brand on Trustpilot, a product review website, with negative reviews.
Honey Pot, a black woman owned natural hair care line that's sold in Target, had a commercial where they said they want to empower black girls. Now white women are mad and have been leaving them a low rating. Please give them 5 stars https://t.co/FABhpr4ZkH
— I'm 10 Years Older Than Mark (@eleven8) March 2, 2020
Many of the reviews are focused on expressing racist tropes as a method of critiquing Honey Pot Co. founder Bea Dixon's goal of being successful and paving the way for "the next successful Black girl."
One such review relied on incorrect crime statistics and the stereotype of criminality.
Another was upset with the commercial because they perceived it as being a message of inequality.
"I was very disappointed with the Extremely racist commercial," reviewer Heidi Keirn wrote. "Imagine the impact the commercial could have made if only ONE adjective was deleted and well wishes for ALL young girls to succeed. Im shocked Target is supporting this product line, many of us are not!!"
At the time of writing, Trustpoint has suspended the Honey Pot's page, preventing new reviews from being published.
Despite the overwhelming number of angry reviews, BuzzFeed News reports that the company's profits have doubled following the Target ad.
According to BuzzFeed News, Dixon said that sales across the company's retailers have jumped 20% to 30% since the backlash began.
"I can't expect them to understand the plight of what it is to be a Black woman co-founder in business," Dixon told BuzzFeed News.
BuzzFeed News also spoke with a Target spokesperson who said these complaints are not representative of the commercial's reception, which they said was "overwhelmingly positive."
Online, people are flocking to support Dixon's company by sharing the bad reviews and urging others to write good ones, posting screenshots of purchase confirmation and generally making statements in support of the ad's intent.
"I'm ordering honey pot products," Twitter user @Ms_TayTae wrote. "This is the type of bad (good) publicity they needed cuz now more people will buy their products! Now take that racists!"
I'm ordering honey pot products. This is the type of bad (good) publicity they needed cuz now more people will buy their products! Now take that racists!
#target #honeypot
— PassionFruit (@Ms_TayTae) March 3, 2020
READ MORE:
Right-wing broadcaster Bill Mitchell ratioed for peddling racist coronavirus 'urban myth'Normani addresses Camila Cabello's racist social media postsIs TikTok's algorithm actually pretty racist?
H/T BuzzFeed News
The post This brand wants to support Black girls—and they're getting bad reviews for it appeared first on The Daily Dot.
Read more: dailydot.com