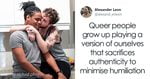 LGBT+ rights, anti-racism, and mental health activist Alexander Leon's Twitter thread went viral when he shared some words of wisdom with the internet.
He struck a chord with many people when he addressed the topic of queer people creating a defense mechanism to protect themselves from being judged by society.
According to Leon, queer people "sacrifice authenticity" to reduce "humiliation & prejudice." And a part of growing up is sifting through your life and figuring which parts of you are real and which ones you used as pieces of armor.
Bored Panda reached out to Leon to talk about the problems that queer people face. Scroll down for the in-depth interview.
More info: Twitter | Instagram
LGBT+ activist Alexander Leon created a viral Twitter thread about a problem most queer people face
Image credits: istockphoto / stock-eye
Image credits: alexand_erleon
Image credits: alexand_erleon
Image credits: alexand_erleon
"LGBTI+ people are more at risk of poorer mental health than the general population"
"I'd been writing an essay on a recent revelation I'd had about how long and arduous my journey of accepting myself has been post-coming out, and how much lengthier it has been than I anticipated," Leon said. "I wanted to publish the piece but told myself it was too personal and niche and that no-one would connect with it, so as a compromise with myself I decided to tweet the main thrust of the essay instead… and then it went viral! I've since published the essay."
Bored Panda asked Leon what the biggest issue that queer people face in 2020 is. "Our community is so diverse and there is a multitude of different problems faced by its many iterations across the world."
"I think that trans people are currently at the epicenter of some of the most toxic and dehumanizing rhetoric across the world, and I think as a community we need to band together to protect and support our trans siblings in the face of unprecedented hostility."
The activist continued: "I think another big issue faced by almost everyone in our community is managing our mental health. LGBTI+ people are more at risk of poorer mental health than the general population, and yet in many countries, there aren't sufficient services to support us in this. I think this is a conversation we urgently need to have."
According to Leon, "it's important to know that the person you are is valid and worthy of love, no matter what anyone tells you, or what you find yourself believing."
"So many of us grow up in circumstances where we convince ourselves that we can never be our authentic selves and still be allowed to thrive. But the truth is we are at our most beautiful when we are authentic," he said. "If others are struggling with your authenticity, that reflects entirely on them."
"I sacrificed authenticity to minimize humiliation and prejudice"
Leon's tweets resonated with a lot of people. The thread got 196,000 likes and was retweeted over 56,700 times. Because of the popularity of his tweets and the attention the topic got, Leon wrote an article on the topic and published it on Medium.
"I had learned, in my ungainly ascension into adolescence, that my true self, the person behind the performance, couldn't possibly fit in," he writes.
"I had come to internalize the idea that my authentic self was fundamentally and irreparably flawed. To act out a different life was to escape this predicament, so I sacrificed authenticity to minimize humiliation and prejudice. I built up an enviable, hardy suit of armor," Leon reveals.
"And then, years later, when I finally came out of the closet, desperate to share that I'd been unwittingly acting the entire time, I got stuck in it."
According to Stonewall, 51 percent of black, Asian, and minority ethnic (BAME) LGBT+ individuals in Great Britain face discrimination within the LGBT+ community itself.
Meanwhile, less than half lesbian, gay, and bi people (46 percent) and trans people (47 percent) can be open about their orientation and identity with their entire families.
However, around 32 percent of bi people also state that they can't be open about their orientation with anyone in their families.
Leon's thread caught a lot of people's attention
Image credits: JtotheMackenzie
Image credits: lura_groen
Image credits: caniculee
Image credits: SarikVaster
Image credits: frizzlefreckle
Image credits: DylanNeville95
Image credits: promotions_my
Image credits: mve53
Image credits: ksafree8
Image credits: _sandtweets
Image credits: chrisdallman
Image credits: darrenwysenu
Read more: boredpanda.com