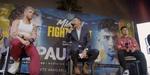 There's no question that, in the YouTuber boxing match that will occur Thursday night on DAZN, Jake Paul is the one that most viewers know all about. His YouTube career has been filled with controversy—thanks in part to his association with his brother Logan Paul—and he's got nearly 20 million subscribers who allow him to make millions of dollars while sometimes crossing over into the mainstream news world.
But AnEsonGib has a prolific YouTube career as well, and he's built up impressive followings on all the social media apparatuses. He's just not nearly as well known as Paul, especially in the U.S. But that's OK by AnEsonGib. After all, if he beats Paul in the fight that can be streamed globally, he knows his Q rating will probably skyrocket.
"If I beat Jake Paul, what comes with it? I'll be immortalized after that," AnEsonGib told the Daily Dot. "I carry on with my YouTube career. My name will get bigger and bigger. That's it."
Here's all you need to know about AnEsonGib before he takes on Paul in the boxing ring.
Who is AnEsonGib?
His real name is Ali, and he got his social media moniker from his protruding proboscis. If you spell AnEsonGib backward, you get Big Nose Na (the "Na" part was added because, somehow, the name "EsonGib" apparently was already taken by another YouTuber).
Ali lives in the U.K. but was born in Saudi Arabia, and he shot to YouTube fame by aligning himself with the well-known Sidemen group, a collection of British YouTubers that includes KSI. Gib got well known by playing FIFA online, and he's dabbled by creating Fortnite vlogs as well. Most of his YouTube videos have earned hundreds of thousands of pageviews, but when Gib called out YouTube boxer Joe Weller in 2018, that video earned 3.4 million views.
Though Gib hasn't been posting much on YouTube lately, his last eight videos have all reached more than 1.4 million views. That increased visibility probably has something to do with Jake Paul, but considering Logan Paul and KSI also brought plenty of YouTube fans to the boxing world, that type of crossover appeal probably aided Gib's growth as well.
"The people that have already watched KSI and Logan, the new fans will stay there," Gib said. "We'll bring in new fans. It's a whole new story. A whole new drama."
How many YouTube subscribers does AnEsonGib have?
As of this writing, Gib has about 2.1 million subscribers. Though Paul has about 10 times more YouTube subscribers, Gib has certainly increased his fanbase. Since the fight was officially announced in late December, he's gained about 150,000 new subscribers, according to Social Blade. Gib also has 640,000 Instagram followers and 508,000 Twitter followers.
None of that impresses Paul, though.
"He's not even verified on Instagram," Paul told the Daily Dot. "My mom has more followers than him. He has this loyal 200,000 to 500,000-person fanbase that are KSI fans and that ride-or-die with him."
For the record, Pam Stepnick, Paul's mother, has 528,000 followers and is also not verified on Instagram.
Does AnEsonGib have boxing experience?
He does. While Paul has fought once, knocking out Deji in 2018, Gib has been inside the ring twice. In his first fight, he took on his roommate MaxPlaysFifa and stopped him in the second round.
Then, a few months later on the undercard of the first KSI vs. Paul fight in Manchester, England, Gib beat Jay Swingler by decision.
That experience, Gib said, will only help him.
"When you fight, you learn a few things. You learn, and you move on," Gib said. "That's the way I look at it. When I get that music going [on my ringwalk], my hood is on. The music is dropping. And then when I get to the ring, that's where I'm most comfortable."
Why is AnEsonGib feuding with Jake Paul?
Since his fight with Deji that helped draw more than a million people willing to pay $10 to watch it on YouTube, Paul has been adamant about wanting to step into the ring again. He desperately wants to meet up against KSI to redeem his brother Logan, but when he put out a Twitter poll months ago to see who his fans wanted him to fight, Gib was the winner.
"I didn't know who he was until KSI brought it up," Paul said. "I did a poll online asking my fans who they wanted to see me fight and it went viral. Everybody was tweeting about it. Gib tweeted the link out and told his fans to vote. He got the most amount of votes. So, I said, 'OK, I choose you.'"
Responded Gib: "I don't know why he keeps bringing up the poll. He was trying to fix it. He wanted to fight another guy, because that would have been more marketable to him. He wanted an easy fight. But [my fans forced] him. He keeps saying, 'Who's Gib? Who's Gib?' Gib is the guy that's going to put him in the dirt."
As for who will win, Paul is the betting favorite at -195, meaning you'd have to bet $195 to win $100, while Gib is a +165 underdog (wager $100 to earn $165). But KSI believes in his buddy.
"I don't like Jake and I think the whole world doesn't like Jake," KSI said, via DAZN. "If he does manage to get past the Big Gibber then yes, I will fight Jake 100%. But that's not going to happen, I don't think he's ready for Gib at all and that's going to show on Jan. 30. I think Gib wins this hands down, and that will be the end of the Paul brothers."
The Daily Dot may receive a payment in connection with purchases of products or services featured in this article. Click here to learn more.
For a year-round sports fix, sign up here and check the "sports" box to receive our weekly boxing newsletter. You'll hear about all the biggest fights and best knockouts from the Daily Dot's streaming sports guru Josh Katzowitz.
The post Who is AnEsonGib, the YouTuber facing Jake Paul in a boxing match? appeared first on The Daily Dot.
Read more: dailydot.com