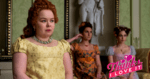 Welcome to Thanks, I Love It, our series highlighting something onscreen we're obsessed with this week. 
Bridgerton fans may not recognize the name Kris Bowers, but they ought to.
The Emmy Award-winning composer, known for his work on shows like When They See Us and Dear White People, is responsible for the beating heart of Netflix's popular period drama — the uber-stylish, horned-up salve so many of us needed to start this year. 
The sound of Bridgerton has wowed audiences, with its classical covers of modern pop songs gaining an especially enamored fanbase. Bowers' cover of British soul singer Celeste's "Strange" (featuring cellist Hillary Smith) has over 1.5 million plays on Spotify at the time of writing. Read more…
More about Netflix, Thanks I Love It, Entertainment, Streaming Services, and Movies Tv Shows
Read more: mashable.com